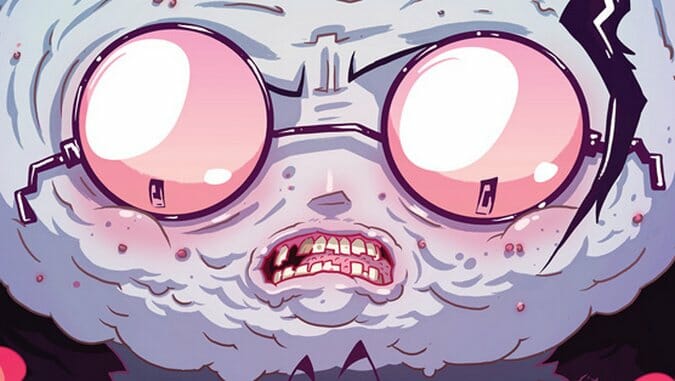 Writer: Jhonen Vasquez
Artist: Aaron Alexovich
Publisher: Oni Press
Way back in the early 2000s, I worked up the courage to ask my dad to buy me a copy of the Johnny The Homicidal Maniac trade paperback. I was right in the beginning of my Hot Topic phase—mere years before Invader Zim merch would line their shelves—and becoming a die hard Jhonen Vasquez fan. I bought all his books (I Feel Sick remains an evergreen favorite). I bought a Fillerbunny figurine. I even chatted with him on AIM once. He was pretty cool.
So now, here I am as an adult, with a copy of a new Jhonen Vasquez book in my hands, an Invader Zim book, no less. I have no idea what to think.
On the one hand, Vasquez's writing and drawing remains as fresh and funny as ever. His struggles with Nickelodeon are well documented, and now Invader Zim feels more like a Jhonen Vasquez property than it ever felt on TV. Invader Zim #1 doesn't miss a single beat—it even begins with a mockery of his often sub-15-year-old fanbase. Takes me back.
On the other hand, reading this book as opposed to watching it on TV does reveal all the things Zim lacks by no longer being in motion. While the writing is strong, I found myself missing the voice work. Gags that would kill when animated fall flat in panels. Ultimately, it feels like he's still adjusting to how to tell this story now that he's in control.
I'm not upset to see Vasquez working again, and I'm excited to see where this goes. I hope he'll be back in the groove soon enough. There's a lot of merch the 15-year-old in me wants to buy.