Graphic Novel Reveal: The Deep & Dark Blue Confronts Identity & Adventure in a Fantasy World
Cartoonist Niki Smith's Middle Grade Story Centers a Transgender Girl Fighting to Live Her True Life
Art by Niki Smith
Comics
Features
Niki Smith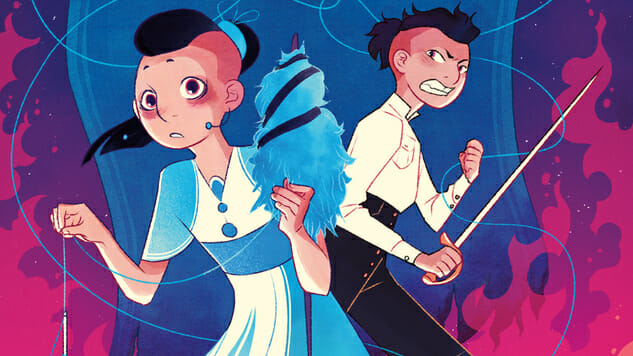 Comics like Nimona, The Witch Boy and The Cardboard Kingdom continue to not only impress YA and middle-grade audiences, but to examine themes of identity and coming-of-age in nuanced, deeply meaningful ways. Today, Paste is thrilled to share an exclusive first look at cartoonist Niki Smith's The Deep & Dark Blue, an upcoming middle-grade graphic novel that follows in those footsteps to present both a fantasy adventure and an exploration of gender identity and belonging.
Arriving on shelves January 7th, 2020 from publisher Little, Brown Young Readers, The Deep & Dark Blue follows twins Hawke and Grayson, who flee their kingdom after a political coup and go into hiding as Hanna and Grayce, respectively. While Hanna is merely a disguise for Hawke, Grayce finds herself feeling more at home than ever before while living with an order of magical women. As Hawke seeks to retake the crown and his former life, Grayce has to fight for her new—and true—existence.
In addition to a first look at Smith's cover art, Paste also has a personal statement from the creator, which you can find below. The Deep & Dark Blue is available for preorder now, and Paste readers can look forward to more coverage of the book in the coming months.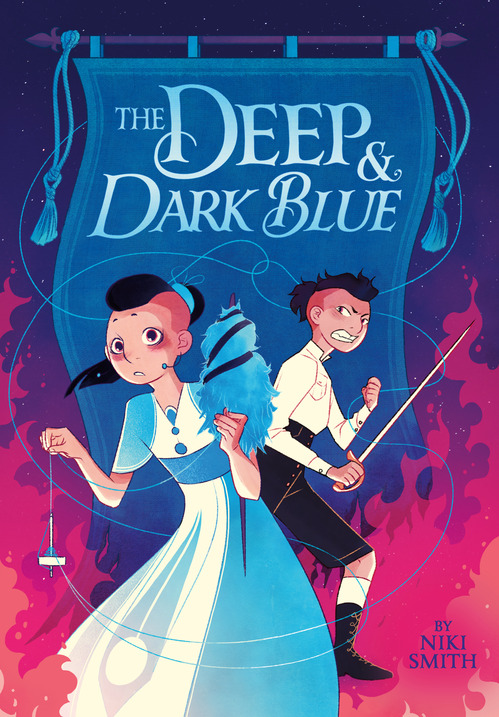 The Deep & Dark Blue Cover Art by Niki Smith
The Deep & Dark Blue
Writer/Artist: Niki Smith
Publisher: Little, Brown Young Readers
Release Date: January 7, 2020
The Witch Boy meets The Legend of Korra in this breathtaking, epic graphic novel.
After a terrible political coup usurps their noble house, Hawke and Grayson flee to stay alive and assume new identities, Hanna and Grayce. Desperation and chance lead them to the Communion of Blue, an order of magical women who spin the threads of reality to their will.
As the twins learn more about the Communion, and themselves, they begin to hatch a plan to avenge their family and retake their royal home. While Hawke wants to return to his old life, Grayce struggles to keep the threads of her new life from unraveling, and realizes she wants to stay in the one place that will allow her to finally live as a girl.
About the Author:
Niki Smith is a cartoonist based out of Munich. She is a Lambda Literary Award-nominated author for Crossplay, has been digitally published by DC Comics and The Nib, and has contributed to the Lambda Literary Award-winning Beyond anthology. This is her debut middle grade novel.
Creator Niki Smith on The Deep & Dark Blue:
Growing up, I loved stories that played with gender—girls disguising themselves as boys to have adventures and live the lives they always wanted, as knights and pirates and soldiers! From Mulan to Twelfth Night, Tamora Pierce's Alana series and the more recent Bloody Jack by L.A. Meyer, something about the blurring of gender roles struck a deep chord. But what I never saw was the reverse: it was always girls who yearned to live the life of a boy, never the other way around. The life of a girl was something dreary and full of tedious hobbies; something to escape. I wanted to write a system of magic with its roots deep in "women's work"—textiles, spindles and weaving, all powered by a mysterious, deep blue dye.
And while I still love so many of these stories, they all had one thing in common! Despite all the "gender bending", the queer undertones, the flirting while in disguise—they each end with a main character that's firmly cis and straight. Even as a kid, I knew I wanted something more.
All of that led to The Deep and Dark Blue: Two siblings on the run, seeking refuge with a mysterious order of women… but for one twin, it's no disguise. It's the chance for a young trans girl to live as herself for the first time. Will Grayce have to give that up to help her brother, Hawke, reclaim their royal home?