Meet the Real-Life Artist Behind the Drawings in Key & Peele's Keanu
Leigh Cox got a job "drawing rappers" for a movie. Not too shabby, huh?
Design
Features
Let's say you're an artist, and seemingly out of the blue a Hollywood production company wants to hire you to draw pictures of your very favorite thing (in this case, hip-hop artists) for a cutting-edge comedy team's first feature film. That's what happened to illustrator Leigh Cox. She created artwork for Key & Peele's new movie Keanu, in which Jordan Peele's character, Rell, plays a stoner artist. Those pen and ink drawings you see in the background at Rell's? And also the closing credits? Cox drew them. In fact, her artwork so nicely dovetailed with the film that the writers wound up developing that aspect of Rell more.
Sure, some luck was involved, but there's also a more prosaic backstory. Cox's work for Keanu is the culmination of a lifetime of honing her craft by drawing relentlessly, for both profit and pleasure. Paste tracked Cox down to get the skinny on what it was like to be such a big part of a film shooting in New Orleans while she worked thousands of miles away—and how if felt, as a longtime Wu-Tang fanatic, to have Method Man sign a portrait she drew of him.
Paste: Tell us how this assignment came together in the first place.
Cox: In winter of 2015 (a notoriously slow time for freelance) I started drawing portraits of rappers and posting them on Instagram for fun. Keanu began filming that June, with my college friend from the School of The Art Institute of Chicago signed on as set decorator. He learned they were looking for an illustrator who could "draw rappers" to create work for Peele's character in the film. He showed everyone my work and I was hired immediately.
It was so rewarding, and a great reminder that it's really important to make time for "this is for me" work because it pays off in the long run. Not to be a total cheeseball, but it was a very "you are on the right path" Oprah-style moment.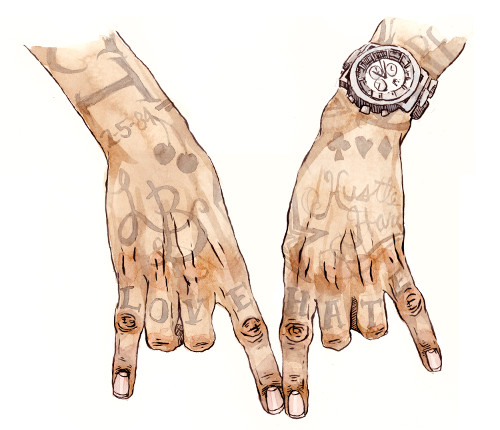 Paste: You spent months drawing stuff for Keanu. Kittens, of course, but also tons of portraits. What about doing portraits appeals to you?
Cox: I actually enjoy trying to make them technically accurate—lifelike hair, the patterns and textures on clothing, colors and shading of skin and fabric. It's sort of a meditation on the act of drawing for me. I gravitate towards hip-hop artists because it's what I'm listening to 80 percent of the time while I work, and you would be hard-pressed to find better reference: from clothes, to hair, to styling, these people are ridiculously fun to draw. Try to find a boring photo of Danny Brown—you can't. It's impossible. And it's a total joy to stare at his crazy ass for six hours while I try to draw his (formerly) jacked-up but fantastic front teeth.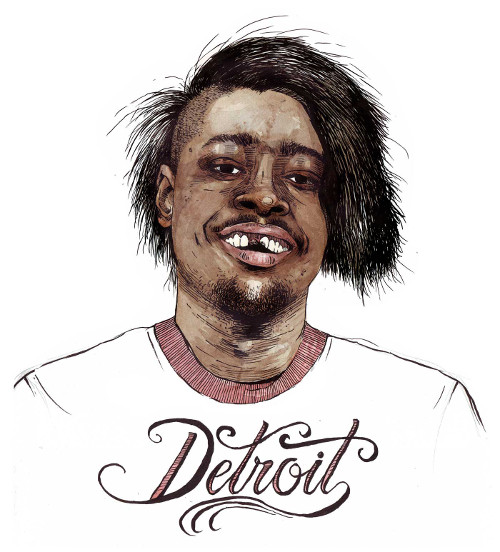 Paste: What was the hardest part about drawing for Keanu?
Cox: Creating unfinished work for Peele's character. The way I work is extremely methodical—I research reference for hours, spend a long time sketching to make sure it's accurate, painstakingly ink the sketch, and lastly watercolor if needed. Because I was creating work to look like another illustrator had drawn it, it needed to include lots of quick sketches and half-finished drawings they could show around his studio. Not finishing a drawing was torture, but also had me drawing a lot faster and looser than I had in years.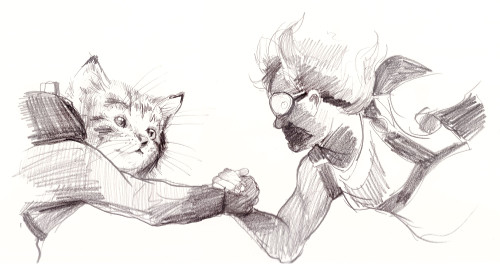 Paste: I hear one dreamy outcome of this project was a long-distance encounter with Method Man.
Cox: When I was first hired, they told me to draw portraits of Wu-Tang. To start with, I picked Method Man because he is FINE and teenage me would pee her pants if she found out we'd eventually be paid to draw Mef. I finished and they loved it, but then halfway through drawing Ghostface I got a call to stop because Method Man had signed on to the film, and it would look pretty weird for Peele's character to be drawing him.
I was crushed, but the art director knew how much I loved Method Man, so to surprise me had Method Man pose with the original, sign it, and then had them framed together and mailed to me. I will be buried with it.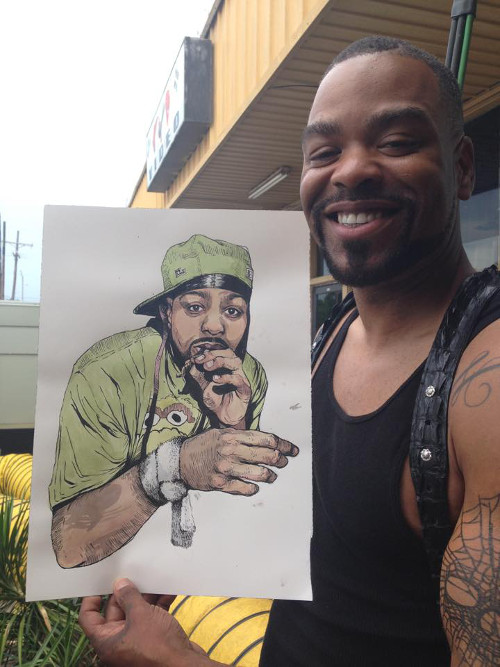 Paste: You also draw a lot of wildlife. Did you grow up spending a lot of time outdoors or scrutinizing nature?
Cox: I grew up in Columbus, Ohio. Columbus itself was a pretty run-of-the-mill Midwestern city through the eighties and early nineties, but in close proximity to some fantastic wildlife if you knew where to look. Luckily my father, Mitch Cox, is the editor of Fur-Fish-Game magazine—an extremely old-school monthly focused on hunting, trapping and fishing—and himself had been raised around Southern Ohio, almost entirely outdoors.
While our friends rambled on about how great Nickelodeon was (I was extremely jealous, All That was dope), my Dad was busy throwing us in the car for "Mystery Trips." My two sisters and I would end up hiking the woods, or stuffed into sleeping bags struggling to stay awake fishing far after it was too dark to see the pole itself. He instilled a deep respect and awareness for nature into me at a young age, and it's a running joke with my husband that I will die driving off of the road because I thought I saw an owl and needed to investigate.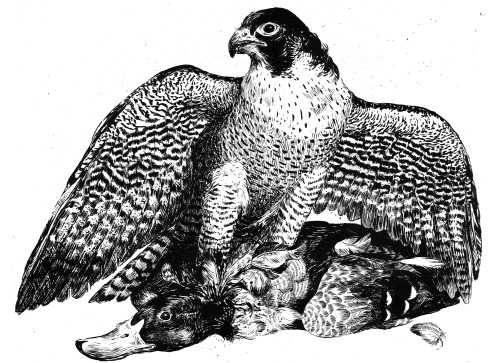 Paste: Do you do pen and ink illustrations because there's more of a market for it, or because it's what you're best at and is most personally rewarding to you?
Cox: I don't remember a time I wasn't drawing. After college I had a string of "arts related" jobs (framing, type setting for invitations) while I worked on getting freelance jobs for nights and weekends. I used to take any and every job I could find, but as I finished more pen and ink work I could tell it was where my style clicked.
You do your best work when you feel the most rewarded by it, and if you time it just right it can become a self-fulfilling prophecy of sorts. I started filling all of my free time with the work I enjoyed, then sharing the work, and then getting hired to do more of it because people liked what they saw.
Find more of Leigh Cox's art at leighcox.com.