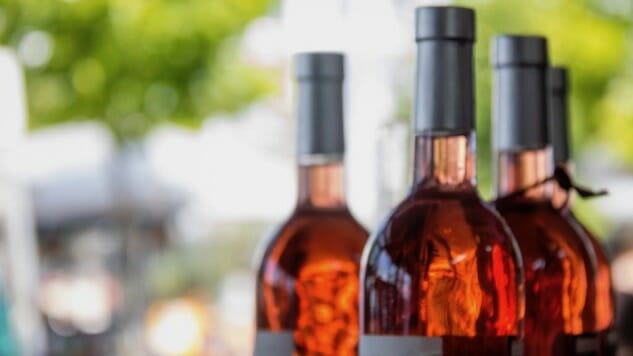 Some of us really don't feel rosés are "seasonal," but even those people can concede that the beginning of spring makes them suddenly seem especially relevant. Your local market is probably displaying them more prominently, keeping more of them chilled, or otherwise encouraging you to agree it's time to try a few new ones. We do not disagree.
Pink wines can be made from basically any black-skinned or red-skinned grape (tinted wines can also come from high skin contact "white" grapes like Pinot Gris, but it's a different method). The range of rosé expressions is so vast it's probably counterproductive to think of them as a single category. There's really a rosé for everyone; they range from feathery and ephemeral to loud and strong, from quaffable to contemplative. What they mostly have in common is a relative light-spiritedness-it's a tall order for a rosé to take itself super seriously or act like you're not cool enough to drink it. And since we're personally disinclined to be looked down on by our beverage, we are on board with that.
Varietals that commonly shine in rosé format include Pinot Noir, Grenache, Cinsault, Carignan, Sangiovese and Syrah, but virtually any non-white grape can do it (if you can find them, Zweigelt, Blaufrankisch, Barbera, Nebbiolo and Tibouren can be outstanding) and the most stellar rosés are often blends. We've included some rarities, oddities and conversation-starters here but most of these wines are pretty easy to track down. They range from nearly colorless to "liquid Jolly Rancher" and from "enhanced water" to quite intense. They are, basically without exception, killer food wines, 100% party friendly (a few might sport a dissuasive pricetag for huge gatherings but they all bring the happy) and a serious motivation to get your chores done before sundown so you can relax outside with a glass. As always, this list is compiled from stuff we happen to have been interested in lately and it is by no means comprehensive. The world of rosé is vast. So, like, get out there and start exploring.
22 Bottles to Try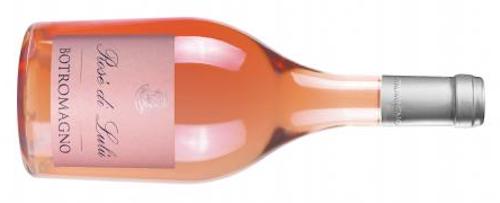 Botromagno Rosé di Lulu (Italy, $17)
A Pugliese blend of Montepulciano and Nero di Troia, which is a perfume-bomb grape native to the region. In this bottle the two combine to create a strong impression of bright red berries (raspberry, strawberry, redcurrant) and ripe cherries. It's not in the "ethereal" or "delicate" range; it's fruity and earthy and solid and structured. There's a thing in the terroir of many Italian wines where they seem to taste like the soil they grow in is geologically ancient? That. So it's a fun counterpoint of "old" and "youthful" and it will certainly enhance your dinner hour. The squat bottle might not fit in your wine rack so I'm sorry to say you will have to drink the whole thing. Waste not, want not.
Castello di Bossi Rosato (Italy, $20)
A pink Sangiovese from Tuscany with a clear coral color, made by "saignee" method. There is a dusty character to this wine, and layers of resinous herbs (rosemary for sure, maybe lavender, maybe thyme) and cherries. A little bit of pomegranate. Hey, do you like cheese? Roast Chicken? Caponata? You and this wine are in agreement.
Chateau de Berne "Inspiration" (Provence, $20)
Chateau de Berne makes several beautiful pinks. This one's a Grenache-based blend with a more substantial color than some wines from the region-it's decidedly rosy, with a chalky mineral streak. Strawberries and cream are the core impressions here, but there is a thick mist of aromatic herbs as well (I get lavender, chamomile and a little fennel). It's a meadow-in-a-bottle kind of wine and quite romantic. Also the bottle is gorgeous.
Ciro Rosato (Italy, $15)
From the coast of Calabria, land of many spicy dishes, this wine is made from 100% Gaglioppo, a heritage varietal of Calabria that you don't see planted abundantly elsewhere. Bold, fruit-punch color. Hallmark flavors of Gaglioppo are terra cotta, redcurrant, leather and raspberry. In this pink iteration, spicy notes come to the fore. There's a dusty quality to it and a lot of raspberry flavors. Traces of redcurrant and tobacco. If you're playing with southern Italian dishes this wine would be such a good plan. Even if you're not, actually.
Clos Cibonne Tibouren Cuvee de Vignettes (Provence, $30)
Maybe my favorite rosé find of the last couple of years. Tibouren is mainly found in Provence and Liguria but it's believed to be a native of either Greece or Persia (the deeply cut lobes of the leaf are typical of Middle Eastern varietals). A fairly common blending wine in Provencal pinks, it's a bit less common to find in varietal form (not because it's not a great varietal wine-possibly because it's unpredictable to grow). Tibouren is the grape responsible for the flavor note commonly called "garrigue"-a sort of aromatic power chord reminiscent of juniper, thyme, lavender, rosemary and other resinous Mediterranean herbs. Clos Cibonne has the garrigue for sure. This is a rosé that will endear you to the wine nerd in your life. Pale brick-dust hue, herbs for days, hints of strawberries, redcurrants, and tart cherry. A little whisper of blood orange.
Copain "Tous Ensemble" (California, $20)
A rosé of Pinot Noir from Mendocino County with cool climate finesse. Friendly and approachable, it has a bright, acidity-forward nature and a nice floral nose. Alpine strawberry, melon, a hint of plum, with a long resounding finish. This is a nice seafood wine if that's your thing. You could consider making it your thing.
Domaines Ott BY.OTT Rosé (France, $25)
Provence all the way. Ballet pink in the glass. Delicate on the nose with fruity tones (peach and passionfruit, a bit of dried apricot). Palate has a spicy edge (cardamom?) over white peach and blood orange notes. Harmonious, acquiescing and thoroughly pleasant. Won't fight with salads. Will actively cultivate a romance with goat cheese or shellfish.
Erath Rosé of Pinot Noir (Oregon, $14)
In its full red expression Pinot Noir has a massive range of aromatic and flavor characteristics, and pinks aren't that different. Sometimes they're all fruit, sometimes they're mostly flowers. This one has both. Ripe melon and roses come across strongly, followed by apricot, peach blossom, tangerine, grapefruit, and a tiny bit of tart apple. There are a lot of surprising greenish notes and tremendous freshness. As a Pacific Northwesterner this wine appreciates a good piece of grilled salmon. But I would drink it on its own (and have, several times).
Gran Moraine Rosé of Pinot Noir (Oregon, $28)
I am a huge fan of Gran Moraine's swanky, insouciant wines, both still and bubbly. This refreshing and beautifully balanced pink is no exception. Strong acidity in the "bright" to "mouthwatering" range. Aromatics like almond blossom, cherries, honeysuckle, orange and a bit of something tropical, passionfruit or pineapple (I keep going back and forth). An echoing almond note comes across midpalate, with kiwi and melon and something not unlike saffron. It's light and lithe and elegant and complex enough to enjoy on its own, but it'll elevate whatever you are eating.
JNSQ (California, $30)
(I believe it stands for "je ne sais quoi.") Soooo, if you are a person who loves "lifestyle brands" you might want to check this stuff out because I heard more about what it looks like and which celebrities are into it than about what it is. You might be able to tell that's not my kink, but that doesn't mean it can't be yours. And hey, it really is a very pretty bottle. Like, beautiful. Except you cannot store it with your other bottles because it's shaped like a perfume bottle on steroids. The wine's entirely competent. Grenache based blend, cherry-strawberry-orange blossom vibe.
Kramer Vineyards Rosé of Carmine (Oregon, $24)

Carmine. What, you never heard of it? I know. But it's cool and interesting and geeky and recommended. They also do a red bottling of the Carmine grape if you're keen. Meanwhile, this is the dictionary definition of "fruit-forward." Even the color is like strawberry juice, a clear limpid red. Dominant notes are watermelon, Rainier cherry, nectarine, orange, strawberry and a little bit of cranberry. Some stone and spice notes erupt on the finish. Fun, different, delish.
Kris Rosato (Italy, $15)
This stylish pink from Alto Adige fruit is composed of Rondinella and Corvina grapes. Gorgeous pale pink color with light violet glints, and a summery nose full of peaches, nectarines and ripe berries. Quartzy minerality, mouthwatering acidity, casually festive and eminently pairable.
Les Lauriers de Baron de Rothschild Rosé (France, $18)
And it's Kosher! This St. Emilion wine is pale cherry in color and made from Merlot with some Cabernet Sauvignon and Cabernet Franc. It's a simple wine, which I don't mean as a backhanded compliment; it's good-simple. Refreshing-simple. It's got the plummy softness of a skin contact Merlot but the overall impression is of cherries and oranges and tangerines. If you eat veal, consider this as a pairing. It'll also hold its own with all kinds of other dishes.
Marshall Davis Pinot Noir Rosé (Oregon, $23)
The amount of good pinot coming out of the Willamette Valley is astonishing. The buzzword for this one is "light." From the limpid, lucid petal-pink color to the weight of it on the tongue to the softness and suppleness of the aromatics. Light. An intriguing note of cinnamon runs through this wine, around stronger elements of strawberry and pear. Slight tangerine edge to the finish. Enough acidity for structure and not an iota more.
Pico Maccario Lavignone Rosato (Italy, $19)
This is a Barbera from Piemonte and it has a certain quiet elegance that hits you before you ever pull the cork. Ghostly pink hue with rose-gold reflexes. On the nose, a youthful and lively chord of watermelon and strawberry, hay and wet rock. The texture is soft and velvety with understated, refined acidity. There's a vein of granite minerality and a softly persistent finish. You can pair this with just about anything but it made me wish for fava beans and mushrooms, or grilled steelhead. Or hey, both.
Rosu de Purcari (Moldova, $35)
Chateau Purcari makes big, bossy reds with a ton of gravity and structure. This pink version of their signature blend of Cab, Merlot and Malbec is a very full-throated rose, with a fiery red color; calling it "pink" is a little silly to be honest. The flavor profile is pruney, plummy, a bit cranberried. There's a forest floor quality and some vanilla on the finish, which is pronounced and lengthy. If you're really a red wine drinker at heart this is a rosé to look for.
Ruby Vineyard Rosé of Pinot Gris (Oregon, $18)
Technically this is an orange wine or "reverse-rosé"-rather than taking black grapes off the skins, they leave tinted grapes in contact with skins until there's a color anywhere from barely-coral to electric-red. This one is pretty strong after about ten days of skin time. The resulting flavor profile is quite different than "white" Pinot Gris. Big, bold blood orange notes. Grapefruit. Kaffir lime. Stone. Sour cherry. Oolong tea. Hazelnut. It's rich and rounded and dry as all getout and it is completely different from the other rosés in your fridge.
Tasca Regaleali Le Rose (Sicily, $17)
Nerello Mascalese. The Sicilian Pinot Noir does not always directly express rose petals but this one sure does. Super-classy and stylish but not faddish, this wine is big on elegance and depth. Dark salmon color, quite rich, with blackberry and raspberry notes and a candied cherry finish. Volcanic terroir, enduring finish. Globally food-friendly, but beware: You might polish it off before anything hits the table.
Tournon Mathilda Rosé (Australia, $18)
Michel Chapoutier down under? Yes please. Yummy varietal Grenache from Victoria made in a style that recalls Provence. It has a candied quality (as distinct from sweetness; this stuff is bone dry) with aromatics that recall sugared flowers (rose and violet for me). On the palate, there is a kind of dry red fruit thing, something slightly tannic or tart-rhubarb? Cranberry? Crabapple? Maybe pomegranate. And definitely a wild raspberry note. This is a versatile food wine but also a more than pleasant aperitif.
WillaKenzie Rosé of Pinot Noir (Oregon, $25)
I believe 2017 is a first-time pink for WillaKenzie, heretofore known for aromatic whites. Well done. Neroli nose, splashy peach and watermelon on the palate. Delicate acidity, juicy finish. A pleasantly viscous texture ("mouth-coating" quality). A drag-and-drop complement to a warm dusk, a roast duck, a night on the deck.
Yalumba Sangiovese Rosé (Australia, $14)
A Tuscan varietal with an Aussie accent. Barossa Valley fruit, pale copper tone, and for those keeping score on fining agents, this one's vegan. Flavors favor white peach, fraise de bois, orange, kumquat, and something I cannot put my finger on that reminds me of Chilean guava but isn't (yes, I know, helpful)-a mystery exotic fruit of some kind with a herbaceous kick. It's wild-fermented if that matters to you, and has a bright, effusive perfume (citrusy and strawberry-ish). A nice mineral note haunts the finish, which is silky and pretty persistent.
Zolo Signature Rosé (Argentina, $10)
You can't really beat the price, for one thing. Lively, with an ethereal clear pale pink color with slight lilac reflexes. The first impression on the nose? Cherry Lifesavers. More cherry notes and some raspberry come through on the palate. It's light and refreshing and uncomplicated. It's sort of like drinking a La Croix that will get you tipsy. That is not a jab; it's just that quaffable.