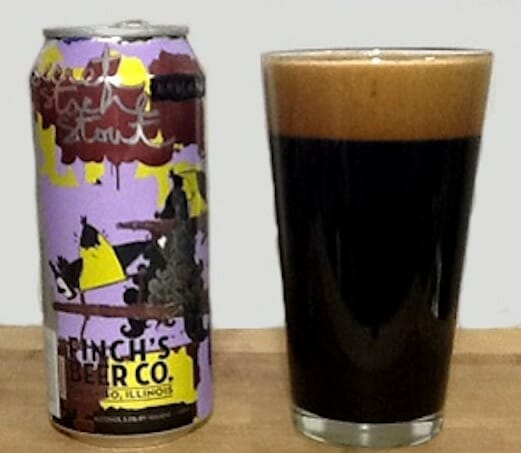 Beer for dessert? Absolutely. Stranger things have happened. If you're subbing in suds for sweets, Finch's Beer Company's singular stout offering is a solid pick that doesn't tip the scale into gut-busting overkill territory. While the brewery's Secret Stache Stout never quite reaches the chewy sweetness of more hardcore dessert-centric beers, I can't complain because it doesn't skip on the flavor either, leaving plenty of room for a few pints to cap off your evening eats.
Pouring an inky jet black, Secret Stache sports a creamy mocha-colored head that sticks around a while, lacing up the glass nicely as it recedes. A mix of vanilla, burnt coffee, and roasted malts makes for a pleasant nose. The first sip gets off to a tasty start too, with that slight vanilla bean sweetness transitioning to roast coffee and milk chocolate. Lactose gives this creamy beer a smooth, milky mouthfeel that pairs brilliantly with the formidable chocolate notes. It finishes on the dry side, as a balancing dark chocolate bitterness creeps in.
I've had sweeter, heavier stouts. The reason Secret Stache works so well in my book is it packs a surprisingly lighter body than you'd expect for a robust stout of its flavor stature. This, and the manageable 5.3% ABV, makes it drinkable beyond the first pint — perfect when you're in the mood for a few with real flavor but can't stomach something on the bulkier end of the spectrum.
Brewery: Finch's Beer Co.
City: Chicago, Illinois
Style: Stout
Special Ingredients: Vanilla Bean, Lactose
ABV: 5.3%
IBU: 25
Availability: Year Round in four pack cans