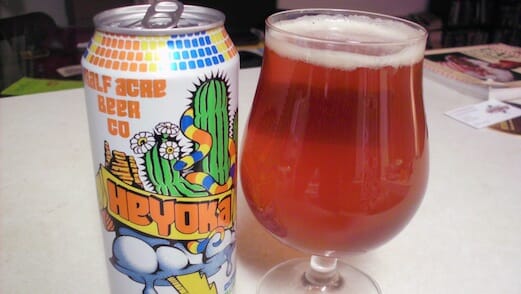 Since they opened in 2006 as one of Chicago's first craft brewers (back in the halcyon "Goose Island will never be owned by Anheuser-Busch" days), Half Acre Beer Company has been nothing but spectacular in its hop-forward beer offerings. The company has long been built around its world-class American pale ale Daisy Cutter, a brew I personally think puts the much more famous Three Floyds Alpha King to shame. They've produced a huge number of limited release IPAs and DIPAs, and among other Chicago brewers, nobody can touch them in this category.
It's odd to think, then, that the company has never produced a widely-released IPA available in cans until now, out of concern for keeping their brews fresh. Heyoka IPA is the brewery's first attempt to replicate those fresh hop flavors Half Acre is famous for on a wider scale, and in that it is quite successful.
Cracking open a can, it's the kind of beer you can smell from a couple feet away. The aroma explodes out of the glass with notes of orange, lemon, mango and pine. This is intensely aromatic beer with almost no impression of malt on the nose. It's clear with one whiff that there's nothing balanced about this IPA.
Some malt flavors do squeak through when you take a sip. The beer presents itself with a dry, biscuit and oatmeal-type maltiness, with very little sweetness to speak of. The hops then hit with a rush of pine needles, bitter orange peel and the telltale grassiness of amarillo hops. It's quite dry and quite bitter as well, hitting the "West Coast IPA" prototype all the way. The flavors are strong but one-note, in an appreciable way.
Despite its 7% ABV, the beer's body is still fairly thin and it's dangerously drinkable. The only limiting factor would be the fairly intense bitterness, but for fans of bitter, dry IPAs with a strong West Coast presence, this is heavenly. Pair it with a big bowl of jambalaya or some spicy Indian food and enjoy the interplay between intense, contrasting flavors.
Brewery: Half Acre Beer Co.
City: Chicago, IL
Style: American IPA
ABV: 7%
IBU: Unlisted
Availability: Until spring, but you'll have to travel to Chicago to get it