Sponsored Post
As we celebrate with all of our friends who make St. Patrick's Day great, we raise a glass to Jameson for sponsoring this story.
The owner of one of the most iconic Irish pubs in Decatur, Georgia can marry people. "It took me 15 minutes to become certified online, maybe a little less," he tells me as we work through a bottle of Jameson in a quiet room on the second story of his pub. His friends were in a jam, hoping to get married by a Justice of the Peace before boarding a plane for their honeymoon, but the magistrate wasn't available. The couple called their favorite pub owner and asked if he would marry them in the pub's Belgian Room, a second story paradise of craft beer and Irish whiskey. Soon after checking the proper boxes on an internet form, he was officiating the ceremony while a table of complete strangers watched, crying the whole time. He even helped the couple write their vows, borrowing lyrics from Jon Bon Jovi and Michael Jackson, he tells me, rolling the whiskey around in his glass, melting a little bit of the ice.
This is exactly what I want from my local pub owner—the ability to marry someone…on a whim…in an Irish pub…while drinking Jameson.
The public house that we're drinking in has been a fixture in Decatur, a small neighborhood on the edge of downtown Atlanta, since 1997. It's a pub born from the owner's own trips to Ireland, where he found great, local establishments that were more than just a collection of barstools and drink specials. They acted as each community's social hub.
"You have to work really hard and travel far and wide to find a town that doesn't have an Irish pub," he says. "There's a reason for that. The Irish are the world's hosts and hostesses. They're so welcoming, and the public houses in Ireland are the community hubs. That's what we wanted to build here. We wanted to be a place where families and friends could gather in the good times and the tough times."
I came to love Irish pubs the same way most Americans come to love Irish pubs: Getting rowdy on St. Patrick's Day. Picture a dude proudly proclaiming his 1/16th Irish heritage with a shot of Jameson. It's a cringe-worthy flashback, but there's nothing wrong with that inclination to seek out an Irish pub and glass of Jameson on St. Patrick's Day. The whiskey in particular was practically made for March 17th.
Do you get more Irish than a whiskey that's triple distilled in Cork, Ireland? A whiskey that's been made by Irish hands and minds in much the same manner for the past 200 years? Yes, Jameson is a refined, balanced whiskey, but it's not pretentious. It's a drinking whiskey. A "post shift" whiskey. A "cooking on the grill" whiskey. Ice or neat. Two fingers or four. Weddings or wakes, St. Paddy's Day or just Wednesday…it's a drink for all occasions, just like the Irish pubs that I've come to love.
My approach to Irish pubs and Jameson has evolved since those first St. Patrick's Day experiences. What I realize now, is that both icons are strong enough to stand on their own, without the help of all those shamrocks and "kiss me" buttons.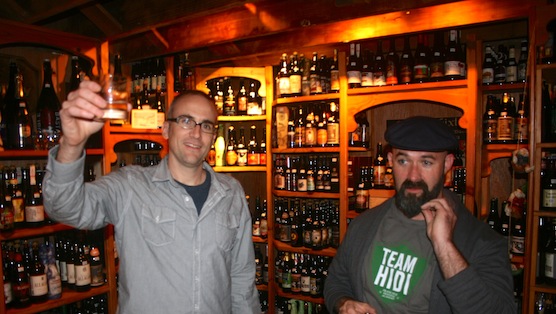 You probably wouldn't even notice anything overtly Irish about this pub in Decatur (there isn't a shamrock anywhere inside the building), but this two-story public house has managed to become a fine representation of the communal hubs the owner originally found in Ireland. Decatur is one of Atlanta's fastest growing neighborhoods, widely recognized as the city's hottest destination for food and drink. This pub has been at the center of Decatur's universe for 17 years, playing an integral part of the town's evolution.
The food here is simple, but pleasantly upscale (think fish and chips with fresh-caught cod, hand-battered to order). While the pub is known for its beer selection, Jameson is the unofficial staff drink—the post-shift celebration—usually sipped neat after a long night behind the bar or in the kitchen. It's a place where families walk from their houses to have dinner. Where softball teams meet after a game. There are no neon signs, no light beer, and no TVs. They've never served a macro beer here ("not once," the pub owner says) and the only time you'll see a screen is during World Cup games.
This isn't a bar. It's not a tavern. It's not a speakeasy. It's not a cocktail lounge. It's an Irish public house in every sense of the term. Yes, this is where you should naturally find yourself on March 17, but much like its Irish predecessors, this pub is also a place where impromptu weddings are held. Impromptu wakes find their way here too. Consider the death of Johnny Cash, for instance.
The night our pub owner heard Johnny Cash died in 2003, he stood on the stairs and quieted down the whole bar. "I made this speech, professing my love for Johnny Cash, and told everyone that we'd be playing his music for the next six hours until the pub closes. I told them if they didn't like it, they could leave and get your own pub. And if anyone wanted to join me, I'd be over in the corner of the bar drinking Jameson. And that's what I did for the rest of the night."
In addition to the occasional impromptu wedding and wake, this iconic Irish pub has also been Paste's "second office" for more than a decade. Founders Nick Purdy and Josh Jackson played on the pub's softball team. In the early years of the magazine, they held business meetings with investors here. This is where they learned to love craft beer through the seemingly endless bottle list. "We come here to celebrate," says Jackson. "And we come here to commiserate. This space is the beating heart of our town."
Paste recently held its 15th anniversary party at the pub. With the staff huddled in a circle, a bottle of Jameson was passed around, filling rocks glasses with two fingers of the Irish whiskey, as the pub owner toasted the friends and family that have gathered inside the space over the years.
"I'm proud of the food and drink we do, but after 17 years in operation, I love coming in and enjoying the pub with the customers and staff," he tells me later, putting the cap back on the bottle of Jameson. The ice in our glasses has melted a little now, thinning the color but opening up the underlying notes of vanilla.
"If you sit down and have a great meal or a drink by yourself, it's cool," he says. "But if you share it with people, it's awesome."
As we celebrate with all of our friends who make St. Patrick's Day great, we raise a glass to Jameson for sponsoring this story.