Heaven Hill Is Bringing Back its Bottled-in-Bond Bourbon … at Double the Price Point
Photos via Heaven Hill
Drink
News
whiskey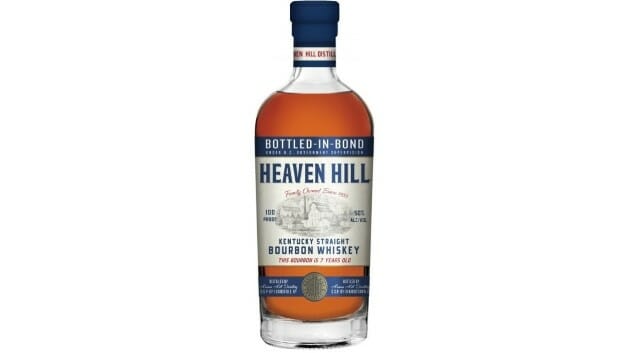 Both whiskey geeks and bargain hunters were understandably sad when Heaven Hill announced the discontinuation of its classic, white label Bottled-in-Bond Bourbon last year. That product from Heaven Hill, often just referred to as "White Label," was a 6-year-old, 100 proof, bottled-in-bond bourbon that often represented one of the best pure values in Kentucky bourbon, regularly retailing for around $15 per 750 ml bottle. At the time of the announcement, many fans speculated on what other Heaven Hill products might absorb the extra stock being freed up by the discontinuation of White Label. With today's news, we have a much better idea, although it strikes us as a slightly cynical one.
Today, Heaven Hill announced the creation of a new Heaven Hill Bottled-in-Bond Bourbon, although one look at the specs of the release and its price point show us that this release is another attempt to premiumize an older product—something that Heaven Hill already did to great effect with its Old Fitzgerald brand. Now, it seems it's White Label's turn to be reinvented at a significantly higher price point.
This new whiskey will go by the name Heaven Hill 7-Year-Old Bottled-in-Bond, gaining one year of additional age from the dearly departed White Label, while retaining the 100 proof one typically expects with bottled in bond releases. It will carry an MSRP of $39.99, putting it in an odd position that is between other Heaven Hill products such as Elijah Craig Small Batch (which was once 12 years old, before being stripped of its age statement) and Henry McKenna 10-Year-Old Single Barrel. For the true geeks in the audience, here's the warehouse information you're craving:
The Distilled Spirits Plant (D.S.P) number of the Bernheim Distillery in Louisville, Ky., D.S.P.-KY-1, and that of the Heaven Hill headquarters and bottling house in Bardstown, Ky., D.S.P-KY-31, are featured prominently on the face label.
This move fits clearly into one of the ongoing storylines in the whiskey industry, which is the effort of the big bourbon distillers to reclaim and premiumize the term "bottled in bond." Years ago, bottled-in-bond bourbons (such as Old Grand Dad) were largely found at the minimum 4 years of age, and were typically considered high-value bottom shelf selections by many bourbon drinkers. However, a wave of higher-priced microdistillery BiB bourbon releases has helped restore interest in the designation, and the bigger distillers have responded by releasing older, more prestigious bottled-in-bond bourbons. Look no further than Heaven Hill itself, which took its dependable, inexpensive Old Fitzgerald (a bottom-shelf, BiB wheated bourbon) and changed it into a 10- to 13-year-old bottled-in-bond wheater that now retails for a suggested $130. The company simply took one of their old brands, turned it into a premium brand, and is now reaping the awards—why not try it again with something similar to White Label?
The new Heaven Hill 7-Year-Old Bottled-in-Bond will first launch this coming October in "the limited markets of California, Texas, New York, Georgia, Florida, Illinois, South Carolina, and Colorado." You can likely expect a report from Paste then on how it measures up to its forebears.