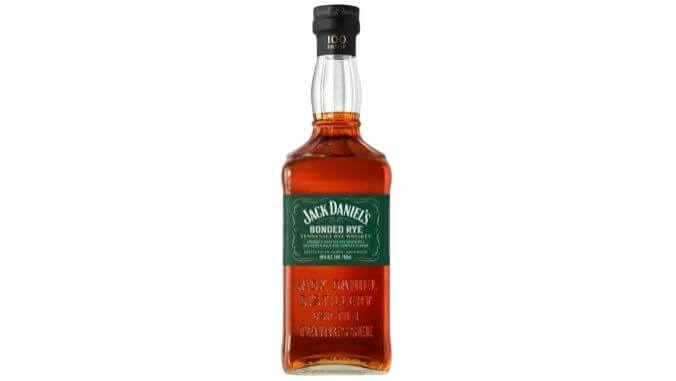 This has been an incredibly busy year for the Jack Daniel's brand already, and we're not even three fourths of the way through yet. The Brown-Forman flagship brand has been aggressively expanding its product lineups and angling for more premium positions in the marketplace, with many new Tennessee whiskeys and ryes designed to capture whiskey geek interest in particular. We've reviewed a lot of these expressions, particularly a recent string of rye whiskey releases that have included cask strength single barrel rye and a "twice barreled" selection. But the newest Jack Daniel's exploration in rye is a lot easier to grasp: Jack Daniel's Bonded Rye, the latest mid-shelf expansion of its Bonded line. This is simply meant to offer a modest upgrade from the workhorse, 90 proof Tennessee Rye, now with the benefit of a concrete age statement and sturdier proof.
Specifically, where the Tennessee Rye is 90 proof and non-age-stated, with an MSRP around $27, this one carries a $32 MSRP and is aged at least four years (bottled at 100 proof) as a bottled in bond whiskey. Both are made from the same JD rye mashbill of 70% rye, 18% corn and 12% malted barley, making these a middle ground between the classic, "barley legal" 51% Kentucky rye whiskeys and the modern, 95-100% rye whiskey style made so popular by MGP of Indiana and others.
And really, that's all there is to it: Jack Daniel's Bonded Rye is meant to be another high-value midshelf bottle that is ready for all kinds of applications, particularly in classic cocktails. So let's get to tasting and see how this one measures up.
On the nose, this is very sweet indeed, to the point where you might wonder if there's more bourbon than rye DNA in this bottle. I'm getting cotton candy and especially toffee, with banana candies, orange essence, but a little bit of dark chocolate providing a modicum of balance. This is by no means lacking in character on the nose, being bold and lively, though not a lot of the initial qualities necessarily scream "rye whiskey." It reads almost more like a bourye, the blending of bourbon and rye.
On the palate, however, this does become more rye forward, though it begins to evolve in some unusual ways. In particular, what comes out very strongly here is black peppercorns, in a toasted or almost roasted sort of way, with charred wood, banana, vanilla and more of the toffee, though the palate doesn't strike me nearly so sweetly as the nose. Or perhaps it does, for a moment, but then the palate moves in the direction of an unexpectedly astringent, burnt woody place, which moves the end to a much more dry dimension, albeit with a kiss of cola spice. It's a burnt element, or one of charred oak, that feels a little incongruous with the rest of what this rye whiskey is presenting, particularly on the nose, and it leaves me scratching my head somewhat.
In terms of high-value ryes from Brown-Forman, I think I may still lean more in the direction of Old Forester's 100 proof rye expression, though perhaps this one will seem a bit more harmonious the next time I visit it.
Distillery: Jack Daniel's
City: Lynchburg, TN
Style: Tennessee rye whiskey
ABV: 50% (100 proof)
Availability: 700 ml bottles, $32 MSRP
---
Jim Vorel is a Paste staff writer and resident beer and liquor geek. You can follow him on Twitter for more drink writing.