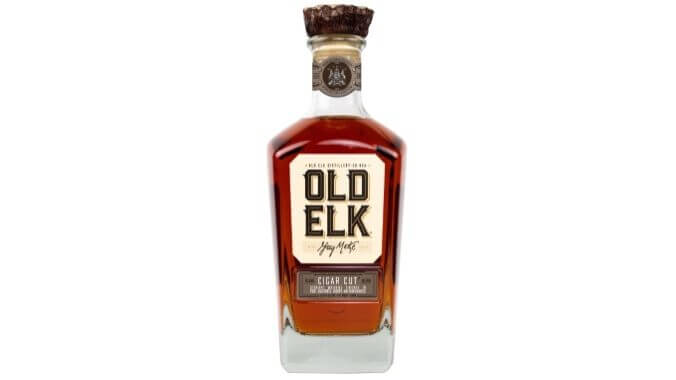 It's been kind of funny, in the last decade or so, to watch the bourbon world slowly adopt so many of the affectations that were previously associated with other sectors of super-premium spirits. Go back a couple of decades, for instance, and you would have seen little if any advertising for high-end cigars tailored toward the American whiskey or bourbon drinker–those would have been reserved for imbibers of "fancy" barrel-aged spirits, such as scotch whisky and brandy. But wouldn't you know it: Over the last decade of creeping bourbon MSRPs, collector mania and retailer price gouging, bourbon suddenly found itself seemingly best friends with the cigar world, to the point that many brands (such as the well-known Joseph Magnus) have developed expressions directly referencing consuming them with cigars. A more recent case in point? Old Elk Cigar Cut.
This is not simply a "better" or extra-aged variation on a company's flagship bourbon, however. If anything, Old Elk Cigar Cut Island Blend Whiskey is complex in its construction to the point of confusion. This is a very heady combination of elements that the company, known for its experiments in techniques such as slow-water proofing, has put together. It's essentially an extra-aged take on the company's Cask Finish Series, albeit a combination of numerous types of cask that make up that series. Specifically, the newly released Island Blend favors "more tropic-affiliated barrels," meaning that this is a blend of whiskeys finished in styles such as port, sauternes, sherry and rum. But it also brings together multiple mash bills, including the company's high-malt bourbon, straight rye and straight wheat whiskey mash bills, all aged for a minimum of six years before a secondary maturation in each disparate style of finishing barrel. The final product–this is the second iteration of Cigar Cut–is then blended and released at 55.85% ABV (111.7 proof), and an MSRP of $130.
Suffice to say, that's quite the preamble for this expression, with at least three different mash bills and four different cask finishes involved. Any blend with so many components and variables is going to be difficult to evaluate, and the fear will always be that its elements present as confused or muddled. Happily, however, this ends up not being the case with Old Elk Cigar Cut Island Blend.
So with that said, let's get to tasting this limited edition expression.
On the nose, I'm getting caramel candied and honeycomb up front, with shortbread-like biscuit, vanilla and significant fruitiness that reads as both pear and more exotic tropical fruit. I can't quite put my finger on this, as it evokes melon or starfruit, something in that vein, brightened up by citrus. It's a nose that is partially familiar, but notably exotic. Of the elements involved in the blend, I would say it perhaps reflects the bright sweetness of the sauternes barrels.
On the palate, this is notably viscous, with a quite thick, luxuriously smooth and satiny mouthfeel. It turns here in the direction of spice to a greater degree, but also offers up from nice herbal and sweet flavors. I'm getting honey, eucalyptus, rye spice, tobacco, vanilla and a return to the pear and melon/cantaloupe fruitiness, with flashes of more toasted grain or bread. Moderate to high residual sweetness give it a somewhat desserty vibe.
Overall, this Old Elk Cigar Cut expression is quite nice on its own merits, and pleasurably distinct and unusual in a few ways. I wasn't necessarily certain that the phrase "Island Blend" conjured up the Cigar Cut vibe exactly, but it seems apropos after tasting this one. It feels like a nice celebratory dram, with no shortage of character. A winner for Old Elk.
Distillery: Old Elk
City: Fort Collins, CO
Style: Blended of straight whiskeys
ABV: 55.85% (111.7 proof)
Availability: Limited, 750 ml bottles, $130 MSRP
---
Jim Vorel is a Paste staff writer and resident liquor geek. You can follow him on Twitter for more drink writing.