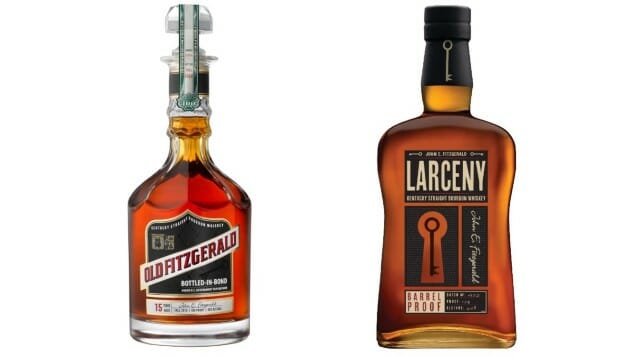 Of all the corners of the bourbon world, I must confess that wheated bourbon is probably the segment I touch base with least often. Part of that is generally being a guy who prefers the spicy profile of rye in his bourbon to the often sweeter or more syrupy profile of wheated drams, but another aspect is simply the fact that wheated bourbons are significantly less common overall. Many distilleries, in fact, don't produce a wheated bourbon at all, leaving the major brands to only a handful of producers. And of course, other consumers happily down handles of Maker's Mark, completely unaware that they're drinking a wheated bourbon in the first place. But every once in a while, I do find myself in the mood for a rich, satisfying wheated bourbon dram.
One distillery that focuses more intently on wheated whiskey than most is Kentucky's Heaven Hill, which produces not one but two wheated bourbons—Larceny and Old Fitzgerald—in addition to a straight-up wheat whiskey in the form of Bernheim. All three of those brands are now well-established, but that hasn't stopped the distillery from tinkering with their releases, developing new twists on each.
Hitting the shelves in the near future, we have two new Heaven Hill wheaters: An older, 15-year version of the premiumized Old Fitzgerald that has become popular in the last few years, and a brand-new barrel-proof expression of Larceny. We've got samples of both, so let's dive straight in to the tasting.
---
Old Fitzgerald Bottled-in-Bond 15 Year Old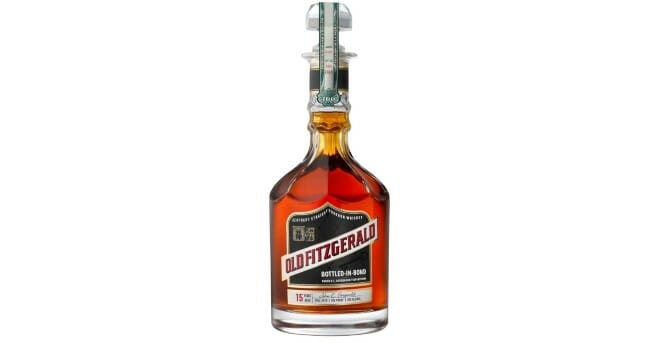 It wasn't long ago that Old Fitzgerald Bottled-in-Bond was a value-priced, 4-year old wheated bourbon brand, but sensing that its image had become very dusty indeed, Heaven Hill gave the brand a total makeover. Taking advantage of the way the craft whiskey industry has reclaimed the cache of the term "bottled in bond" and once again made it associated with a premium whiskey experience, the distillery chose to keep those words on the bottle (which usually imply 4 year old spirits) while upping the age of the liquid to much older stocks. The first revamped Old Fitzgerald release was 9 years in age, and subsequent batches have crept steadily older—first 10, then 11, then 13 and now a whopping 15 years, which of course begs for comparison to Pappy Van Winkle 15 Year. It's perfectly fair to debate whether this extra age is actually a good thing for the whiskey, in terms of finding an aging "sweet spot," but the added years of age certainly help justify the much higher $150 price tag that the brand has carried ever since its revamp. Also nice? That beautiful bottle, which is certainly among the most attractive in the whiskey world today.
As for more specifics on the liquid itself, it's hard to say, as Heaven Hill doesn't release mash bill information on these whiskeys. It's not entirely clear, for instance, if Larceny and Old Fitzgerald share the same mash bill, and are simply separated by age. They're both wheated bourbons, certainly, but in practice of tasting these two releases, there's certainly plenty of differences between them.
On the nose, Old Fitzgerald 15 Year assertively throws off a bouquet of caramel corn, Werther's originals-like caramel candy, florals, strawberry jam fruitiness, baking spices and old oak. As the age of these batches have increased, the oak presence has certainly crept forward as well, something I can imagine being a bit divisive for fans of the brand. Also surprising: The sheer amount of spice presence on both the nose and the palate, which is far more pronounced than you expect in most wheated bourbons, but complements the profile in a pleasing way.
On the palate, there's a good amount of complexity here. Caramel apple, strawberry and creamed corn segue into moderate maple syrup sweetness, big oak and a blast of baking spices—again, more than you expect in pretty much any wheated bourbon. Syrupy and fairly rich on the initial palate, it packs moderate heat, about where you would expect for the 100 proof. The finish turns toward old oak, with a tannic dryness that actually helps temper the initial sweetness/richness, but some drinkers may find the oak presence to be a bit too dominant for their taste. Regardless, this feels (to me) like the furthest one would probably want to push the age statement on Old Fitzgerald, lest it be overtaken by the wood completely.
All in all, though, this is a pretty sophisticated dram for a wheater, unique enough that there are few immediate comparisons.
Rating: 8.5
---
Larceny Barrel Proof (A120)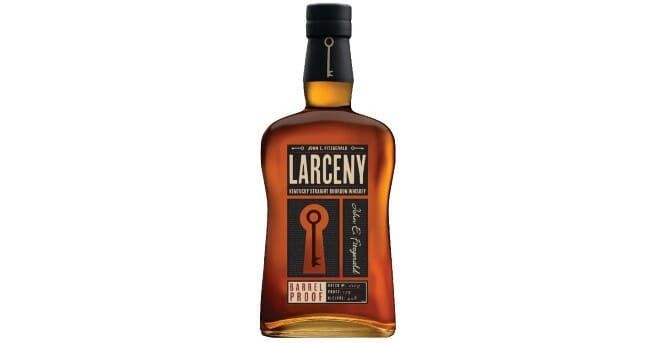 Given the success and adoration received by Heaven Hill's own Elijah Craig Barrel Proof, it seems only obvious that they extend the same treatment to Larceny, their attractively priced ($20-25, usually) wheated bourbon that is so often positioned as the distillery's response to Maker's Mark. Moreover, it gives the distillery an entry in what is a pretty rare field: barrel-proof wheated bourbons, which are largely represented just by Maker's Mark Cask Strength and W.L. Weller Full Proof. There's no age statement, but it's reportedly six to eight years in age.
If you're wondering about the "A120," Heaven Hill has borrowed their same naming convention used for EC Barrel Proof, which is a handy way to tell which batch a bottle is from at a glance. The first letter simply denotes which of three yearly batches the bottle comes from, so in this case "A" means the first batch of the year. The first number represents the month, while the second two numbers represent the year. Therefore, "A120" means "A" batch, of January, 2020, when this whiskey will be hitting the shelves. It's bottled at a respectable 123.2 proof (61.6% ABV), and will reportedly retail for just $50—notably low for just about any cask-strength bourbon, especially considering that test batches of Larceny Barrel Proof were reportedly sold for $115. That price point would likely make Larceny Full Proof a few bucks cheaper than Maker's Cask Strength, which is in keeping with the brand's usual pricing.
On the nose, this one immediately announces it is not messing around. In addition to the substantial ethanol presence, I'm getting some interesting notes of gooey caramel and an intense chocolate nuttiness, quite reminiscent of one of my favorite candies: Tootsie rolls. Color me surprised; that was hardly what I was expecting to write, but here we are.
Those notes carry through on the palate, which is wild and punchy in terms of assertiveness. This is some massively flavorful stuff, exploding on the palate in an initial rush of milk chocolate, caramel cremes and red fruit, but also a significantly different, grainy-wheaty-yeasty character that is much "fresher" than the older juice in the Old Fitzgerald. This bourbon is more overtly sweet, certainly, and also quite fiery, even taking the proof into consideration. Hot cinnamon candies are an apt comparison, and a distinct roastiness that I can only imagine tastes like freshly charred oak. The heat, to be honest, is a bit much—this bourbon seems to be trying to blow the doors off, in comparison with the more structured and nuanced Elijah Craig Barrel Proof, which clearly benefits from its 12 years of aging. In this case, a little bit of water may be necessary—I added a tiny splash, which tames the overall profile nicely, giving you a very sweet, roasty dram with lots of burnt cinnamon stick, cocoa and hints of red fruit.
All in all, this is intensely flavorful, but a bit wild and unstructured. I'd reach for the Elijah Craig Barrel Proof first, but with a bit of water, it has its charms.
Rating: 7.9
---
Jim Vorel is a Paste staff writer and resident brown liquor geek. You can follow him on Twitter for more drink writing.