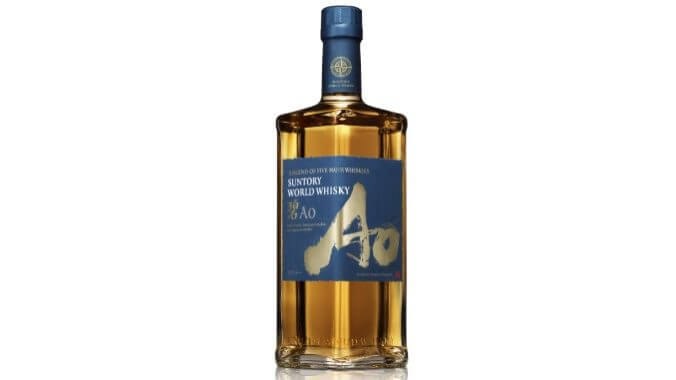 When it comes to ambitious blends of whiskey from numerous nations and distilling traditions, I have a tendency to keep my expectations rather low. Blending for the sake of multiculturalism is a go-to move for the bigger players in the international whiskey world, which means one can't always trust that the products resulting from those "collaborations" are being driven by quality, rather than an attempt at eclectic marketability. A blend of whiskey from the U.S., Canada, Ireland, Scotland and Japan? Sure, that sounds weird and interesting—and like something that most whiskey drinkers would be curious to sample. But can one really expect it to be good off hand?
In my past experience, these types of experiments have too often been uninspiring. Add too many elements to a blend, and the result becomes muddled, confused and chaotic, registering none of the best aspects of the components in the blend. And so, you'll have to forgive me when I say that the initial premise of Suntory's new 'Ao' World Whisky blend didn't immediately fill me with optimism. But as it turns out, I needn't have been so cynical—what they turned out is actually quite nice, one of the most pleasant whisky surprises I've had in recent memory.
This blend, named for the Japanese word for "blue," is named "after the oceans that connect these whiskies of the world together." It is assembled from component whiskeys from all over Suntory's global footprint. Specifically, that means the following:
— In the U.S., Jim Beam. We can assume this means bourbon.
— In Canada, Alberta Distillers Ltd.. This most likely implies rye.
— In Ireland, Cooley Distillery, which produces both grain and malt whiskies.
— In Scotland, Ardmore Distillery and Glen Garioch Distillery, making two distinct malt whisky styles.
— In Japan, Yamazaki Distillery and Hakushu Distillery, producers of their own malt whiskies.
The Ao blend has actually been around for a few years, but to date has only been sold in Global Travel Retail. In early 2023, however, it's making a global debut in Canada, Taiwan, Singapore, Korea and the U.S. this month, priced at a fairly approachable $55 for the increasingly common 700 ml bottle. It's bottled at the slightly more flavorful 43% ABV (86 proof) point commonly used to denote "premium" bottlings (a step above entry level flagship brands) in the scotch world.
So with all that said, let's get to tasting and see how these many influences come together in Suntory World Whisky Ao.
On the nose, Ao is immediately quite sweet and inviting. You'd absolutely be thinking malt whisky from smelling this, as the profile is sweet and heavily honeyed, with biscuit and toasted grain tones, along with white chocolate and almond bark. Citrus and dried fruit notes such as sultana are also present, along with vanilla. On the nose, it's actually somewhat reminiscent of common sherried malt whiskies, which may indicate that some finishing barrels were involved here somewhere, or just illustrate my own lack of familiarity with some of the malts (such as the Japanese malts) involved. Regardless, it's a notably sweet nose, and very enjoyable.
This is likewise sweet and rich on the palate, punching above its modest ABV in terms of assertiveness of flavors. Heavy vanilla here meets dark fruit syrup and dried fruitiness, along with marzipan and malt sweetness. It's not one-dimensionally sweet, however, as the back end of the palate turns in a more earthy direction, with light peat and faint, sweet smoke, presumably contributed by the Ardmore single malt in the blend. That smokiness starts out barely perceptible and grows more firm and easy to locate over time. All in all, this is quite tasty to drink neat, though overall I expect it could be a bit sweet for some. Ethanol, fittingly, is quite gentle. The finish turns a little bit more woody, with just a touch of spice.
All in all, I find myself quite impressed here. One can see how this product could be an end result of the sort of experimentation that was involved in creating Jim Beam's Legent Bourbon a few years ago, but in every way this strikes me as the superior and more interesting product. It's a very nice drinker for those with an appreciation for sweet and fruity malt whiskies, and a product that those with tunnel vision focus on American whiskey would do well to check out at some point.
Distillery: Beam Suntory
City: Osaka, Japan and New York City
Style: Blended world whiskey
ABV: 43% (86 proof)
Availability: 700 ml bottles, $55 MSRP
---
Jim Vorel is a Paste staff writer and resident beer and liquor geek. You can follow him on Twitter for more drink writing.