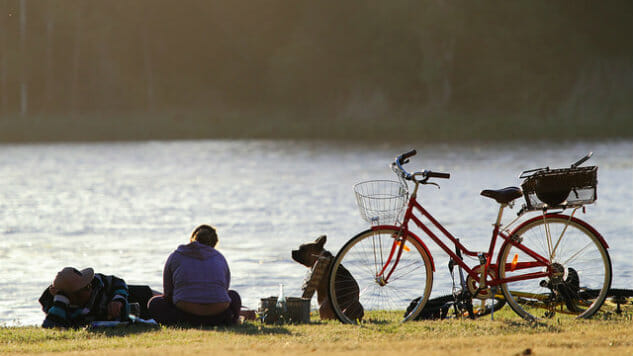 As the weather warms up, there's only one thing on my mind: bike picnics. There are few things as glorious as a bicycle ride in the sunshine, except for a picnic in the sunshine, so it makes sense to put the two together, culinary cyclist style.
Having a standout bike picnic is all about planning ahead. Sure, you could just plop yourself down in a park and pull out a peanut butter and jelly sandwich, but that's not a bike picnic, that's just a bike ride with a snack. Here are a essentials for planning the perfect two-wheeled picnic to take advantage of the spring weather.
What to pack in?
This is the ultimate question, but honestly, there's no "right" answer. You pack your picnic in whatever you have. Maybe you have a bicycle equipped with a front basket. Great. Maybe you have panniers. Great. And maybe you don't have any of the above but you have a trusty backpack. That will work well too. Regardless of what you pack in, keep in mind the fragility of the items you are taking with you.
Bring something to sit on
Unless you catch a scorcher of a day, early spring can mean that the ground is still wet. A blanket will help with that. Blankets can also do double duty as a wrap for more fragile items, like wine glasses (if you're daring enough to bring those).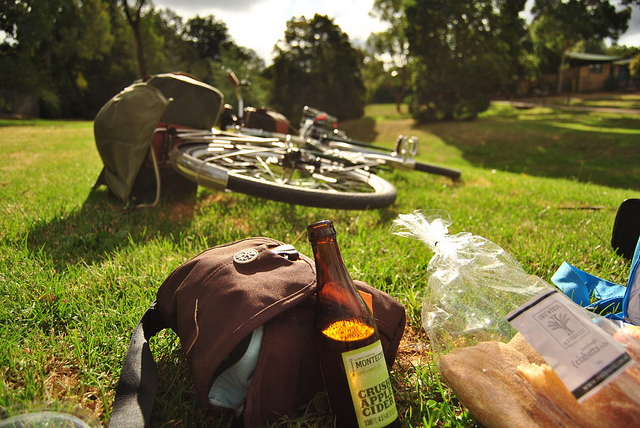 Pack "small" foods
The trick to bike picnics is that you want small foods that pack easily, and lots of them. In other words, that huge casserole is out, but a container of olives and a nice piece of aged cheese is definitely in. Think about foods that will travel well and won't mind a bumpy ride. Sliced vegetables and a little dip or tapenade with crackers are always a hit, and don't you ever dare forget dessert. It's fun to have an assortment of foods at a picnic after all, so think of your picnic menu as a collection of small plates; bike picnic tapas!
Do some food prep at home and some on-site
For foods that are a bit more complicated, prepping on site can be helpful. For example, I have a go-to recipe for almond tartlets that I love to fill with fresh fruit. When I take those ona bike picnic, I'll pack the tartlets on their own, then fill them with fruit when the time comes to serve them. The same thing goes for salad; if you don't want it going soggy while you bike, pack the dressing in a sealable jar and pour on once you are ready to serve.
Always pack a cutting board
Cutting boards can help with a variety of picnic tasks, from cutting bread to using as a serving tray. Opt for a lightweight cutting board that's easy to pack and bike with; you don't want to be lugging around your kitchen cutting board.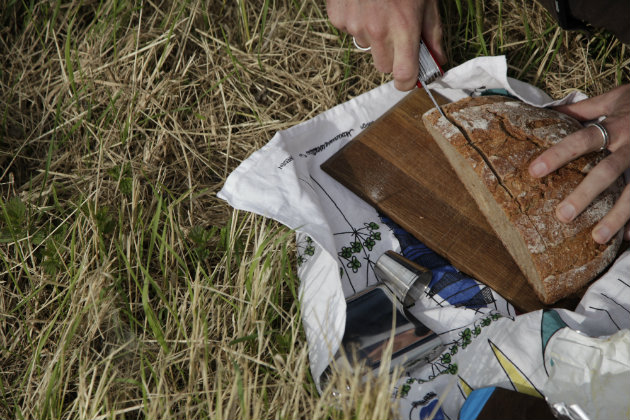 Bring your own dishes and cutlery
This may sound like a no brainer, but it's amazing how many times people will put time into packing food, but forget something to serve it on and eat it with. You want dishes and cutlery that aren't fragile, but you also want to make sure that they are reusable. No need to create unnecessary waste with single-use, throwaway items.
Carry a small spice kit
It doesn't need to be complicated, but a small container of ground pepper and a small container of flaky sea salt will take you far.
Properly pack your libations
Sure, you could put a bottle of wine or beer directly into your backpack, but if you're a regular picnic drinker, than you may want to invest in a bike-friendly holder for your bottles. For the wine lover, there is the strap wine holder from Canada's Oops Mark which attaches to your frame and carries a bottle of win. For the beer enthusiasts, Portland Design Works' Takeout Basket conveniently fits a six-pack, and if you just want a small strap to attach a six-pack to your frame, then Walnut has you covered.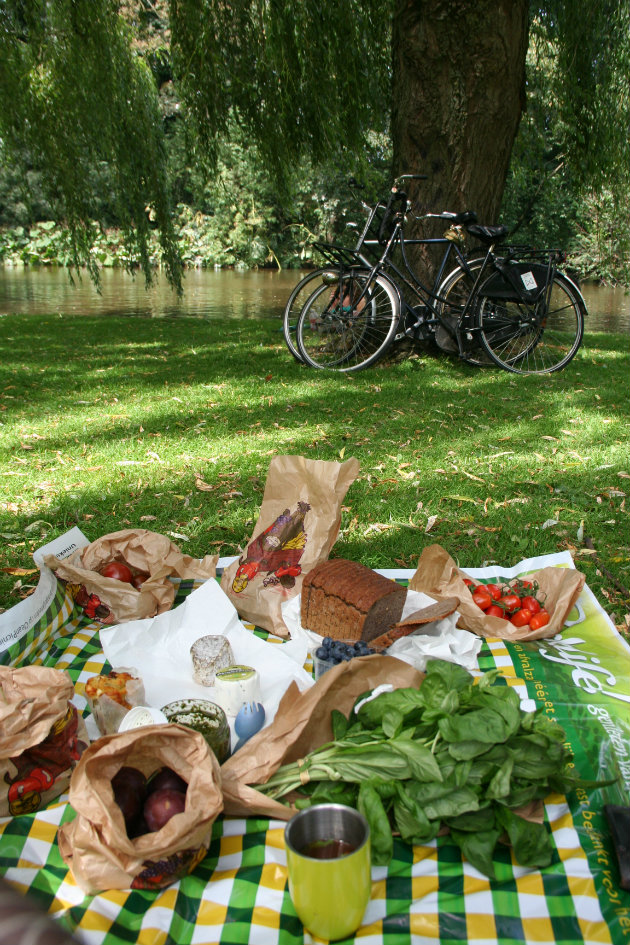 Make a "picnic kit"
Go on two-wheeled picnics a lot? Then have all your essential picnic supplies – a tea towel to use as a "tablecloth," a Swiss Army knife, cutlery, dishes and cups – in one place, and a small bag or stuff sack to put them in.
Bring a trash bag
Leave your picnic site as you found it. That means packing up all your food scraps and taking them with you if there's not a trash can on site. If you really want points, take two bags so you have one for compost and one for regular trash. No reason you shouldn't be putting that food waste to good use!
Anna Brones is the author of The Culinary Cyclist and Fika: The Art of the Swedish Coffee Break and runs Foodie Underground, a site about real food for real people. Wherever she is in the world, she can often be found riding a bicycle in search of excellent coffee.
Top photo by Ed Dunens CC BY. Inline beer photo by Cat Burston CC BY and bike picnic and bread photos by Anna Brones. Preview photo by Joel Kramer CC BY.