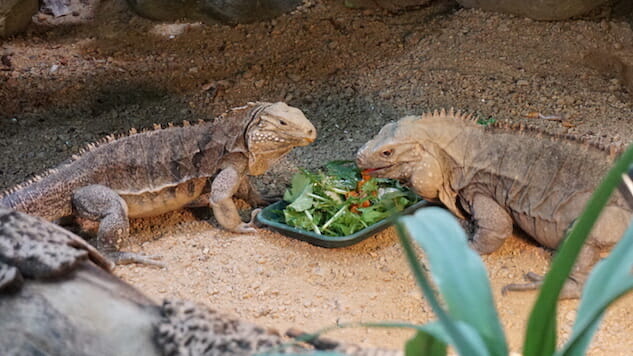 It's lunchtime at the Durrell Wildlife Park. I'm inside the animal kitchen, standing beside a British Michelin-starred chef whose neck is tattooed with a skull and crossed knives in lieu of bones. We're both engrossed in the activity in front of us: a teenage zoology student who carefully scoops out chunks of cactus and bright orange fruit pulp onto individual plates destined for the iguana enclosures. It's a strange sight to behold – but Durrell is no ordinary park.
"Our animals like a mixed meal for lunch," says Mark Brayshaw behind me, nodding approvingly towards the stainless steel kitchen counter where his student is deftly sprinkling a salt shaker filled with protein flakes across the brightly colored dishes. As Head of Animal Collection, Brayshaw facilitates the individual diets of more than 150 endangered species who call the Durrell Park home.
In 1958, the naturalist Gerald Durrell was keeping his international collection of animals in his sister Margot's garden but needed somewhere better. When his publisher suggested the Channel Island of Jersey, Durrell immediately leased the Les Augrès Manor estate and established Jersey's first zoo within its grounds. Since then, the Durrell Park has maintained a distinctly un-zoo-like ethos: its main focus is on animal wellbeing, from carefully manicured landscapes designed to mirror natural habitats to growing 80 percent of the animals' food in the park's onsite organic garden. Beneficial not only because it cuts the cost of commercially-bought feed, the garden also allows for specific tastes and habits to be catered for: bears like to crack sugarcanes; the Sulawesi black macaques have a penchant for rose petal and mint ice lollipops during the summer; and natural foragers like gorillas receive whole pea plants with roots and stems to pick through and strip themselves. "We call it behavioral enrichment," Brayshaw tells me. "Zoo animals get bored easily so you've got to keep them busy!"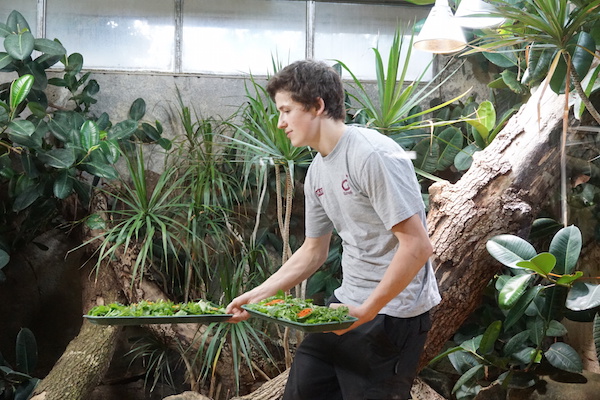 Photo by Flora Baker
Durrell's animals aren't the only Jersey dwellers engaged in foraging. On the west coast of the island beside the stunning Atlantic Hotel, two men are scouring the shoreline for seaweed and sea herbs. Robert Thompson, a head chef from the Isle of Wight, is here with his sous-chef for the Eat Jersey Food Festival, an annual event which welcomes Michelin-star chefs from across the UK to create lavish taster menus for eager patrons using the best of Jersey's produce. The festival was launched to celebrate the island's potential, even when out of season – but there's also a crucial philanthropic element. In the last 20 years, annual visitor numbers at the Durrell Wildlife Park have fallen by 200,000, and the park's future is uncertain. One possible savior of the island's dwindling tourism is Jersey's growing reputation as a unexpected gourmet food destination.
Despite being just 14km long by 8km wide, this little island between France and the UK is home to three Michelin restaurants and a wealth of local produce – most of which arrives when the tide comes in. At Faulkner Fisheries, set inside a converted World War Two bunker at St Ouen's Bay, owner Sean Faulkner farms live scallops, mussels, crabs and lobsters which take just 10 minutes to reach The Atlantic Hotel's restaurant.
Much of the ingredients for Eat Jersey's grand seven-course taster menu have been sourced from Faulkner: I sit alongside Michelin chefs, Scottish journalists and French sommeliers who all sound like children as they exult over Robert Thompson's poached oysters, Nicolas Valmagna's crab espuma and Andrew Fairlie's home-smoked lobster. When we're served a bowl of tarragon snow and yoghurt ice from The Atlantic's pastry chef Jarek Nowakowski, I hear someone say, "It's like stealing the mint from next door's garden!" and I can't help thinking about Durrell's animal contingent. When the macaques scrabble eagerly in the grass for their occasional treat of persimmons and flower petals, do they exclaim over taste combinations and flavour palettes? Perhaps not – but does that mean they shouldn't receive the same levels of thoughtfully prepared meals we give ourselves?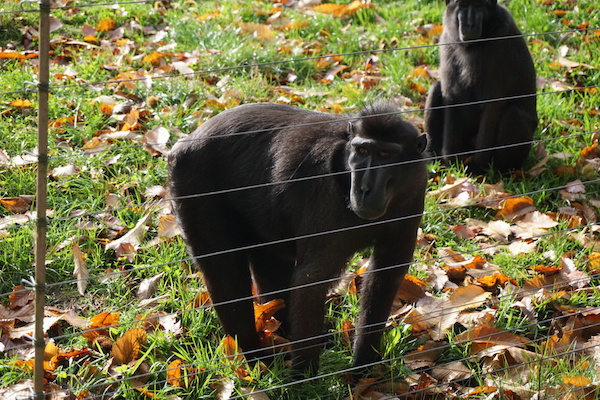 Photo by Flora Baker
By providing each inhabitant with their food of choice, the Durrell Park has certainly found the right attitude to feeding. Plates of individually prepared cactus and fruit pulp isn't just a gimmick, either; focusing on nutritional needs and enrichment of enclosures means the animals are happier, will live longer and are more likely to breed in captivity. Coupled with the organic farm, it's a holistic approach which the Eat Jersey festival also seems to mirror, facilitating a more enjoyable experience for everyone involved – and as I spear a scallop on my plate, I get the keen sense that my fellow festival attendees, beneath their training, are just as excited by taste and texture as the animals.
There's something special about Jersey. Its fertile landscapes and richly populated seas are providing sustenance for animals and humans alike, and it's no surprise that Michelin stars and their followers are flocking here. Whether it's served inside an iguana enclosure or on glistening china plates in a stunning restaurant, food is food. It deserves to be treated with care and respect – and so do its eaters.