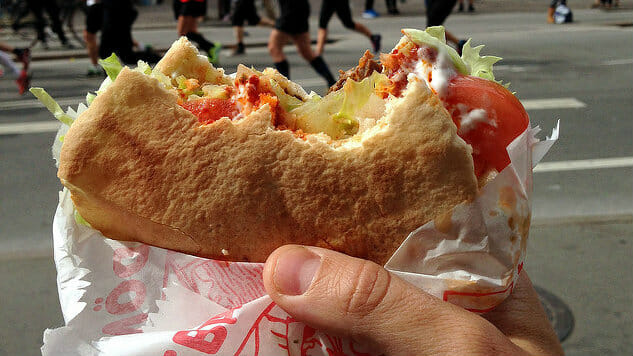 There are two things America can count on in Marvel comic movies: Stan Lee's cameo and post-credit scenes.
In fact, the moment we walked out of the theater following Marvel's The Avengers, I wanted to know what chicken shawarma was. I wasn't the only one: sales of the entrée amped up following the movie's release and the credit scene viewed by millions.
Though we live a world — or at least a fourth wall — away from caped, masked and leotard-clad superheroes and superheroines of the Marvel and DC universes, their guilty pleasure foods can be found on our Earth too.
Sha-what?
The Avengers
"Have you ever tried shawarma?" Tony Stark asked Steve Rogers. "I don't know what it is, but I wanna try it."
Why yes, Iron Man, I have, and it's pretty good. Shawarma is a street food similar to the Greek gyro, except its origins are in the Middle East and not Greece. The meat is seasoned and spit-roasted and slices are shaved off while the spit turns, heating continuously. Whether it's chicken, veal or lamb, the shawarma meat is wrapped in pita bread and spread with shredded veggies and either hummus or tahini (Greek gyros are more apt to have the cucumber-based tzatziki sauce instead).
Shawarma seasoning includes coriander, allspice, cinnamon, cumin, pepper, ginger and turmeric. These impart a savory-sweet flavor that's distinctly different from a gyro's earthy and herbaceous taste.
It's a food you can eat with your hands and makes the perfect end to a hard work day, especially after you and your closest superheroes stop aliens from destroying the planet.
Thai Fighter
Captain America
The Cap has this list of things he missed during the 70-odd years he spent frozen in suspended animation. The list makes an appearance when Sam Wilson, The Falcon, told him to listen to the Marvin Gaye Trouble Man soundtrack from '72. Everything from the past decades on one album, Wilson said.
On this list of beloved items Captain America longed for is Thai food. No specifics. Thai food is characterized by meat, seafood and veggies seasoned with fresh lemongrass, cilantro, garlic, lime and similar spices that pack a punch.
Thankfully, all Rogers has to do is look up Chef Jet Tila (or his Marvel universe contemporary) for a guide to the best Thai dishes to start with. Tila told bon appétit magazine his top five: khao soi, shaved rice noodles in a ginger-coconut curry broth with chili sauce and pickled vegetables; kuah gling, spicy shaved pork short ribs cooked in hot curry paste; pang gee, a Thai dessert made of coconut, taro, palm sugar and corn (hard to find, so the Captain may have to trek to Los Angeles for a good one); green bamee yok, which are spinach egg noodles served with pork, crab and some of those characteristic Thai seasonings; and shrimp doughnuts dipped in peanut or chili sauces.
31 Flavors
Ant-Man
Somewhere between being a petty thief and becoming a superhero that got caught in the Honey, I Shrunk the Kids ray gun, Scott Lang gets a job at Baskin-Robbins. The land of 31 flavors is most certainly accessible in this universe, as is the Mango Fruit Blast Lang offers the burger-pretzel-hot-and-fresh-ordering teen who approaches the counter.
Though the place doesn't offer sides of fries or mustard dip, it does have dairy decadence in the form of Easter Egg Hunt, Love Potion #31, Raspberry Sinceri-Tea and Wild 'n Reckless sherbets and ice creams. And if a scoop of ice cream isn't your thing, the thousands of Baskin-Robbins franchises have plenty of smoothies, beverages, ice cream cakes and something that looks suspiciously like a dipped cone covered in fondant that's called a "turkey leg."
Chimi-f***ing-changas
Deadpool
Comic book Deadpool doesn't actually like chimichangas all that much, but he loves the word. So much that the movie Deadpool used the Mexican food to illustrate why his movie was 1,000 times better in IMAX, and real-life Ryan Reynolds, the actor who portrayed Wade Wilson, handed them out of a food truck prior to this year's Super Bowl to promote the film.
Chimichangas are burritos stuffed with meat, cheese, refried beans and rice, tightly wrapped and deep-fried, then topped with the usual suspects of guacamole, salsa and sour cream. You can find them at most Mexican restaurants, or, as Reynolds demonstrated, Mexican-inspired food trucks. Hashtag drive-by.
Try "The Flash!"
The Flash
There's just something about a coffee shop that makes the perfect place for favorite TV stars to gather. For Friends, it was Central Perk; Pretty Little Liars, The Brew. In The Flash, Barry Allen and company regularly meet at CC Jitters.
Jitters is the home to quite a few pivotal moments in the show: Allen visits Iris West, his pseudo-sister and secret crush, at Jitters after waking from the coma with his superspeed. Caitlin Snow frequents Jitters for important meetings — such as discussing F.I.R.E.S.T.O.R.M and distracting Harrison Wells. It's also where Cisco Ramon first meets Kendra Saunders, a barista with a sketchy history she only half remembers that winds up getting her and her star-crossed lover from a past life their own spin-off.
For a Jitters experience of your own, check out your neighborhood coffee shop and order your favorite brew with a shot of espresso added. The fictional hub named this drink for Central City's favorite superhero after he rebuilt the place from scratch … the least Allen could do after destroying it in the first place by opening up a singularity!
Best Buns in the Universe
The (Green) Arrow and The Flash
Imagine the excitement Harrison Wells from Earth 2 felt when he learned Big Belly Burger existed in the DC universe on Earth 1! Allen ate a slew of the beef patties during training, and his superhero bud in Star City, Oliver Queen, is known to make appearances at this famous burger joint.
Queen, who depending on the episode goes by The Arrow or The Green Arrow, shows up at Big Belly Burger a lot in the earlier seasons of the show, as do members of his team. The restaurant chain bears resemblance to our own greasy, earthly diners: greasy, salty fries; juicy burgers on buttery buns; supersized drinks that take two hands to hold.
It's a good thing, too — I don't reckon I could survive in Eobard Thawne's timeline where there exists a world without cows from which to create these decadent, fast food staples.
Something in the Water
Spider-Man
Though most superhero food can be found everywhere on Earth, the food in Spider-Man's world can only be found in one place: New York City. The classic NYC pizza slice has been replicated, but never duplicated, in most restaurants around the country.
Many New Yorkers say it's something in the water that makes their state's pizza so unforgettable. Tobey Maguire's incarnation of Peter Parker makes it even more unforgettable with an epic delivery scene in which he must simultaneously drop off a stack of boxed pizza and save two kids from becoming road kill.
Thrillist rounded out a list of seven top pizza places in the Big Apple. Coming in first was Roberta's in Bushwick, followed by Motorino in the East Village and Paulie Gee's in Greenpoint. For the rest of us who don't live in the city of glitz, glam and Spider-Man, the best option is probably to purchase a plane ticket ASAP, because there's a lot different between New York-style and New York pizza.
Dallas Anne Duncan is the founder and editor of Georgia's new agriCULTURE Magazine, which showcases the connection between Georgia agriculture and Southern culture.
Main photos by cyclonebill CC BY-SA and Basheer Tome CC BY