Get Your Bake On with the Bake Off: 5 Cookbooks From Previous 'The Great British Bake Off' Contestants to Try
Photo by Taylor Grote/Unsplash
Food
Lists
The Great British Bake-Off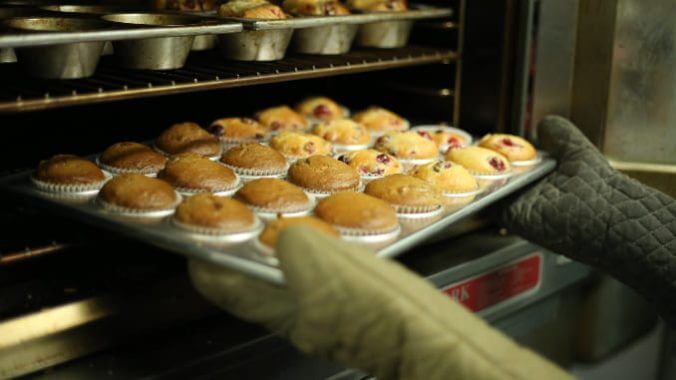 Fans of The Great British Bake Off, rejoice! Only a few weeks remain until the 2023 season begins on Netflix, where we can look forward to new host Alison Hammond (replacing Matt Lucas), and—after vociferous complaints from fans—changes to the baking challenges: No more national themes (remember last year's disastrous Mexico week?) and a return to more traditional baking with more reasonable time constraints. Talented as they are, these contestants are supposed to be home bakers, after all. 
And while waiting for GBBO to return, you can immerse yourself in the home-baking spirit of the show by exploring these recently published cookbooks from previous contestants.
---
1.
Small Batch Bakes: Baking Cakes, Cookies, Bars and Buns for One to Six People
by Edd Kimber
Thanks to the Roku Channel, the earliest series of The Great British Bake Off are finally available to viewers who never caught them on PBS or Netflix. Discrepancies between the show's fledgling format and what audiences are used to now can be startling: In the first season (2010), won by Edd Kimber, production values were definitely an afterthought, two contestants were dismissed every episode and there were no Star Bakers—the designation was added in series two.
Two days after winning GBBO, Kimber quit his job at a bank. His passion for baking is Kimber's full-time focus, which includes his Instagram account @theboywhobakes and a website of the same name, as well as six published cookbooks. His most recent, the bestselling Small Batch Bakes, is perfect for quick bakes, date-night desserts or small households. 
Written in a warmly engaging style, the cookbook's chapters are organized by types of bakes (pastry, cakes, breads and buns, etc.). Each recipe includes a photo of the finished item and indicates the number of people it serves (an important detail if you and your roommate suddenly crave an easy, late-night treat). As you flip through the book, you'll feel like a friend is inviting you to bake alongside him—which is exactly how Kimber comes across on his social media.
Recipes to try: Emergency Chocolate Chip Cookies (because obviously!, for 1), Date-Night Crème Brûlée (for 2) and Olive Oil and Feta Quickbread (for 4)
---
2.
Showstopping Cakes: Mastering the Art and Science of Baking
by Rahul Mandal
Brilliant and at times painfully self-effacing, Rahul Mandal competed in series nine (2018) of GBBO. His delicious flavor combinations and meticulous attention to detail consistently earned him praise from judges Paul Hollywood and Prue Leith, which just as consistently seemed to astonish Mandal—even when he won the series finale.
This diffidence carries over into Showstopping Cakes, Mandal's first-ever cookbook, where he describes how long it took him to learn how to bake well and the many mistakes he made along the way. For his readers, the engineering researcher explains the chemistry behind different types of sponges and "what makes a cake work" (the temperature of ingredients, correct measurements, why baking techniques matter); he also offers solutions to common baking problems, as well as thorough advice on flavor pairings.
Mandal devotes the first half of his cookbook to "Fillings and Frostings" and "Decoration and Accessories"—beautiful royal-icing panels, elaborate, succulent-like chocolate flowers and the much-vaunted mirror glaze. The second half of Showstopping Cakes is dedicated to, well, creating said showstoppers. He includes a chapter on elevating everyday bakes such as Swiss rolls into more special concoctions, but Mandal really gets down to business with chapters on decorated cakes, meringue and gluten-free and tiered cakes. 
This cookbook, with its dazzlingly beautiful photographs and complicated recipes (mostly when it comes to cake decorations) is more for experienced bakers or those who want to learn how to create Star Baker-worthy cakes. 
Recipes to try: Lemon and Blueberry Cake (with lemon curd and blueberry compote), Strawberry and Elderflower Cream Meringue Cake and Citrus Madeira Cake (with concrete frosting and geode decorations)
---
3.
Bake Yourself Happy: 50 Recipes to Bring You Joy
by Steph Blackwell
Series 10 (2019) finalist Steph Blackwell earned four Star Baker awards—second-most in GBBO history only to series five (2014) finalist Richard Burr's five. More importantly, since her run on GBBO, Blackwell has bravely and publicly shared her mental health issues, which include depression, anxiety and disordered eating. She's also described how important baking has been to her mental health journey.
Her second cookbook, Bake Yourself Happy, explicitly explores baking as a kind of therapy, without taking things too seriously. Instead of grouping the book by types of pastries or ingredients, Blackwell segments the book according to the ways she hopes her recipes will make you as a reader feel as you bake them. "Boost Your Confidence," the first section, provides bakers with foundational baking techniques like choux pastry and practice with fundamental recipes like Victoria sponge; "Happy Place" helps you create—or re-create—nostalgic memories tied to food; "Full-on Joy" comprises recipes to share with loved ones such as rolls, soufflés, layer cakes and scones.
The entire tone of the book is one of generosity and kindness—you'll feel better simply for spending a few minutes perusing Bake Yourself Happy, even if you actually don't make anything. Blackwell reminds us to be creative, get messy—"and most importantly, lick the bowl!"
Recipes to try: Lunchbox Muffins, Vegan Cinnamon Pretzel Bites, Cheese 'n' Spice Scones and Baked Raspberry Custard Cream Doughnuts
---
4.
Simple French Baking: Over 80 Sweet Recipes for the Home Cook
by Manon Lagr
è
ve
A quarterfinalist on series nine with Rahul Mandal, Brittany-born Manon Lagrève impressed the judges and audiences with her French approach to baking. Lagrève shares these concepts in the lovely Simple French Baking, assuring us she is here to help us produce classic French treats, either "simplified or with a twist." Much of the book's charm comes from its photographs, which are quietly gorgeous with Lagreve's trademark effortless French élan—the envy of any Instagram influencer.
Lagrève arranges her cookbook by types of treat: The "Desserts" chapter features everyday, simple something-sweets of the sort the French customarily enjoy after lunch or dinner; "Gateaux" are easy cakes made for a last-minute celebration or picnic; and "Le Goûter" highlights afternoon snacks such as crêpes, waffles and brownies. Of course, no French baking book would be complete without a chapter on "Pâtisserie," and for this potentially intimidating section, Lagrève is especially encouraging. She shares the tips and techniques she's developed to ensure her own success with challenging pastries like profiteroles and croissants, gently urging less-experienced bakers to give her recipes a whirl.
Recipes to try: Crème Renversée (crème caramel), Tarte Au Chocolat Et Sel De Mer (chocolate and sea salt tart), Mini Pièce Montée (mini croque en bouche) and Macarons
---
5.
Chetna's Indian Feasts: Everyday Meals & Easy Entertaining
by Chetna Makan
Chetna Makan's creative flavor and spice combinations made her a popular contestant on season five (2014) of GBBO, where she was a semifinalist. Makan has since published seven cookbooks, and they're all delightful, ranging from an exploration of Indian street food to quick, easy Indian meals and healthy vegetarian Indian recipes. Her most recent work, Chetna's Indian Feasts, focuses on recipes inspired by those cooked in her family home, both the one she grew up in and the one she shares now with her husband and children.
Indian Feasts also emphasizes vegetarian recipes, accompanied by delicious-looking photos. Makan provides careful instructions that guide you along without making you feel overwhelmed. She divides up the book by chapters that include "Friday Night Takeaway," "Fast Feasts" and "Sunday Brunch," and her section introductions provide suggestions for recipe combinations and ways to share them with your lucky recipients.
Recipes to try: Paneer Skewers, Rava Dosa, Red Onion Salad and Caramelized Walnut and Coffee Pavlova