6 Venues that Vibe on Vegan Soul Food
Photos courtesy of Detroit Vegan Soul and Adrian Miller
Food
Lists
Vegan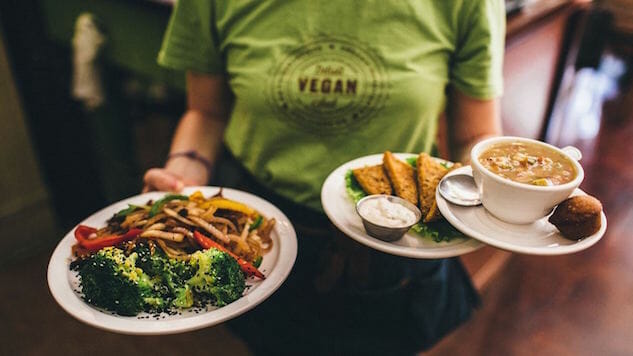 You know it's coming. After you finish gorging through this holiday season, it will be time to make a long list of resolutions that undoubtedly include losing weight and eating healthy. Many people turn to eating vegan food (nothing involving meat or animal products) to jumpstart meeting their dietary goals. Soul food aficionados need not feel left out. That's right, vegan options are showing up on more and more soul food restaurant menus, and in some cases, the entire restaurant is wholly dedicated to animal-free cuisine. Here is my short list of places to visit:
1. Detroit Vegan Soul
Detroit, Mich.
With a slogan like "Soul Food Made from Whole Food," one can tell that Erika Boyd and Kirsten Ussery — the owners of Detroit Vegan Soul (pictured above) — are on a mission. As their website indicates, the restaurant "was born out of our desire to make good, healthy food accessible to everyone, and to break the cycle of diet related diseases in our families and community." For those who need to ease their transition from traditional soul food to vegan, this is the place for you. Your gateway plate should be the "Soul Food Platter" which has vegan versions of familiar soul food favorites: mac 'n' "cheese," smoked collard greens, maple glazed yams, earthy black-eyed peas and a cornbread muffin.
2. The Seasoned Vegan
Harlem, New York City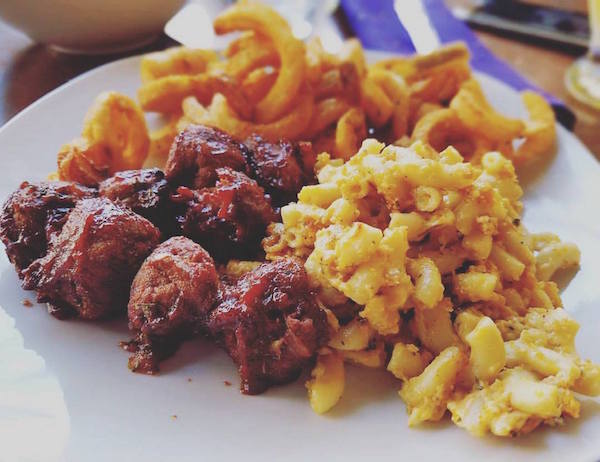 Photo courtesy of The Seasoned Vegan
Chef Therese Nelson runs the Black Culinary History group on Facebook, and she's a great resource for me on New York's dining scene. She tells me that The Seasoned Vegan's mother and son team of Brenda and Aaron Beener have put together an eclectic menu at this Harlem eatery that gives a "nod to soul food classics, and they do it in a way that is just good. No gimmicks or sketchy chemistry—just solid cooking." You'll find several interesting and well-seasoned vegan and raw options to tempt your palate. Check out the "Zucchini Mac" which contains noodles made out of zucchini with a cashew "cheese" sauce slathered on top. You also won't go wrong with the avocado stuffed with almonds, the cashew "cheese" sauce and some pico de gallo.
3. Souley Vegan
Oakland, Calif.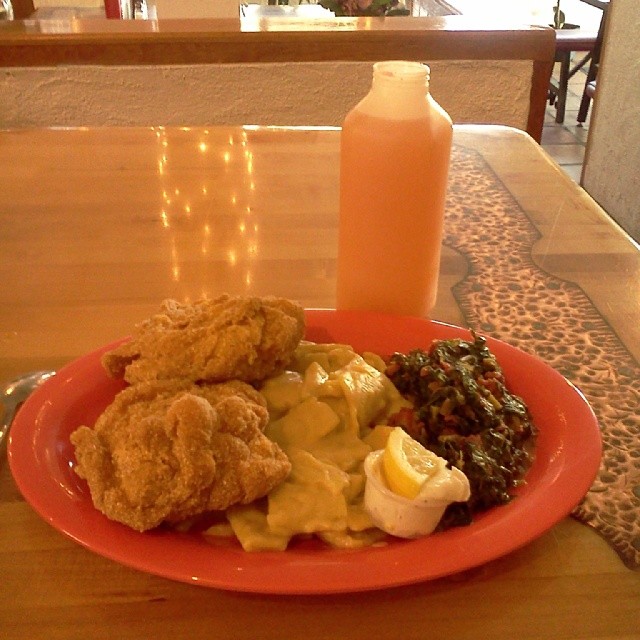 Back in 2011, I got my first taste of vegan soul food at Souley Vegan. Perhaps I should give this restaurant some sort of lifetime achievement award. Anyway, I ordered southern fried tofu, mac 'n' cheese with collard greens. The tofu had a nice, crispy but greaseless crust that was astonishingly good. The mac 'n' "cheese" was slightly creamy, but it conjured up more memories of stuffed tortellini. The greens were as good as any that I've ever had. Why? Because they were well-seasoned, proving that that salted or smoked meat isn't a requirement for bringing out good flavor. I washed down the entire meal with a zippy, but refreshing, cayenne lemonade.
4. Soul Vegetarian
Several Cities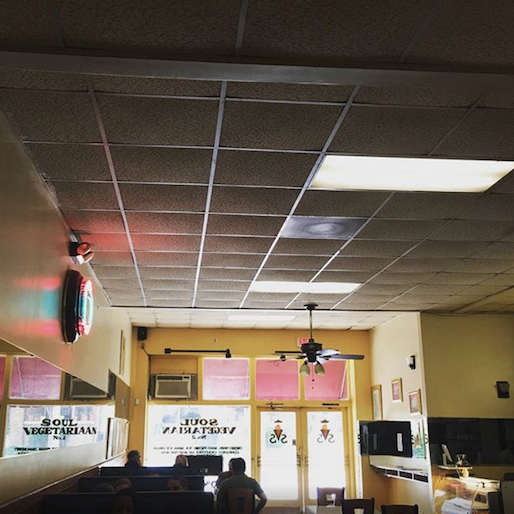 Photo courtesy of Soul Vegetarian
Soul Vegetarian proves that vegan soul food is not something new. This concept began serving vegan and vegetarian food in the Chicago area more than three decades ago. Since then, it has expanded to multiple locations in Atlanta, Georgia and one in Tallahassee, Fla. When I recently ate at Soul Vegetarian No. 2 in Atlanta, I grubbed on the Super Roast "Kalebone" burger. This sandwich is a whole wheat bun piled high with strips of their signature "kalebone" meat substitute (similar to seitan) that closely resembled gyro meat in look, taste and texture. My twin sister April who lives in Chicago gives a big "thumbs up" to the kale salad, eggplant parmesan and "not so chicken" salad offered at the original location.
5. Stuff I Eat
Inglewood, Calif.
I love their bold declaration: "If you don't want meat, try the Stuff I Eat" Owning a sense place, this vegan joint combines California cuisine, Mexican food and traditional soul food on its menu. I recommend starting off with their soul food platter of vegan mac 'n' "cheese," mixed collard greens and kale, black eyed peas, coleslaw and potato salad.
6. Solfood Kitchen Co-op
South Los Angeles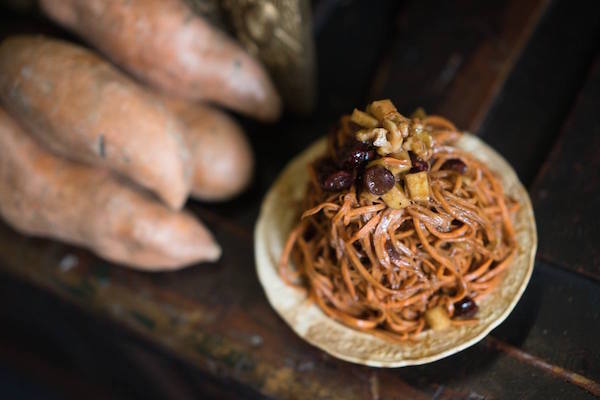 Photo courtesy of Solfod Kitchen Co-op
Solfood Kitchen is a hybrid co-operative and non-profit organization founded by Marie Amaya & K. Butterfly Smith where its workers are owners and its members are shareholders. Try the fried "chicken" (made with seitan) and waffles. You'll forget about the meaty version.
Adrian Miller is author of the James Beard award-winning book on the history of soul food. His next book, The President's Kitchen Cabinet: The Story of the African Americans Who Have Fed Our First Families from the Washingtons to the Obamas will be published on President's Day, 2017.