What's Up With That Food: Cashews
Paste uncovers the background of foods you've always wondered about
Food
Features
Type of food: Seed
Name: Cashews get their name from the Portuguese word for the fruit of the tree, caju.
Origins: Cashew trees are large and evergreen trees, growing up to 30-40 feet tall. Cashew trees are native to northeastern Brazil but they can grow in any tropical climate. Most of the cashews we eat in the United States originate in Africa, Brazil and India.
According to Byron Smyrniotis, president of Mound City Shelled Nut Company in St. Louis, cashews aren't easily foraged. "You can't just pick a cashew off a tree and eat it. Actually, the cashew doesn't even grow directly from the tree; what we call a nut is actually a seed that sprouts from the 'apple' of the cashew tree. While most seeds have fruit to protect them, cashew nuts grow from the bottom of the cashew apple and are protected by an outer shell. The nuts must be shelled before they are sold for consumption," he explains.
Why/how did we start eating it: Smyrniotis says the consumption of nuts in general dates back to 1700 B.C.
How it's used: A perfect snacking nut, cashews are typically found salted and roasted in cans, but their use goes well beyond that. Heidi Swanson, author of the cookbook Near and Far: Recipes Inspired by Home and Travel, is known for her creativity with whole foods and offers her own inspired, anti-inflammatory twist on the old-fashioned snack mix. Her modernization (inspired by the book The Good Gut), involves mixing raw cashews with sesame oil and sea salt, toasting them, and then tossing with seaweed, turmeric, cayenne and sesame seeds.
Ever wondered why cashews are often in smoothie recipes and in vegan cooking? "Cashews contain more starch and omega-3 fatty acids than tree nuts such as almonds," says Barry Sears, M.D., author of The Mediterranean Zone.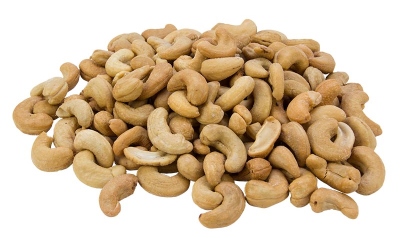 That high starch content means cashews are ably transformed into creams and milks to impart a silky mouth feel and thicken soups, sauces and stews in vegan fare. Cookbook author Dina Cheney implements them not only in nut milks but where those milks get put to good work: vegan ice creams or as the filling in a vegan quiche, for example. Cashews also work in pestos—in particular, they match well with kale.
Cashews are part of the repertoire in the kitchens of Munchery, a chef-driven meal delivery service. Chef Eddie Montalvo uses a crumble with coriander seeds, chopped cashews, Aleppo pepper, panko and fresh herbs, and tops it on smoked ribs or pork, or on baked fish. Chef Joseph Fahey creates a cashew cheese for his "Not Caprese Sandwich," by soaking cashews in water and then processing them with lemon juice, garlic and salt and pepper. It becomes spreadable, like cream cheese.
Cashews are also a staple in world cuisines. "They're used all the time in Indian cooking, especially cooking inspired by Mughlai cuisine, which is inspired by the royal courts in India," says Anupy Singla, author of the cookbook Indian for Everyone and owner of the food and housewares company Indian as Apple Pie. They also make appearances in simple basmati rice dishes and "in more complex meats, like a lamb biryani, along with raisins," she says. Chef Alex Stupak, author of forthcoming book Tacos: Recipes and Provocations does a smoked cashew salsa at his restaurants Empellón Taqueria and Empellón Cocina in New York City.
And for something completely different, bartender John Stanton at Sable Kitchen & Bar in Chicago makes a cashew orgeat syrup instead of the classic orgeat, which is sweet and typically made from almonds. Orgeat syrup binds ingredients well, but Stanton likes it because it's higher in sugar, and boasts a nuttier, more savory profile.
How it's purchased: We're most likely to encounter them roasted and salted in cans or in those ubiquitous nut mixes, or in trail mixes. Cashews are also widely available in the bulk bins in supermarkets and health food stores. You can also purchase cashew milk, too—or make your own.
Sensory experience: Cashews have a slightly sweet and creamy taste. If they're roasted and salted, add salt to that description. If they're raw, the taste is more subdued.
Nutrition and other benefits: Cashews are a good source of magnesium and potassium, along with several B vitamins and Vitamin E. In terms of flavor, raw cashews provide a clean slate to work with, and as such are often preferred by those who use them in other dishes. But there are other reasons to go raw. "The roasted nuts are usually prepared with additional omega-6 fatty acids and salt, and roasting can damage some of the polyphenols in nuts," says Dr. Sears.
Trivia: The shells of cashews are removed during processing because they are toxic. They're covered with anacardic acid, which makes skin, when exposed to it, react akin to poison ivy. According to Smyrniotis, roasting needs to take place outdoors, "if left unventilated, the smoke can irritate the lungs." So those processing cashews take the necessary precautions. Given all the steps it takes to prepare cashews, it's understandable why they often cost more per ounce than, say, peanuts. But for cashew fans, it's a premium well worth paying.
Carrie Havranek is a recovering music critic and part-time baker who writes about food, farmers' markets, chefs and restaurants—and sometimes travel—from her home in Easton, Pennsylvania. You may have seen her work elsewhere in Edible Philly, the Kitchn, or Frommer's.
Photo of cashews on tree by Paul Arps CC BY
Photo of Colossal cashews courtesy of Mound City Shelled Nut Company