In the Face of Fake News, Wikipedia Founder to Launch WikiTribune
Photo by Nadine Rupp/Getty
Media
News
Wikipedia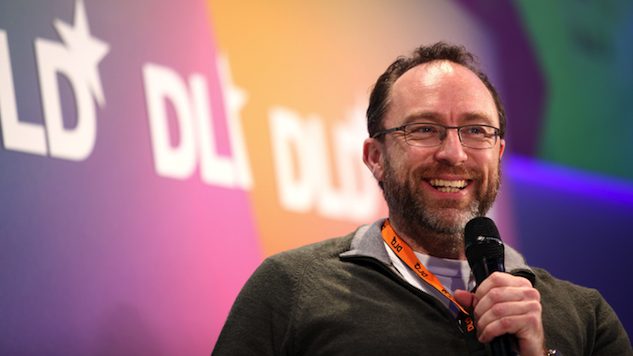 In an effort to fight fake news, Wikipedia co-founder Jimmy Wales plans to launch an online publication WikiTribune. The site will pair paid journalists with the long-standing Wikipedia army of volunteer contributors to bring us political and scientific news with an emphasis on transparency.
Wales plans to pay his forthcoming journalists with "support packages" from a crowdfunding campaign launching today, April 25. Those who donate will have a say in which stories the site focuses on, and are encouraged to fact-check and sub-edit reports. According to the crowdfunding page, WikiTribune aims to bring the community and journalists together as one functioning entity. "Articles are authored, fact-checked, and verified by professional journalists and community members working side by side as equals, and supported not primarily by advertisers," Wales said, "but by readers who care about good journalism enough to become monthly supporters."
While the site is set to launch their campaign at the start of the surprise U.K. election season, Wales said the inspiration for WikiTribune came from the U.S.—specifically, the word vomit of Kellyanne Conway. "Someone I know convinced me to give Trump 100 days before making my mind up," said Wales to The Guardian, "but then on day one Kellyanne Conway came out and said her 'alternative facts' line. That was when I really decided to move forward."
As anyone under the age of 40 knows, Wikipedia has long been a pretty solid source of facts. While parents and teachers may remain skeptical, Wikipedia's internet community-based model has worked well. While errors will certainly pop up now and then, the volunteer writers and fact checkers are quick to fix just about anything. "If you take a look at Wikipedia, it's noisy and not a perfect place, but for true fake news, there's been almost no impact on the Wikipedia community," said Wales. "The volunteers are experienced enough to know it's nonsense, and have an ethos saying: 'No, we're here for neutral facts': that community knows it from the ground up."
Like Wikipedia, WikiTribune will be free and open to the public, and encourages involvement from everyone. If the crowdfunding goes well, Wales hope to hire the first journalists "as soon as possible." Right now, they've raised enough for one journalist—they hope to hire ten.
You can learn more about WikiTribune and make a donation at their website here. If WikiTribune is a success, it may pave the way for a new relationship between the internet community and journalists—beyond just yelling at each other in the comments section.