Oscar-Winning Duo Behind La La Land, The Greatest Showman to Write Songs for Live-Action Aladdin
Photo by Kevin Winter/Getty
Movies
News
Aladdin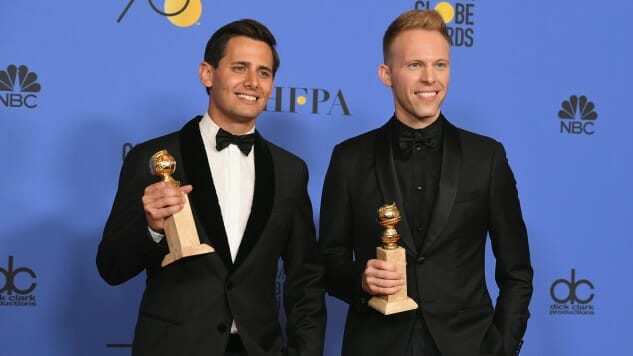 The Academy Award-winning duo behind "City of Stars" from La La Land and the Academy Award-nominated "This Is Me" from The Greatest Showman are now teaming up with Disney for the Aladdin live-action reboot.
Benj Pasek and Justin Paul lost Sunday night at the 90th Academy Awards to "Remember Me" from Disney's Coco, with Robert Lopez becoming the first person to win a double EGOT. Now, the dynamic duo of dreamers will team up with the behemoth entertainment corporation to create what will probably be another set of incredibly catchy, delightful and award-nominated tunes.
Pasek said in an interview with Variety at the Oscars this Sunday, "We got to collaborate with one of our heroes, Alan Menken, and we collaborated with him and wrote the lyrics for two new songs for Aladdin."
Eight-time Academy Award-winning lyricist and composer Menken is working with Pasek and Paul on the forthcoming Aladdin feature. Menken has written and composed almost every iconic Disney song since the late 1980s. He won Oscars for writing "Under the Sea" from The Little Mermaid, "Beauty and the Beast" from Beauty and the Beast, "A Whole New World" from Aladdin and "Colors of the Wind" from Pocahontas, just to name a few of his achievements in songwriting.
On the red carpet, Pasek jokingly said that he and his writing partner would try to get the music legend to tell them all sorts of stories about creating the earlier Disney song favorites. "He'd be like, 'Guys, let's get to work,' and we're like, 'Another story, another story!'" Paul added.
"We probably delayed work for several weeks just trying to be like, 'Tell us about Ariel! Tell us about Ursula!'" Pasek continued. "We freaked out … and [are] really thrilled to be part of the Disney family, too."
"This is Me" from The Greatest Showman won Pasek and Paul a Golden Globe this year, marking their second consecutive win after last year's La La Land swept the Globes. The duo is close to achieving EGOTs on their own after winning a Tony for Best Original Score for the Broadway smash hit Dear Evan Hansen and a Grammy for Best Musical Theater Album for the same show. Next, Pasek and Paul just need an Emmy.
Check out the duo's red carpet interview with Variety below to hear Pasek and Paul talk about working on the new Aladdin film, which is directed by Guy Ritchie scheduled for a 2019 release.
"The Greatest Showman" songwriters Benj Pasek & Justin Paul are working on new music for Disney's #Aladdin (Watch) pic.twitter.com/ChjfFssMi6

— Variety (@Variety) March 5, 2018