The Full-Length Trailer for Alien: Covenant Layers on the Dread and Ghastliness
Image via 20th Century Fox/YouTube
Movies
Video
Alien Covenant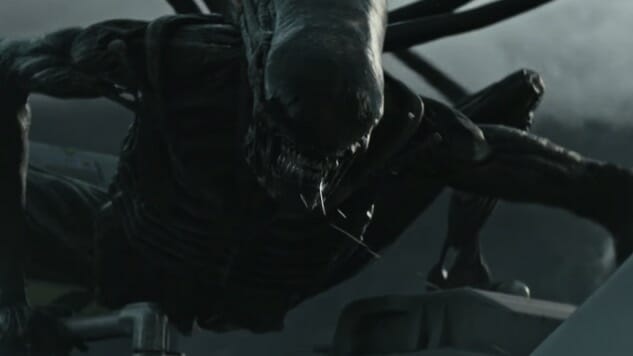 With tons of new footage in tow, the full-length trailer for Alien: Covenant has landed and from the looks of it, Ridley Scott has returned with a vengeance to the series he founded. Xenomorphs, face-huggers and lots of screaming, tear-streaked faces appear in the trailer's two and a half-minute runtime, scaring our socks off while simultaneously leaving us wondering whether the franchise will unvaryingly continue in this fashion. Will every new film simply feature another unsuspecting crew setting foot on a remote planet only to have their expedition gruesomely interrupted by parasitic alien predators? Will this conceit get old? Maybe. At this point in time, however, we think that society still has room in its its heart (and gut) for a deep-space slasher helmed by one of the godfathers of horror sci-fi, featuring monsters that are both nostalgic and as terrifying as ever.
The trailer itself, though predictable in structure—blissful naivete for the first third, creeping dread for the next third, and then all-out pandemonium in the home stretch—makes expert use of sound and well-chosen shots to communicate the chilly terror of being hunted thousands of light years from home. Musically, the trailer is a minor masterpiece. Beginning with a warm, Hallmark-esque tune as Katherine Waterston commends the crew of the Covenant for agreeing to help colonize a new planet, the soundtrack shifts to an eerie, insectoid buzz, punctuated by a percussive beat evoking the clacking of shells. This movement from a feeling of comfort and security toward a disturbingly organic vibe evokes the narrative progression of the trailer. The musical freakout of the trailer's third act, though somewhat hackneyed, perfectly expresses the terrible irony of colonists who discover too late that their bodies are, in fact, the things being colonized.
Watch the full trailer above, as well as five full minutes of the film here and, if you dare, catch the film when it hits theaters on May 19.