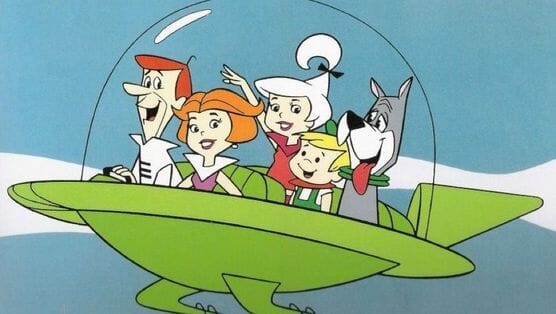 Audiences will soon meet George Jetson, Jane (his wife), daughter Judy and his boy Elroy in a new animated Jetsons movie. Deadline has reported that Warner Bros. has hired Matt Lieberman to write the new film adaptation of the 1960s animated series. Lieberman's other works include a new Scooby-Doo feature and a planned remake for Short Circuit.
The Jetsons has seen a complete transformation since last year's announcement that Kanye West was eyeing the project as a creative director. Yeezus! How would that have turned out? Since then, the baby boomers that grew up watching the show have taken a big sigh of relief. Maybe Kanye can still step in to do the original motion picture soundtrack? If he gets the scent of an Oscar, anything is possible.
In a surprise turn of events, the newest take on the futuristic family, which has until this point been envisioned as a live-action film, is now going to be an animated feature. A few years back, Robert Rodriguez (Sin City, Spy Kids) announced the live-action adaptation as his next project. He can never make up his mind. First it's Barbarella. Then he is directing Sin City: A Dame to Kill For. Whatever happened to Shark Boy and Lava Girl 2? Fans would surely appreciate that sequel.
The project has also seen plenty of scribes come and go since the first inkling of a feature length movie was announced. Adam F. Goldberg (Fanboys, Aliens in the Attic) wrote an early version of the script that was reportedly not half bad, making it onto the prestigious Black List in 2011 for best unproduced screenplays. With Goldberg's exit, Van Robichaux and Evan Susser reportedly stepped up to rewrite the project with little previous experience. This will mark the first effort to approach the film from a purely animated standpoint. With the new idea to adapt the show into an animated movie, the project should see less trouble attracting a strong cast of voice-overs.
The effort to get the film made over the past several years is a clear indication that Hollywood is looking to adapt whatever bankable asset leftover from older viewers' childhoods. Although the viewers who watched the series during its original 1962-63 run may not appear too chafed by a returning version of the popular program, those who saw the revived version of the show in 1985-87 might still feel sore over having such a well-known program adapted. Still, an animated version leaves less of a bad feeling in the stomach than the live-action alternative.
Let's hope the final film turns out better than half of the atrocious live-action remakes of popular animated programs that have been released thus far. The last thing audiences need is another Alvin and the Chipmunks. Or Garfield. Or The Flintstones … or The Smurfs.
More news on The Jetsons can be expected later this year.