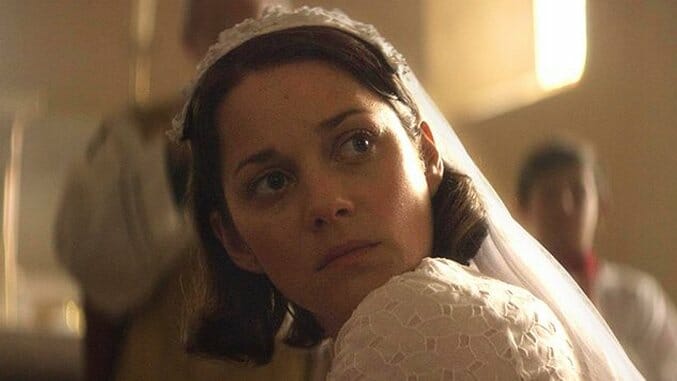 Rolling green pastures, creamy sunsets and France's southern shores provide fertile ground for romance to blossom in From the Land of the Moon, Nicole Garcia's beautiful but ungraspable melodrama set just after World War II. Such a landscape has certainly infected the mind of the movie's protagonist, Gabrielle (Marion Cotillard), a woman troubled with sexual urges, an ailing body and psychological burdens that, at least for a while, can't be solved. Among rich colors and warm settings, the movie takes its time sorting out these afflictions, careful not to stray too far from her repetitive interior world or towards anything more intriguing.
The majority of this story is told through a long flashback, which begins with Gabrielle as a much younger woman—a task not even Cotillard can play convincingly—who harbors a serious crush on a local schoolteacher. He lends her a copy of Wuthering Heights, which might be a warning sign if not for Gabrielle's blinding desire. "You're hot," she tells him, which makes him uncomfortable and provides a window into the socially inappropriate behavior she struggles to shed. This leads to a private rejection and a public outburst the next evening at a family gathering. Gabrielle runs away in frustration.
It's not exactly shame she feels. Although raised in a conservative Catholic family, Gabrielle embraces her nymphomaniac behavior kneeling before the cross. "Give me the principle thing or let me die," she asks, that "thing" implying sexual passion and pleasure. She certainly doesn't find it from Jose (Alex Brendemühl), a Spanish bricklayer she agrees to marry after her mother (Brigitte Roüan) coordinates a hurried union. "She needs a man in her life," she tells Jose, though it's clear he is not the kind she desires. In an attempt to court his favor, she dresses as a prostitute one night, the only way to spice up a night in bed with him.
The movie opts for a change of scenery in its second half, moving to a Swiss spa and hospital where Gabrielle stays for six weeks to remove kidney stones (the movie's French title, Mal de Pierres, means "evil stones"), the physical manifestation of her malcontent. There she meets Andre Sauvage (Louis Garrel), a French lieutenant slowly dying after serving in the First Indochina War. Naturally, his handsomeness, his military past and his piano-playing draw her into another foreboding affair, made all the more miserable when he is transferred to another health facility.
Cotillard, whose face is often painted in chiaroscuro care of cinematographer Christophe Beaucarne, manages to provide a gravitas and slightly colored deviations from what is otherwise a monochrome character. You sense Cotillard screaming behind her teary cheeks to do something. Anything. Her eyes wear a persistent look of anxiousness and melancholy, and all Garcia and co-writer Jacques Fieschi can do, working from the novel by Milena Agus, is enhance the emotional suffering. This commitment might have worked with a broader character, whose life is not devoted to one perilous pursuit. Or even with an intent on exploiting its melodramatic core, focusing more intently on Gabrielle's lustful sexuality, which is only briefly seen before the movie reverts to its more sanitized, picturesque comforts.
This all makes for a rather tedious exploration of a rebellious and repressed spirit, especially after a third act revelation that threatens to dismantle a potential breakthrough for Gabrielle. As indicated in From the Land of the Moon's opening scene, she eventually grows older with Jose and mothers, with little affection, a son that has developed into a promising young piano player. His talent is the lyrical reminder of a love she once sought, which is never allowed the chance to earn the devastating weight and sadness she attaches to it.
Director: Nicole Garcia
Writers: Nicole Garcia, Jacques Fieschi
Starring: Marion Cotillard, Alex Brendemühl, Brigitte Roüan, Louis Garrel
Release Date: July 28, 2017