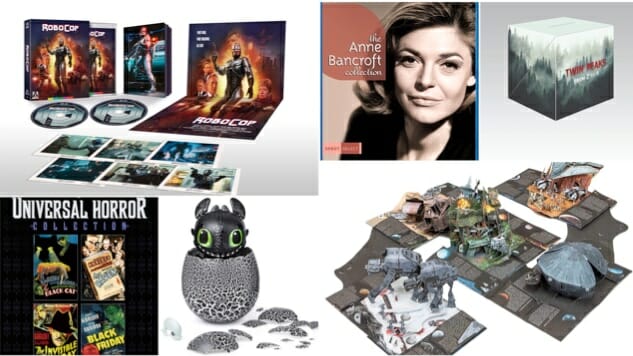 While we present a top 10 gift guide each year, there's no reason to put all your gift-giving eggs in one basket when we live in world with thousands of baskets. If the first guide is a concentrated drop, this Extended Edition is a watering hose, covering the myriad collections, re-releases and ancillary, movie-related gift ideas out there.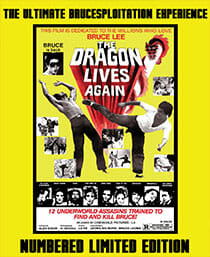 Important Cinema Club Bargain Bin Classics
Justin Decloux and Will Sloan know no one is really asking for another movie podcast hosted by more than one erudite white guy, so for the past four years of the Important Cinema Club they've done their best to carve out a broad but specific taste from which regular listeners can cull dependable recommendations. It helps that by sticking to directors (Orson Welles, Apichatpong Weerasethakul, Lucio Fulci, Sammo Hung) and assorted filmstuff (Mothra, the Toronto International Film Festival, Steven Seagal, the Friday the 13th series, the films of Ernest P. Worrel) they love, they can build up an authority that pays handsomely when it comes to having people take that taste seriously (i.e., use money). It was simply a matter of time, then, before they started their own distribution label.
Unlike pretty much every home video label, though, the draw isn't in presenting a heretofore undiscovered film previously not available, or in offering up a shiny digital transfer. No, these are all public domain titles, the kind of stuff our hosts grew up finding in gas station DVD racks or ripped from a VHS on YouTube, and Decloux and Sloan do nothing to revitalize the film for Blu-ray. Instead, they openly cherish the barely functioning quality of the films they present: For their "Ultimate Brucesploitation Experience" (sadly out of stock), for example, they introduce The Dragon Lives Again—in which a dead Bruce Lee (Bruce Leung) ends up in Hell to befriend such luminaries as Popeye in order to defeat Dracula—by admitting that there's a lot we won't see at the edges of the frame. But that's just how they grew to love this weird film, and they want to share that experience with us.
Of course, they make it all worth your $10-$15, not just by limiting the number of available copies, but by accompanying the films with a shocking amount of handmade extras, such as multiple feature-length commentaries, customized box art and liner notes (with interviews and essays), supercuts of old trailers, introductory primers to certain directors or genres, lobby cards (if on hand), and even full-length bonus films. They've been on a roll the past couple months, and though their first release is sold out, they still have a Three Stooges package and a Roger Corman double-bill available, stacked with just as much content. You can find everything at Decloux's label, Gold Ninja Video, along with additional hyper-niche genre releases new and old (the Pearl Chang collection is a winner), as well as Decloux's own feature-length films. —Dom Sinacola
---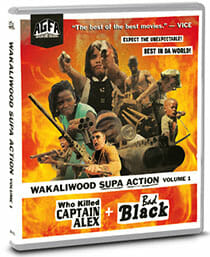 American Genre Film Archive Home Video Catalog
The American Genre Film Archive, based out of Austin, has spent the past decade working to distribute, preserve and otherwise advocate for genre films. Considering how Disney is severely limiting the theatrical availability of so many films, it's refreshing to find a nonprofit with both the facilities to keep these long-forgotten films alive (including a 4K scanner) and a library of theatrical prints for art house theaters to trust. The real heroic work AGFA is doing, though, can be found in their Home Video Catalog, where they've crafted beautiful box sets for movies you most likely never even knew existed. Their crown jewel, of course, is their Wakaliwood Supa Action (Vol. 1) release, packaging I.G.G. Nabwana's Who Killed Captain Alex? and Bad Black with a wealth of behind-the-scenes videos and countless detritus—expect the unexpectable is right—but equally exciting is their Sarah Jacobsen set, featuring Mary Jane's Not a Virgin Anymore and her 27-minute short, I Was a Teenage Serial Killer, restored to 2K from the only existing 16mm prints, and the just-released Wicked World, Canadian microbudget director Barry J. Gillis's follow-up to his legendary Things, otherwise completely unavailable until now. Stalwarts of the gross, the lost and the unbelievable, AGFA is an exquisite ally for cinephiles unwilling to put too much trust in their digital libraries. —D.S.
---
"Unleash the Discs!" (a.k.a., See that Stocking? Stuff It!)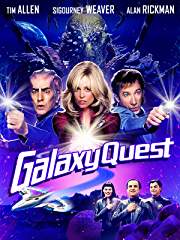 Galaxy Quest: The 20th Anniversary Never Give Up, Never Surrender Edition (Paramount Home Entertainment, $22.98
This Blu-ray steelbook edition makes the perfect gift for anyone who loved Dean Perisot's sly yet warm send up of a certain corner of sci-fi fandom. (It also makes a good gift for anyone who enjoys sci-fi and somehow hasn't seen the film.) Forget "unknowns," this movie is blessed with a cast of "knowns" and soon-to-be-knowns from film and TV, including Tim Allen, Alan Rickman and Sigourney Weaver to Sam Rockwell, Rainn Wilson, Tony Shalhoub and Enrico Colantoni. The extras in this edition include featurettes on the making of the film, the special effects by ILM and Stan Winston, the usual deleted scenes, and Sigourney Weaver, rapping. Galaxy Quest is one of those films that has only improved in critical reputation over time. (That'll be true on its 30th anniversary, as well.) —Michael Burgin
---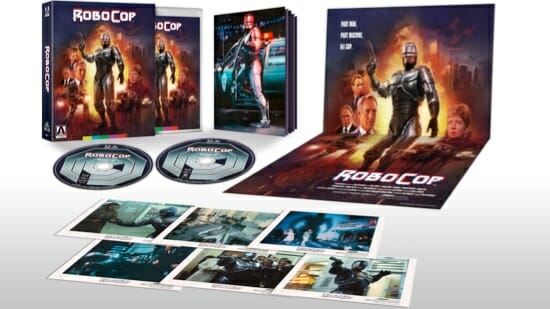 Robocop (Arrow Video, £25)
Paul Verhoeven's 1987 classic dystopic vision involving film's most memorable cyborg (if you don't count Darth Vader) gets the 4K treatment it deserves. Arrow Films has produced two versions, both of which have the theatrical and director's cuts. The steelbook may fit a bit more easily into a stocking, but the Limited Edition includes six collector's postcards, a double-sided poster and an 80-page booklet featuring new writing on the seminal movie. No matter the version you choose, that'll make for a solid check off the ol' shopping list. —M.B.
---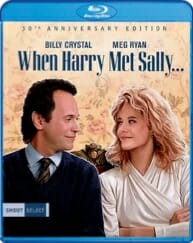 When Harry Met Sally… 30th Anniversary Edition (Shout! Factory, $23.99)
You know how some films from your past just don't hold up 20, 30 or 40 years down the line (I'm looking at you, 16 Candles)? Well, much like that classic saying baby fish mouth, When Harry Met Sally… is as funny and charming as it was in 1989 and Shout! Factory has lovingly restored it with an all-new, gorgeous 4k scan of the original camera negative, making this the best the film has ever looked on home video. In addition to copious extras from previous releases, this disc also boats an all-new interview with star Billy Crystal and director Rob Reiner, themselves friends for over 40 years. —Mark Rabinowitz
---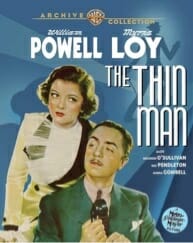 The Thin Man and My Favorite Year (Warner Archive Collection, $21.99 and $21.99)
Warner Archive continues to do exceptional work in remastering classic films for BD and these two are no exception. 1934's The Thin Man received a new 4K remaster from existing elements and it looks magnificent. W.S. Van Dyke directed this masterpiece of a comedy whodunnit in a whopping 12 days, and the film received four Oscar nominations, including Best Picture and Best Actor. With The Thin Man, William Powell and Myrna Loy not only created one of the silver screen's most enduring couples in Nick and Nora Charles (the film spawned five sequels) but also launched one of the most recognizable on-screen couples of their time, as Powell and Loy would go on to star in 13 more films together. —M.R.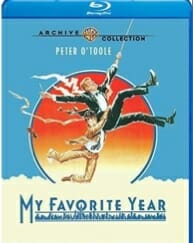 Loosely based on the 1950s TV variety series Your Show of Shows for which executive producer Mel Brooks wrote early in his career, the Richard Benjamin-directed My Favorite Year is one of those beloved hybrids, a comedy that also successfully (and un-mawkishly) tugs at your heartstrings. Peter O'Toole, as the movie idol doing his first live television appearance (featuring the telling line "I'm not an actor; I'm a movie star!") received his seventh Best Actor nomination for a role that veers from outlandish physical comedy to plumbing the depths of sadness. A pure joy to watch and one of those films that never gets old. —M.R.
---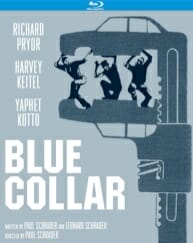 Blue Collar (Kino Lorber, $29.95)
Along with Matewan and Norma Rae, Blue Collar is an indispensable part of a cinematic history of the American working class and yet another film in this guide with a perfect score on Rotten Tomatoes. Paul Schrader's directorial debut stars Harvey Keitel, Yaphet Kotto and Richard Pryor as three union workers at odds with both management and their own union and features brilliant performances from all three. The production was troubled, with immense frictions between director Schrader and his stars, as well as among the actors themselves. It's a rough and brutal look at workers caught between big business and big labor and appears on Blu-ray for the first time in the United States. —M.R.
Three Classic Ealing Comedies: Kind Hearts and Coronets, The Lavender Hill Mob and The Man in the White Suit (Kino Lorber, $10.99)
From 1947 to 1958, Ealing Studios in London produced almost 20 comedy films, several of which (including these three) were among Alec Guinness's first starring roles. Future Old Ben received his first Oscar nomination as best actor in The Lavender Hill Mob, which won best writing, story and screenplay for T. E. B. Clarke. In 1999, all three were named to the British Film Institute's list of the 100 best British films of all time at #6, #17 and #58, respectively and in 2005, Kind Hearts and Coronets was named to Time magazine's best 100 films since 1923. —M.R.
---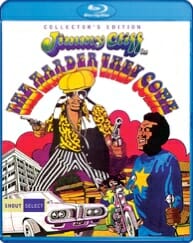 The Harder They Come (Shout! Factory, $22.65)
It's hard to overstate the influence of Perry Henzell's The Harder They Come. The first feature film produced in Jamaica, The Harder They Come was instrumental in the worldwide popularity of reggae music, as well as introducing the world to superstar musician Jimmy Cliff. A gritty tale of a young musician/folk hero/gangster, The Harder They Come is presented in high definition for the first time from a brand-new 4K scan, including a new audio commentary. This outstanding three-disc set also includes the first ever release of Henzell's follow-up, No Place Like Home, long thought lost, and newly restored from the original negative. It's releases like these that make Shout! Factory the unique and indispensable company that it is. —M.R.
---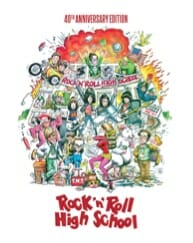 Rock n' Roll High School 40th Anniversary (Shout! Factory,
Rock n' Roll High School is without a doubt one of the top five teenage rebellion movies of all time and the people at Shout have decided to give it the royal treatment for its 40th birthday, including a new 4K scan from the original camera negative and an all-new reunion featurette "Class Of '79: 40 Years Of Rock 'N' Roll High School," featuring interviews with director/story writer Allan Arkush, co-director/story writer Joe Dante (Gremlins), actress P.J. Soles (Stripes) and others. Coming on the heels of the disco craze and in the relatively early days of punk and New Wave, the film features a ton of music by The Ramones (duh), as well as tunes Nick Lowe, Brian Eno, DEVO and Alice Cooper. —M.R.
---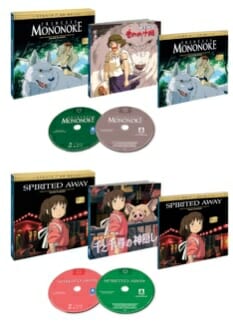 Princess Mononoke & Spirited Away Collector's Editions (Shout Factory and GKIDS, $34.99)
Hayao Miyazaki is one of the greatest creators of animated features the world has ever known. Two of his best are Princess Mononoke, which set the worldwide box office record for a Japanese film when it was released in 1997, and Spirited Away, which shattered that record four years later. These are two of the very best the genre has to offer and are presented in a beautiful hard slipcase with an exclusive 40-page book, study disc portfolios and the first ever U.S. release of each film's soundtrack on CD. Each Blu-ray includes previously-released extras, including storyboards, original trailers, TV spots and more. —M.R.
---
Downton Abbey Deluxe Edition (Universal Pictures Home Entertainment, $29.99
When it bowed in 2010 in the UK and 2011 in the US, Downton Abbey quickly became a worldwide sensation as the ongoing saga of the Crawley family was regular water cooler fodder for half a decade and made a feature film adaptation a foregone conclusion. Although I could have used a few more bon mots from the Dowager Countess (Dame Maggie Smith), I thoroughly enjoyed the film and am looking forward to the inevitable sequel. The deluxe edition is packaged in a sturdy case with a photo book and a set of recipe cards reprinted from The Official Downton Abbey Cookbook and includes quite a lot of extras, which are also available on the standard blu-ray and DVD. —M.R.
---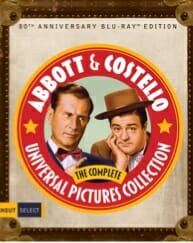 Abbott & Costello: The Complete Universal Pictures Collection (80th Anniversary Edition) (Shout Factory, $135.99)
Much like Laurel and Hardy, and Dean Martin and Jerry Lewis, the team of Bud Abbott and Lou Costello are one of those important pieces of comedy history that time has somewhat left behind—not because they weren't funny or were otherwise overrated, but rather because their routines were so absorbed into the nation's psyche, became so much a known and riffed on quantity, that they lost some of the unexpectedness that comedy needs to continue to amuse. For anyone looking to rediscover this duo, or for anyone looking for a gift for a parent or grandparent who loved them, this comprehensive boxed set has all 28 pictures the pair did for Universal in the 1940s and '50s. In addition to a 44-page booklet on the duo's legacy, this collection also includes nine new audio commentaries and new interviews with film historians and with Chris Costello, the youngest daughter of Lou. —M.B.
---
Celebrating Women in Film
Redressing the long-standing imbalance between genders in Hollywood is, for most movie lovers, a battle of incremental appreciation. None of us can pick up a phone, reach one or more Hollywood heavyweights and solve the ingrained, systemic issues. But as movie lovers, as viewers and appreciators, we can do what we've always done, what Hollywood depends on—we can watch, we can enjoy and we can spread the word. The following gift ideas turn the gaze toward important performances and achievements by women in film. Such acts of watching and appreciating are a start.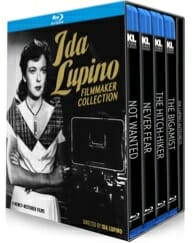 Ida Lupino: Filmmaker Collection (Kino Lorber, $55.97)
As one of the only female directors working in the Hollywood system in the 1950s, Ida Lupino is usually one of the first names that comes up when someone who loves Old Hollywood is asked to name one of the more under-appreciated talents of the age. Though a veteran of more than 50 movies as an actor, it's Lupino's stints in the director's chair—credited and uncredited—that draw attention and praise. This new collection features four of Lupino's movies, including #42 on our The 100 Best Film Noirs of All Time list, The Hitch-Hiker. So many items in this gift guide are of the "You know it and love it!" variety. This collection may just give the gift of, "You don't know of this, and you should." —M.B.
---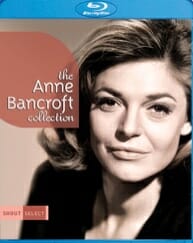 The Anne Bancroft Collection (Shout!, $63.97)
You might know Anne Bancroft from one of her culturally "sticky" roles. Foremost of these is of course her turn as Mrs. Robinson in The Graduate, but her role in The Miracle Worker makes plenty of classic movie moment collages, as well. Bancroft was undeniably a great talent, and this collection of eight movies brings some of her most memorable performances within reach: Don't Bother Knocking, The Miracle Worker, The Pumpkin Eater, The Graduate, Fatso, To Be of Not to Be, Agnes of God and 84 Charing Cross Road. The standard assortment of extras, including a 20-page booklet, are fine and all, but as we mentioned above, the best way to appreciate the work of women in film is to watch their work. Here's a place to start. —M.B.
---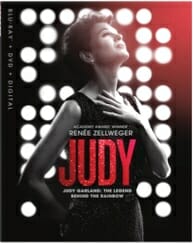 Judy (Lionsgate, $19.99
Renée Zellweger's performance as Judy Garland is mind-blowing. For large sections of the film, I forgot I wasn't watching the real Judy Garland. The work Zellweger put into the transformation is simply astounding, down to her physicality and vocal style. The performance is made even more remarkable by the fact that Zellweger does all the singing herself. The film itself is excellent and quite heartbreaking, given how Garland's last months unfolded. Hers is a tragic tale, almost from the moment she was discovered, but it is also one of singular talent. —M.R.
---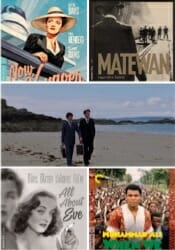 Five from the Criterion Collection: Local Hero, Matewan, When We Were Kings, Now, Voyager, All About Eve ( Criterion Collection, $31.96)
For the last 35 years, the Criterion Collection has been releasing an exceptionally well-curated list of contemporary and classic films, complete with exclusive extras like new interviews and essays by film scholars & critics, generally with new transfers and artwork. Each one is like an in-depth class about a particular film, and taken as a whole, the collection is probably the most important resource for any aspiring movie autodidact. Each year we pick a selection of recently released Collection films to spotlight and this year I chose Bill Forsyth's Scottish comedy-drama masterpiece Local Hero, John Sayles' historical drama Matewan, Leon Gast's Academy Award-winning documentary about Muhammad Ali and George Foreman's "Rumble in the Jungle."
Peter Reigert (Animal House), Peter Capaldi (Doctor Who) and Burt Lancaster headline 1983's Local Hero, a delightfully quirky story about a Texas oil man who falls in love with a small Scottish fishing village. It's at once deliriously funny and achingly sad and boasts a relatively rare 100% on Rotten Tomatoes. Matewan only has a 94% rating on RT but is no less of an accomplished film. This dramatization of a 1920 coal strike in Matewan, West Virginia stars Chris Cooper (in his debut), James Earle Jones, Mary McDonnell, Will Oldham, David Strathairn and several other exceptional actors, many of whom appear in other Sayles films. Matewan is a beautiful and brutal reminder that without a strong union (and even sometimes even with one) workers are always going to be looked at as disposable pieces in the relentless march towards the accrual of capital.
Twenty-two years in the making, When We Were Kings, won the 1996 Academy Award for Best Documentary Feature and is a remarkable document that began as a concert film—Gast originally went to cover Zaire 74, a music festival accompanying the fight—and ended up being the definitive portrait of the late-career Ali and one of the most spectacular moments of his incredible life.
Now, Voyager and All About Eve are but two examples of the stellar career of Bette Davis. The former was my mother's favorite film and while I never got to watch it with her, I'm happy to be able to showcase it, here. One of the most cherished love stories in movie history, it co-stars Paul Heinreid and Claud Raines, both of whom starred in Casablanca the filming of which incidentally overlapped with Now, Voyager. It ranks 23rd on AFI's list of the top love stories in American cinema. All About Eve is an entirely different animal, a sharp and caustic look at a particular profession a la The Sweet Smell of Success and the only film to receive four female acting nominations (Davis and Anne Baxter for best actress, Celeste Holm and Thelma Ritter for best supporting actress. It also features a young Marilyn Monroe and one of the most memorable lines in movie history: "Fasten your seatbelts. It's going to be a bumpy night." —M.R.
---
The Latest and Greatest in 4K Releases
The following is a small sample of some of the classic and more recent films that made their way to 4K UHD, this year. Virtually every TV sold these days has 4K capacity and if you're a hard media adherent, what are you waiting for? Most prices listed are MSRP, but if you've ever bought a movie online, you'll know you never pay full price and most or all of these can be found at the links below at prices significantly lower.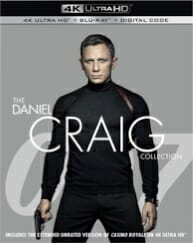 The Daniel Craig Collection (20th Century Fox, $69.99)
At the risk of boring you with technobabble, if a film is finished at 2K, there's only just so much of an upgrade received from upscaling it to UHD for home video. Yes, they're going to be "better" than standard blu-rays, but just how much better is the question. Well, that's where HDR (high dynamic range) comes in. HDR is a technique used to reproduce video in a range closer to that of a human eye, thereby presenting a more realistic and wider range of light, dark, shadow and color. With newer films, HDR is more often than not what gives 4K that extra oomph, visually speaking. And with this set, the Dolby Vision HDR (the more advanced of the two commonly used formats) is what really sets them apart on UHD. If you have a TV that processes Dolby Vision (we reviewed one in 2017) then you're watching your content at just about the best level you can and these four films are generally dazzling, with Spectre looking the best of them all. They're also currently only available in this set, so if you want 'em, you're stuck with A Quantum of Solace. Well, I guess everyone can use an extra coaster. —M.R.
---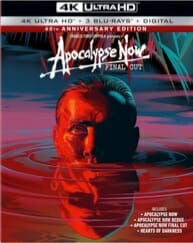 Apocalypse Now Final Cut (Lionsgate Films, $34.99)
Lest you think UHD is a fad or not really worth it, then really all you need to do is take a look at any of the three versions of Apocalypse Now presented in this six-disc package. The Final Cut, Redux and original theatrical versions have all been given the UHD treatment with Dolby Vision and are nothing short of amazing. This is a gorgeous film and until 8K makes its way into your living room, this is as good and you're going to get … and it's fantastic. Dolby Vision give you more detail and grading than you've ever seen in a home release, and the colors really pop where they're supposed to. Also included are several new extras, including an introduction by director Francis Ford Coppola, a Tribeca Film Festival Q&A with Coppola and Steven Soderbergh and never-before-seen B-Roll Footage. It's currently sitting at around $13 at the above link, so pounce on it while you can! —M.R.
---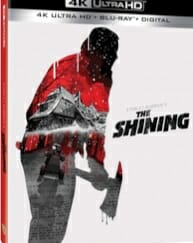 The Shining (Warner Bros., $41.99)
A classic suspense horror film makes its way to UHD with the release of Stanley Kubrick's masterpiece (that's almost redundant, isn't it?) The Shining. This is yet another near flawless presentation, as Warner Bros. has scanned the original camera negative at 4K with the participation of Steven Spielberg and Kubrick's long-time personal assistant, Leon Vitali. For those sticklers out there, it's the 146-minute version and the aspect ratio was apparently mastered at 1.78:1 vs. the theatrical 1.85:1. a difference of less than 5%. HDR options include both Dolby Vision as well as HDR10+. —M.R.
---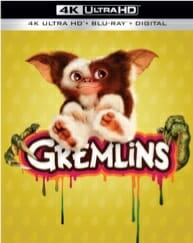 Gremlins (Warner Bros., $49.99)
Simply put, this film is way more … fucked up than I remember. Sure, it's rated PG, but there definitely some seriously macabre moments, most notably the story that Kate (Phoebe Cates) tells to explain why she hates Christmas as well as the murderous rampage embarked upon by the post-midnight snack mogwai. I probably hadn't seen the film in 20 years and it's as funny and weird as it was then. Sure, the VFX are not up to today's slick standards, but there's something to be said for practical effects, once in a while. The gags with Stripe and his gang of toothy killers come fast and furious and the fairy tale aspects along with the cuteness and horror make it a winner for me. For sure it will be added to my annual Christmas watch list from now on. —M.R.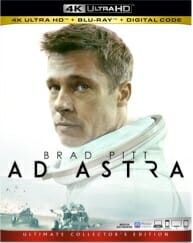 Ad Astra (20th Century Fox, $45.99)
Ad Astra is one of the strangest sci-fi epics in quite some time and while it's not as bizarre as last year's Annihilation it's certainly a more cerebral and less-straightforward treatment of the "search for intelligent life" theme that so much science fiction deals with (although writer/director James Grey considers the film to be more science-future-fact). It's more like a 1970s paranoid thriller than a modern space epic and the fact that it was shot on film with mostly practical effects enhances that mood and gives the film that much more of a gritty feel. If you were one of those saw and loved the film in theaters I'll bet you have some friends that missed it, so why not correct that most egregious error? —M.R.
---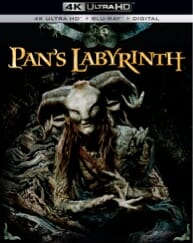 Pan's Labyrinth (Warner Bros., $41.99)
Written and directed by Guillermo Del Toro (seen here as a Funko Pop figure) one of the foremost visual stylists currently working, Pan's Labyrinth is one of the more visually stunning films of the past 15 years. It's an astonishingly beautiful, scary and thoughtful film and if you look closely (ok, it's pretty obvious) you'll notice that del Toro's anti-authoritarian streak shines through in this wholly original and nightmarish fable set during Francisco Franco's reign of terror in Spain. I can guarantee that the commentary (which is on both the 4K and Blu-ray discs) is like the best two-hour film school class on earth. —M.R.
---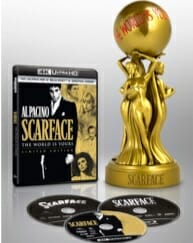 Scarface "The World is Yours" Limited Edition (Universal Pictures Home Entertainment, $47.99)
One of the most quotable films in cinema history comes to 4K and Universal have done a magnificent job. This is by far the best the film has looked on home video, and anyone who hasn't seen the film in a theater will notice it immediately. Of course, that means some of the more gruesome scenes are just that much more terrifying, but this is a fine looking transfer. Extras are by and large the same, save for a new 35th anniversary reunion with Al Pacino and Michelle Pfeiffer and the gift set also includes the Blu-ray debut of the original 1932 version directed by Howard Hawks, as well as a nifty replica of Tony's "The World is Yours" statue. —M.R.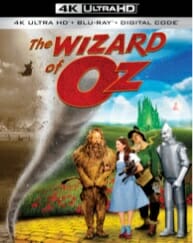 The Wizard of Oz 80th Anniversary (Warner Bros., $41.99)
It's a Wonderful Life (Paramount, $19.96)
I need to admit up front that as a child, The Wizard of Oz scared the living bejesus out of me and I hadn't been able to watch it since, despite have some very personal connections to the film. It had a negative connotation and to be honest, I didn't have too many opportunities to watch it in a proper environment. Well, short of a real movie palace, this UHD edition is a great option. It's a magnificent new 8K scan of the original camera negative and the disc features Dolby Vision, as well. It's indeed great and powerful (far more so than the man behind the curtain) and for an 80-year-old film it's nothing short of a miracle. —M.R.
I won't go into why but now comes the part where I admit that I hate It's a Wonderful Life. Mind you, I'm not a grinch and I don't hate Christmas, just this film. But I'd be remiss if I didn't include a new release of one of the most beloved films of all time in this list and regardless of my personal feelings for the film, I feel perfectly comfortable telling each and every one of you that if you love it, you should go out and buy this fantastic looking release. According to the accompanying press release, Paramount spent over a year restoring the film, using the original nitrate negative along with two fine grain masters made in the 1940s, and it shows. 13 of the 14 reels of the original negative survived, but parts had begun to deteriorate so the best image was selected from one of those three original sources on a shot-by-shot basis and the resulting disc looks fantastic and likely better than you've ever seen, by far. The set includes a colorized blu-ray version (By all that's holy, why?) as well as three special features new to 4K Ultra HD disc, including "Restoring a Beloved Classic," an in-depth look at how this edition came about. —M.R.
---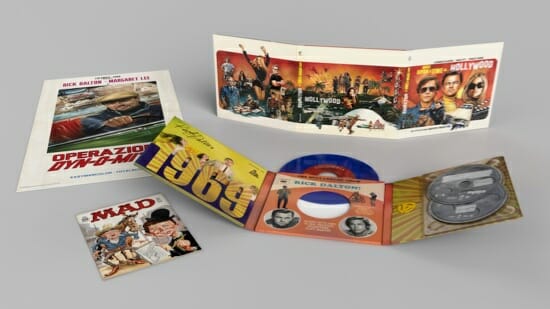 One Upon a Time in Hollywood Collector's Edition (Sony Pictures Entertainment, , $75.99)
One of the most acclaimed films of the year, and Quentin Tarantino's ninth film, hits UHD with this super cool collector's edition. The film on both discs includes seven additional scenes added after its initial theatrical run and the blu-ray disc also includes copious extras, including several looks at the 1969 setting of the film. This collector's Edition includes a 7" vinyl record with two songs from the soundtrack (with turntable adapter, natch), a collectible vintage poster for the Rick Dalton film Operazione Dyn-o-mite! and an exclusive new mini MAD Magazine parody, all housed in a presented in a square hard case. —M.R.
---
There and Back Again: Movies to TV to Movies to…
In the current era of media super-saturation, every movie is a potential TV series and every TV series a potential movie. That means that, more than ever, being a fan of a movie can just as much mean being a fan of the subject matter, instead.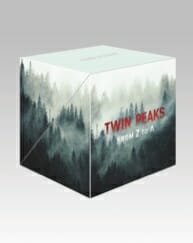 Twin Peaks: From Z to A (CBS/Paramount, $121.79)
This one's a doozy! Limited to only 25,000 copies, Twin Peaks: From Z to A is the definitive (to date) collection of one of the most innovative and spellbinding series ever created. Both the original "water cooler" show and quite possibly the first series for which weekly viewing parties erupted around the world, Twin Peaks was also one of the first series to be shot and styled cinematically. This set is fantastic. It's housed in a magnetically sealed box with Douglas firs on the outside and a red room interior and includes a nifty (and magnetically attached) acrylic figure of Laura Palmer kissing Agent Cooper. All three seasons of the series are present, as well as the vastly underrated Twin Peaks: Fire Walk with Me and extras include all existing previously released special features and over six hours of all new material. These include full-length, unedited versions of many of the musical performances from season 3, a new interview with Kyle MacLachlan and Sheryl Lee and a 4K UHD disc, containing both versions of the 1990 series pilot and "Part 8" of season 3. Not surprisingly, rumors of a season 4 or a feature film have popped up, especially considering the raft of posts by co-creator David Lynch and others, this fall. I don't know about you, but I'm already researching cherry pie recipes. —M.R.
---
Star Trek: Discovery – Season Two (CBS/Paramount, )
Last year this series was on our TV Top 10 Gifts For TV Lovers because, well, it's brilliant. This year it makes this list because the Star Trek franchise has had a foot in both the film and TV worlds for 40 years, ST: DISCO is one of the most cinematic series ever to grace the (sorta) small screen and maybe we can start some movement on a Discovery feature film. I know y'all want more Anson Mount as Captain Pike! Our only quibble with this set, and it's a relatively small one, is that only two of the four Short trek episodes that were produced between seasons 1 and 2 ("The Runaway" and "The Escape Artist") were included. —M.R.
---
Scooby Doo, Where Are You!: The Complete Series Limited Edition 50th Anniversary Mystery Mansion (Warner Bros, $59.99)
Rooby Roo! One of the most famous cartoon series of all time, Scooby Doo, Where Are You! gets the deluxe treatment, courtesy of a very cool Mystery Mansion giftset, which houses an exclusive Scooby Doo Funko keychain (Funko shows up everywhere!) and a mini Scooby Doo encyclopedia (including a recipe for Scooby snacks). Like Secret Squirrel and The Adventures of Rocky and Bullwinklebefore it, Scooby Doo, Where Are You! is one of those 1960s-1970s cartoons that works for both adults and children. Scooby Doo has flexed more muscle in terms of pop cultural caché than those other series though, manifesting in multiple movies and in more modern series with more advanced animation. For this set, extras include several all-new featurettes, including a look at the various incarnation of Scooby throughout the years and a profile of Frank Welker who has voiced Fred since the show began in 1969 as well as loads of previously released material. The best part? No Scrappy Doo! —M.R.
---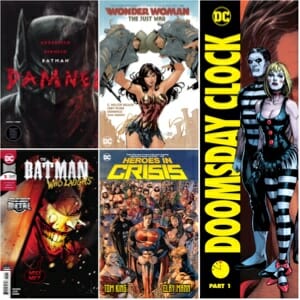 DC Graphic Novels – Batman, Wonder Woman and Watchmen
Of course, the next big movie isn't just springing forth from TV—comics are now well-established as one of the springs from where modern blockbusters flow. Of course, that flow has been a bit more robust on the Marvel Studios side of things, but that doesn't mean the seeds of, well, wherever Warner Bros. decides to go next, haven't already been planted in the new works now available via graphic novel. Just as one might expect to find the DNA of Tom King and Gabriel Walta in future treatments of the Vision, recent storylines (elseworlds and otherwise) can be worth following (and make for good gifts). So while your friend who loves all things dark knight waits for TheBatman, make sure they've checked out collections like The Batman Who Laughs (written by Scott Snyder with art by Eduardo Risso and Jock) and Batman: Damned (Brian Azzarello, Lee Bermejo). If they are hyped about the forthcoming Wonder Woman sequel, they might want to check out Wonder Woman: The Just War, Vol. 1, covering the beginning of G. Willow Wilson's run on the title. (Wilson is co-creator of Ms. Marvel.) If they loved The Watchmen, there's the Doomsday Clock, Part 1 by writer Geoff Johns and artist Gary Frank. Finally, if you think they'd like to spend some time away from the Big 3, there's Heroes in Crisis:https://www.amazon.com/Heroes-Crisis-Tom-King/dp/1401291422 by the aforementioned Tom King and artists Clay Mann, Lee Weeks and Mitch Gerads. —M.B.
---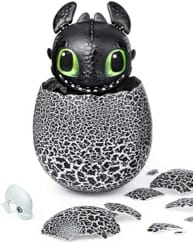 Hatching Toothless (Spin Master, $48.88
Obviously, we could go down a completely different (yet bottomless!) rabbit hole exploring the toy offerings tied to movies, but since this list is focused mostly on what that adult movie lover may like, we won't. We will, however, pause to appreciate this simple combination of the immensely popular How to Train Your Dragon franchise that (sorta?) wrapped up this year and the popular (with kids) hatchimal toy line. Once freed from its egg, this little Toothless looks more like a sleek, pumped up Funko pop than the fuzzy what's-its dragons of "regular" hatchimals. And yes, you dragon-fond child will love it. —M.B.
---
The Horror … the Horror … the Holidays!
We've discussed before how a true horror fan is a target-rich, well, target, when it comes to gift-giving. The genre has been around from virtually the beginning of cinema, and unlike, say, westerns or war movies, which wax and wane in terms of studio and audience affection, every decade produces horror movies worth seeing (and as our own Jim Vorel has so ably demonstrated, every year). This year's selection of collections and re-releases provide ample fodder for horror-gifting with the best of them.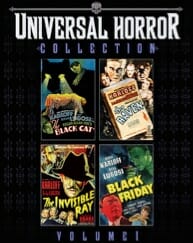 Universal Horror Collection, Vol. 1 – 3 (Scream Factory, $55.97 each)
These collections are a good reminder of just how active Universal was in horror during the 1930s and early 1940s. The titles might be unfamiliar to casual horror fans—The Invisible Ray (1936), Tower of London (1939) and The Mad Ghoul (1943) are hardly household names—but names like Boris Karloff, Bela Lugosi and Basil Rathbone? Those names likely will ring a bell. Each volume contains four movies from this near forgotten age, and a horror lover wishing to learn more will find the usual assortment of audio commentaries, featurettes and galleries. —M.B.
---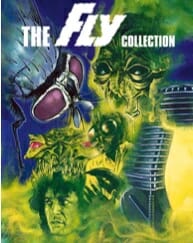 The Fly Collection (Scream Factory, $63.97 each)
Your first reaction to seeing this five-movie collection of all things Fly may well be, "Wait, there were five?!" But for that horror movie lover you know? It's more likely to be a lifted eyebrow and hopeful, "Tell me more." This collection includes the 1958 original starring Vincent Price, its two sequels, The Return of the Fly (1959) and The Curse of the Fly (1965) and then David Cronenberg's 1986 remake and its sequel, The Fly II. Extras include vintage trailers and featurettes for the older trio along with oodles of new content for the more recent movies, including interviews with producer Mel Brooks and composer Howard Shore, among many others. —M.B.
---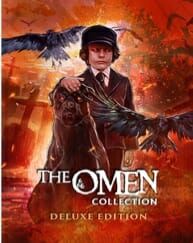 The Omen Collection Deluxe Edition (Shout! Factory, $59.95)
When I say I don't like horror movies, what I really mean is I don't like slasher flicks and torture porn. Movies like The Shining, The Exorcist and The Omen? Love 'em! I can't say as much for the inevitable sequels, but then I'm not a hardcore horror junkie. Damien: Omen II and Omen III: The Final Conflict aren't made for me and that's totally cool. As is this set! First of all, The Omen has an all-new director-approved 4K transfer from the original negative, as well as a host of extras, both new and previously released. The other three films in the original series are also festooned with extras (but no new transfers) and to boot, Shout has thrown in the 2006 remake of The Omen. See, it's companies like Shout! Factory that make hard media a must for me! —M.R.
---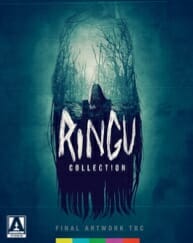 Ringu Collection (Arrow Video, $49.95)
Like the American remake, The Ring, the Japanese horror movie Ringu is known for being as visually striking as it is psychologically scarring. Something you can appreciate even more with this limited edition blu-ray boxed set, which has the three movies — Ringu, Ringu 2, and the prequel Ringu 0 — all remastered in 4K from the original camera negative, and with the approval of director of photography Junichiro Hayashi. Also included are commentaries, Ringu 0 deleted scenes, the original trailers, featurettes on both J-horror and the impact of these films, and Spiral, the original but now non-canonical sequel to Ringu. —Paul Semel
---
"Pop!" Goes the Franchises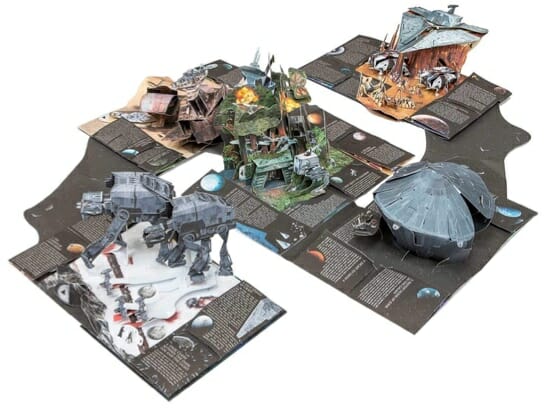 A Trio of Pop-Ups: A Merry Sithmas, A Hogwarts Christmas Pop-Up and Star Wars: The Ultimate Pop-up Galaxy (Insight Editions, prices vary, links below)
We love Insight Editions because they always feed out genre and geek obsessions! This year is no exception, with two of our favorite fandoms represented by three very different pop-ups. First up is A Merry Sithmas Pop-up Book ($15.99), a "make your own pop-up book" obviously aimed at kids. After puzzling at it for a few minutes I got the gist of it and actually think it's pretty cool. It's got various pop-up pieces to punch out, color, fold and glue or tape to the pages so that they form pop-up scenes, like "A Wookiee Little Christmas" and "Merry Hothmas." —M.R.
---
A Hogwarts Christmas Pop-Up ( $23.99) shifts things a bit in that it's not so much a book as it is a pop-up advent….tree? The hardcover "book" opens to reveal a 13" Christmas tree with spaces for the 25 ornaments representing items from the 7 books that are hidden in little trap doors in the reproduction of the Hogwarts Great Hall. It's quite a handsome display and can easily be used year after year. Also included is a nice booklet (hidden behind another trap door) with behind-the-scenes details about props, set designs and other holiday-themed elements from the films. —M.R.
---
Now the big one….Star Wars: The Ultimate Pop-up Galaxy () is epic. While it is possible to open it page by page, each with a main pop-up and several smaller ones hidden behind flaps, the book is meant to ultimately unfold, revealing a massive diorama of the entire saga. Well, the entire saga exceptThe Rise of Skywalker, of course! That said, even thought it's only 8/9ths complete, it's still pretty cool! —M.R.