The Hamilton Movie Is Coming to Disney+ More Than a Year Early, on July 3
Photo by Joan Marcus
Movies
News
Hamilton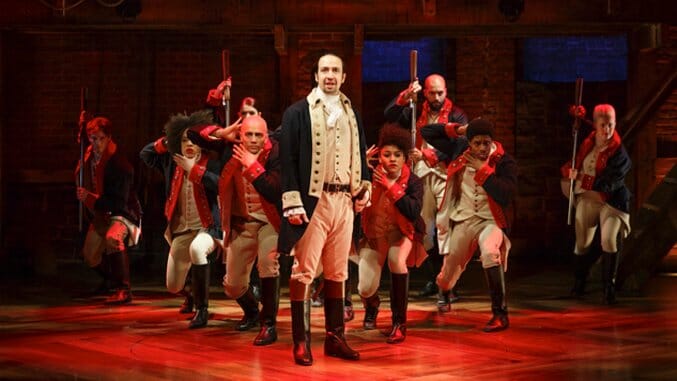 Well, you can probably thank the pandemic for this news, which is truly unexpected: The filmed version of Hamilton is coming to streaming services MUCH earlier than originally intended. Previously scheduled to head to Disney+ in October of 2021, the musical will instead now be coming our way in only a few months, on July 3, 2020.
It makes sense, when you think about it—theaters are closed worldwide, and no one knows when business sectors like Broadway will get back to normal operations, even as states reopen their economies. Meanwhile, programming like the Michael Jordan documentary The Last Dance on ESPN (also owned by Disney) has shown how ravenous consumers are for intriguing new content right now, which means the availability of one of the biggest Broadway shows of all time on their streaming service could translate to millions of new sign-ups.
Hamilton was a true cultural phenomenon, winning 11 Tony Awards in 2016 and cementing creator-star Lin-Manuel Miranda as one of the most sought-after creatives in Hollywood. It has since been seen by more than 2.6 million people on Broadway and via touring casts, grossing more than $636 million. Touring companies are currently housed in San Francisco, London and L.A., but with the future of those shows hanging in the air, Disney must have figured it was time to start making money on Hamilton elsewhere … especially after they shelled out $75 million for the worldwide rights to the filmed show.
This filmed version of Hamilton was captured roughly two weeks before the end of the original cast's run, and was shot by director Tommy Kail, who culled the footage from three live performances to achieve multiple angles in each scene. Although millions have seen Hamilton live, this recording will no doubt represent a much sought-after opportunity for millions more to see the show for the first time.
"I'm so proud of how beautifully Tommy Kail has brought Hamilton to the screen," said Lin-Manuel Miranda in a statement. "He's given everyone who watches this film the best seat in the house. I'm so grateful to Disney and Disney+ for reimagining and moving up our release to July 4th weekend of this year, in light of the world turning upside down. I'm so grateful to all the fans who asked for this, and I'm so glad that we're able to make it happen. I'm so proud of this show. I can't wait for you to see it."