Jojo Rabbit's Archie Yates to Star in Home Alone Reboot That May Not Be Home Alone Reboot at All
Photo via Getty Images, Roy Rochlin
Movies
News
home alone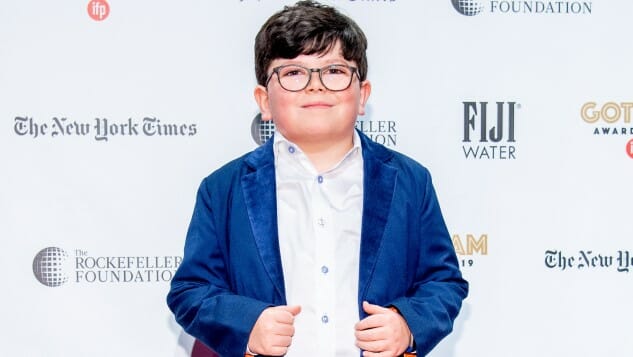 Look, we get that the above headline is confusing, but that's right on the money for this oddly reported story. Even The Hollywood Reporter doesn't seem to know exactly what it should call this film, simply stating that it's "a Home Alone reboot" in the title, before immediately clarifying that ACTUALLY, it's probably not that.
Here's what we know: Jojo Rabbit breakout actor Archie Yates, who played the adorably earnest Nazi friend of Roman Griffin Davis' title character, is apparently set to play the lead in what THR initially describes as a reboot of Chris Columbus/Macaulay Culkin's Home Alone, a Disney+ project that had repeatedly been hinted at in the past. Ellie Kemper and Rob Delaney, meanwhile, would be playing the parts of Yates' parents, with direction from Dan Mazer and a screenplay from SNL writers Mikey Day and Streeter Seidell.
Here's where we start to diverge, though. THR also claims that "souce say the project is being labeled Home Alone due to the similarities in concept, but in execution the project will have another title."
If that's the case, then why invoke Home Alone at all? And if you end up with another film about a kid defending the house with a variety of improvised gadgets, why not call it Home Alone, especially with the low stakes of being a Disney+ original film rather than a wide theatrical release?
According to THR, on the other hand, the story consists of the following: "Kemper and Delaney play a wife and husband who, in order to save their home from financial ruin, go to war with a kid who has stolen a priceless heirloom."
Once again: What? First Kemper and Delaney are described as Yates' parents, and now they're going to war with "a kid"—no description of that kid being their offspring—"who has stolen a priceless heirloom:?
It's hard to know what to say on this one, other than to say that fans of the two original films (let us not speak of the direct-to-video sequels) will likely find fault no matter what Disney produces. Regardless, once it becomes clear what kind of connections this project actually bears to Home Alone, we'll let you know.