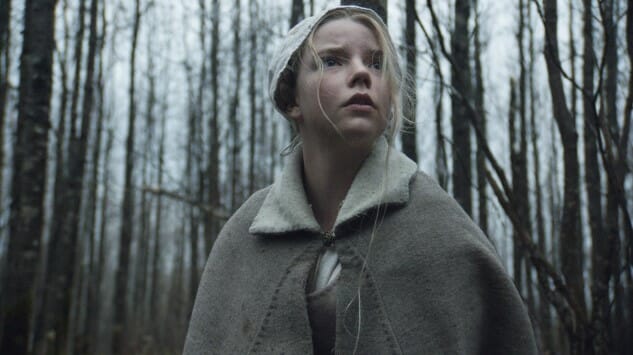 This post is part of Paste's Century of Terror project, a countdown of the 100 best horror films of the last 100 years, culminating on Halloween. You can see the full list in the master document, which will collect each year's individual film entry as it is posted.
The Year
This is, without a doubt, one of the deepest years of the decade for the horror genre, with a nigh-overwhelming number of quality films to choose from. Not only that, but there's a great amount of variety to these features, with a notable influx of international titles to boot. Everything from big-budget studio horror (The Conjuring 2, Ouija: Origin of Evil), to arthouse weirdness (The Witch), Netflix originals (Hush) and top-flight horror anthologies (Southbound) are present in the mix.
An immediate favorite and often overlooked selection is The Invitation, a taut, slow-burn thriller that will fray your nerves as it worms its way under your skin. Karyn Kusama shows an impressive grasp of cinematic suspense in this story, set at a dinner party, in which a grieving man slowly comes to suspect that the host (his ex-wife) has something sinister planned for her guests. This is one of those horror films that satirizes modern relationships as we operate within the bounds of "polite" society, with the result being that our protagonist often comes into conflict not with life-or-death struggles (at least not at first), but the hurdles created by tact and civility, even as he knows, deep down, that something is amiss. It creates an intense sensation of awkwardness that borders on horrific all on its own, only amplified by the arrival of some unexpected guests to the situation. Praise is deserved by veteran character actor John Carroll Lynch once again, who brings the same incredible, cerebral menace to his character that we previously saw in David Fincher's Zodiac. Truly, this guy is one of the genre's best and least-heralded performers.
This is also a very strong year for horror in South Korea, which contributes both the dread-inducing supernatural vibes of The Wailing and the phenomenally successful zombie film Train to Busan, which innovated not via style but setting, putting almost all of its action on a series of trains filled with the undead. Although derided by detractors as aping the train setting of 2013's Snowpiercer, it's easy to look past the basic similarities when Train to Busan is filled with such likable characters and satisfying action. Progressing like a videogame from car to car, but simultaneously ripe with pathos thanks to a few parallel storylines, the film features a handful of sights that had never been seen in the zombie genre to date, including a human chain of zombies, 50 deep, being dragged behind a moving train. It also can lay claim to one of the most genuinely aggravating asshole characters to ever factor into a zombie movie—a guy who is so terrible that you are desperate to see him finally get some comeuppance.
Strong performances also abound in the likes of 10 Cloverfield Lane, which would have been a well-earned Oscar nomination for John Goodman if it wasn't too close to the horror genre for voters' tastes, and The Autopsy of Jane Doe, which benefits from an engaged Emile Hirsch and Brian Cox at his salty best. And then there's the pulse-raising, claustrophobic cat-and-mouse game of Don't Breathe, in which a team of thieves invade the house of a particularly dangerous blind man and get far more than they bargained for. Truly, 2016 was a bumper crop—there's no shortage of films here that every horror fan should check out.
2016 Honorable Mentions: The Invitation, Don't Breathe, Train to Busan, 10 Cloverfield Lane, The Wailing, The Autopsy of Jane Doe, Green Room, Southbound, Under the Shadow, Hush, The Conjuring 2, Ouija: Origin of Evil, The Shallows, The Girl With All the Gifts
---
The Film: The Witch
Director: Robert Eggers
Isolation and horror truly do make for natural bedfellows. The act of removing oneself from society promises a sort of freedom, but also an obvious state of naked vulnerability. To march into the wilderness is to give up the safety net of collective strength and the emotional support offered by civilization, relying entirely on one's own prowess. And unfortunately, it's all too easy to overestimate that strength, and never realize it until it's already too late.
The events of The Witch can be perceived as a punishment for that sort of reckless pride. In 1630, patriarch William packs up his family into a wagon and rolls out into the country, following a confrontation with the town's religious and cultural elite. In doing so, he's stranding them in the wilderness, at the mercy of the elements, the backbreaking futility of subsistence farming, and the apparent threat of supernatural invasion, all thanks to his unwillingness to live under someone else's doctrine. He's proud, not just of himself but of the challenge he's making his family take on, self-righteous in a way unique to a certain breed of asshole that it's clearly impossible he could be making the wrong choice, unconcerned with how this will cause his wife and children to suffer. In the eyes of William, there's only one imperative to live up to, and that's the moral imperative that he himself defines. He is arrogant in the extreme, claiming that "we will conquer this wilderness," as if the world is a tame animal ready to roll over and offer up its bounty to him, the man fated to exploit it. Suffice to say, he could scarcely be more wrong.
Soon, the family's baby boy has gone missing, and talk of the unholy rears its ugly head. Most films in the mold of The Witch would likely make the presence of the titular creature a metaphorical one, or the object of psychological mystery—are supernatural events actually afoot, or at we simply witnessing a descent into finger-pointing and hysteria, of the sort famously associated with the Salem witch trials? The Witch, on the other hand, leaves no doubt—we see exactly what happened to that poor baby within minutes, and we know with certainty what kind of evil dwells in the woods surrounding the family's farm. As Paste's Dom Sinacola put it: "Eggers shows us the titular threat, taking a mortar and pestle to all Witch Trials allusions, grinding them to a pulp. The 'unknown' is no longer whether actual evil exists or not—the 'unknown' is why that evil should even exist at all."
Thrust into this slowly building mania and accusatory hellhole is Thomasin (Anya Taylor-Joy, in a scintillating debut), a young teenage girl on the cusp of womanhood, about to fully enter a society where only rigid oppression seems to await. It's clear from the start that there's no future here for Thomasin, nor any of the other children, really—they're just pieces of chattel who would presumably grow old on the makeshift farm, supporting dying parents until they themselves succumb to a strain of illness or particularly crushing winter. One can hardly blame Thomasin for lusting after some kind of escape, any kind of escape that would offer a reason to go on living. If you watch The Witch and think, at the end, that you'd make some other choice than to "live deliciously," that would be delusion in action.
Faith, it is clearly pointed out, is no comfort here, in a land where even faith has been stripped of any comforting or redeeming qualities. Here, in the mania of religious extremism, the quest for faith and purity is so all consuming and reverent that there's no room for tenderness or humanity in the experience. The God that Thomasin and her family pray to (constantly) in this film isn't the merciful, all-loving, beneficent creator deity who wants nothing more than for you to be comfortable "being yourself." This God, taking advantage of the presence of real, indisputable evil running wild in the wilderness, is one who demands strict obedience and utter humbleness before His omnipotence if you want His favor, and would surely punish (severely) any infractions. Hell, this God probably enjoys punishing those who aren't sufficiently righteous, reasoning that getting His kicks is only His right. This is His universe, after all—He can do as he pleases with it, and who are you to say otherwise?
---
Jim Vorel is a Paste staff writer and resident horror guru. You can follow him on Twitter for more film and TV writing.