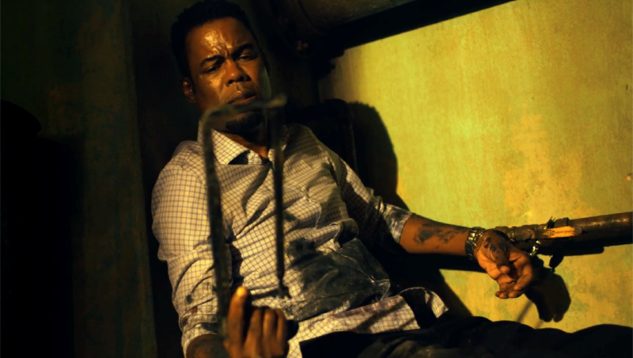 Well, this certainly arrived as a bolt out of the blue. Less than 24 hours after the title of Chris Rock's Saw reboot/continuation was revealed to be Spiral (or Spiral: From the Book of Saw), we now have at our first glimpse at some footage in the form of a teaser trailer. And that footage certainly hints at a pretty noticeable departure from the series to date, which had always been driven by the presence of the serial killer Jigsaw, or one of his disciples. This time around, though? Seems like we have a bit more of a mystery on our hands.
Rock is playing a character named Det. Zeke Banks, who appears to be the more "seasoned" of the two in comparison with his younger partner, William Schenk (Max Minghella). Still, he's never seen anything like the series of police slayings that start popping up, signalling perhaps that someone wants to play a game. Also, Samuel L. Jackson factors in, playing a character named Marcus Banks, although it's not really clear from the trailer how his character is related to the others.
What we can see here is a rather lovely looking series of images, first seeming to heavily reference the urban grime of David Fincher's Seven before making a sudden turn into Saw-land as soon as Samuel L. Jackson asks "You wanna play GAMES, motherf&*#er?"
Spiral is based on a story by Rock and a screenplay by Josh Stolberg. It's directed by someone with plenty of franchise connection to Saw in the form of Darren Lynn Bousman, who previously directed Saw II, Saw III and Saw IV. It's a bit hard to know what else to expect, but we'll find out soon enough—Spiral is scheduled for a May 15, 2020 release. Check out the full trailer below.