It's Time to Hunt a Monster in Trailer for Intriguing Horror Flick Dark Harvest
Photos via MGM
Movies
News
horror movies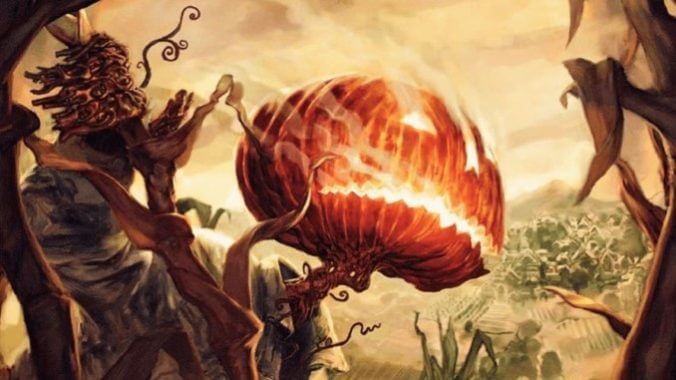 It's always nice to queue up a horror film trailer and see at least something you haven't seen before, which makes the newly released trailer for MGM's Dark Harvest, which you can view below, a pleasant surprise. This under-the-radar release sadly doesn't look to be getting a theatrical release, but considering the film seems to have been completed a few years ago, those who worked on it are probably happy the film is getting released at all. And indeed it is, with a wide digital release scheduled for Oct. 13, 2023.
Dark Harvest is an adaptation of author Norman Partridge's 2006 horror novel of the same name–the image above is from the 2007 edition published by Tor Books, looking rather similar to The Sandman's Merv Pumpkinhead. It depicts one Sawtooth Jack, the film's central monster antagonist, but rather than simply being a retro slasher or creature feature, Dark Harvest has an enjoyably novel premise that pushes it more in the direction of Battle Royale or The Hunger Games, though Partridge's book actually predates The Hunger Games series.
Whereas most settings with a pumpkin-headed, Halloween-themed monster would presumably involve a local legend returning such a creature to life, in a town that doubts its existence, Dark Harvest flips the script by making the annual appearances of Sawtooth Jack not just a known event, but one molded into a local tradition and bloody right of passage. In this town, the monster's annual rampage must be countered by all of the young male residents, who are forced to hunt down the monster and stop it from reaching a local church, by order of the town's elders as a "sacred duty." Should Sawtooth Jack reach his destination, we are warned that the entire town could be destroyed. But perhaps there's a bit more to the seedy backstory of the pumpkin-headed legend?
Regardless, putting all of the teenage boys into deadly competition against each other and a roving monster seems like great fodder for a horror film. Dark Harvest is directed by David Slade of Hard Candy and 30 Days of Night and was reportedly filmed in 2021, before missing a potential release date last Halloween season. Here's hoping that it can make more a splash this time. Meanwhile, you can check out the stylish trailer below.