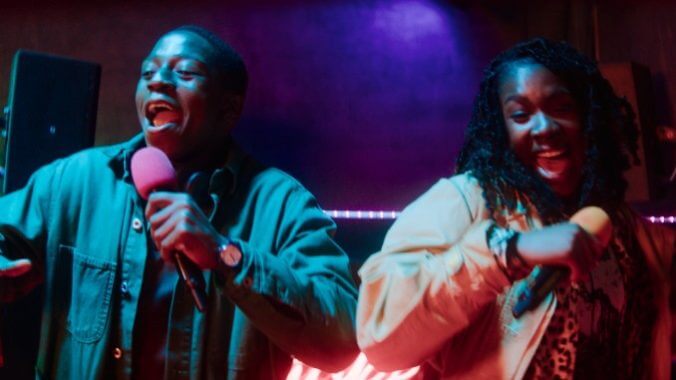 In a recent interview, Rye Lane director Raine Allen-Miller admits to not being "a big rom-com fan." "I think I'm still in denial about it being a rom-com, to be perfectly honest," she says. It is a testament to her clarity of vision, then, that Rye Lane still functions as a perfectly poised romantic comedy, recrafting a genre that has been weighed down by half-hearted interpretations and recreations. 
Part of the joy of making a romantic comedy is reimagining the stakes of a story, relitigating what is deemed cinematic. Rather than the traditional blockbuster terrain, you are charting the more familiar fallout from relational misunderstanding. Romantic comedies are bound by relatability, and truly great romantic comedies understand this relatability grows from specificity. Where many recent examples of this genre fall short is in dodging this degree of specificity, scared to ground an audience in the monotony of the everyday. Rye Lane leans into this perceived monotony, animating everything with the promise of new love. 
Rye Lane takes place over the course of a day, following Dom (David Jonsson) and Yas (Vivian Oparah) as they wander across South London, concocting new, increasingly ridiculous ways of spending time together. They use local landmarks as a set of interpersonal stepping stones, guiding one another through the physical ruins of their own romantic histories. Everything is captured in sharp, bright colors, reflecting the joy buried in every corner of this city. But the color scheme is only one way Allen-Miller navigates the playfulness of Dom and Yas' dynamic. She stages elaborate setups to heighten their budding relationship: A cinema full of multiple Doms, passionately cheering Yas on as she recreates her recent breakup, is both a funny joke and a constructive character beat, showing two people who bond over a shared way of coping.
Allen-Miller experiments with the focus and angle of the camera, switching between the extremes of the fish-eye lens and wide shots to capture the blurred and busy texture of the city. Such cinematic tools work to interpret how seeing and being seen are crucial to falling in love. Their love story is one dedicated to recontextualizing their surroundings, to overhearing an embarrassing conversation and seeking out the other's amused gaze, to buying burritos from the stall in Brixton and letting the other one order for you. Each new location is a gateway into understanding the other person, a prompt for a new story. In this way Rye Lane builds a lovingly transportive setting. 
Jonsson and Oparah's chemistry is buoyant, their repartee made real through their naturalistic delivery. Jonsson is especially able to ground his depiction of Dom with a genuine curiosity that infects his delivery of every line. Yas' open acceptance of the word, her claim to be "interested in other people's messes" encourages Dom in small and major ways. After noticing her wholehearted complement of a stranger's outfit, he mimics it for the person ahead of them in line. Her willingness to confront the betrayal of his ex-girlfriend forces him to let go of her. Gradually their affection for one another ripples out, influencing the world as they encounter it. 
While the central conflict that separates Dom and Yas feels frustratingly contrived, especially in comparison with their grounded rapport, it serves the thrill of the final set-piece. This conclusion draws the characters out of South London, using the scale and gravitas of Central London and the River Thames to serve the grand scope of their love. All the plot points, regardless of their believability, are retroactively justified by such winning romanticism.
Thanks to Rye Lane's specificity and care for its central relationship, Allen-Miller has made one of the best British comedies–certainly one of the best London-based films—of the last decade. Perhaps this is why she doesn't consider Rye Lane through the lens of the romantic comedy, as she remains wholly concerned with these characters and the details that make them real, rather than the genre that contains them. 
Director: Raine Allen-Miller
Writer: Tom Melia, Nathan Bryon
Starring: David Jonsson, Vivian Oparah, Simon Manyonda, Benjamin Sarpong-Broni, Poppy Allen-Quarmby
Release Date: March 31, 2023 (Hulu)
---
London-based film writer Anna McKibbin loves digging into classic film stars and movie musicals. Find her on Twitter to see what she is currently obsessed with.