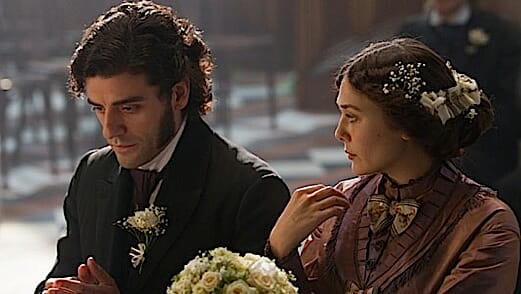 Here's textbook example of how to squander a killer cast. In Secret lands rising stars Elizabeth Olsen and Oscar Isaac as its leads, and surrounds them with two-time Academy Award winner Jessica Lange, character actors Shirley Henderson, Matt Lucas and Mackenzie Crook, and Harry Potter franchise graduate Tom Felton. That's a lot of talent to waste on a stillborn adaptation of Emile Zola's Thérèse Raquin.
The feature debut of writer-director Charlie Stratton turns Raquin into a noir-ish period piece, inspired as much by James M. Cain adaptations as traditional Hollywood costume drama. All the more disappointing then that this would-be erotic thriller delivers sex too tame and thrills too lame to get anyone's heart racing. It's the kind of misbegotten project that disappears off an actor's bio within a year or two, and disappears from a viewer's memory a lot faster than that.
As the film opens, young Thérèse's father leaves her in the care of a firm but fair aunt, Madame Raquin (Lange). The next minute she's already grown into a sexually curious young woman (Olsen) who is surprised to discover she's expected to marry her sickly cousin, Camille (Felton). Not only that, but she'll move with both Camille and Madame Raquin from the French countryside to Paris where they'll open a shop with money Therese inherited from her now deceased papa.
Although Camille is devoted to Thérèse, she considers him a brother and there's no passion or joy in their marriage. Instead, Thérèse's desires are instantly aroused by the arrival of Camille's childhood friend, Laurent (Isaac)—a more aggressive and experienced paramour who swiftly sweeps her off her feet. That's when the story takes a darker turn, as Thérèse and Laurent conspire to get rid of Camille so they can become a proper couple. It turns out murder is the easy part; it's living with the guilt—and a grief-ridden Madame, severely impaired by a stroke—that really drives them crazy.
Since In Secret is based on a literary classic, it's hard to accuse the movie of feeling predictable, but there's truly nothing surprising in the robotic way Stratton approaches the material. With a cast of Americans and Brits playing French characters and location work in Serbia and Hungary substituting for Paris, authenticity is out of the question. That wouldn't matter if there was genuine passion or creativity or artistry here.
Sadly, Olsen and Isaac never generate any heat as the doomed lovers. Like most of the cast, they simply go through the motions of an uninspired screenplay, failing to find any way to elevate the material. In a hunky leading man turn 180 degrees away from his breakout work in Inside Llewyn Davis, Isaac comes closer than the usually reliable Olsen, though he perhaps benefits from less screen time in which to flounder. It's really only Lange who brings something extra to her role, as Madame Raquin becomes increasingly central to the film's feeble attempts at escalating suspense. Still in American Horror Story diva mode, a rejuvenated Lange perfectly balances camp and legitimate emotion to score the most memorable moments after Madame discovers Thérèse and Laurent's deceit.
While Lange's work on the small screen has opened up a promising second act in her career, Stratton's TV experience feels more like a hurdle the film can't overcome. Even without knowing his résumé is populated with the likes of sudsy guilty pleasures Revenge and earnest teen dramas Everwood, the blithely shallow way Stratton skims the surface of Zola's source material betrays a second-rate sensibility. Even his key collaborators deliver at subpar levels. After bringing such a dreamy quality to Terence Davies' far more affecting The Deep Blue Sea, director of photography Florian Hoffmeister's compositions are surprisingly flat and visually dull, and Gabriel Yared's suffocating original score is a million miles away from his work on genre gem The Talented Mr. Ripley.
Not that anyone involved should worry about failing to bring their A-game. With minimal marketing and no reason for positive buzz, this Secret is at little risk of getting out.
Director: Charlie Stratton
Writer: Charlie Stratton, based on the novel Thérèse Raquin by Emile Zola and stage play by Neal Bell
Starring: Elizabeth Olsen, Jessica Lange, Oscar Isaac, Tom Felton, Shirley Henderson, Matt Lucas, Mackenzie Crook
Release Date: Feb. 21, 2014