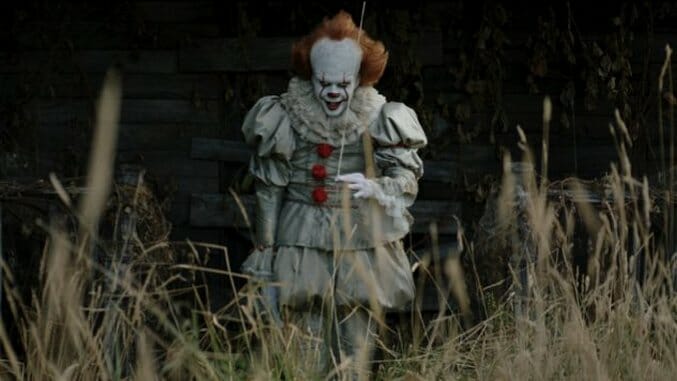 Well, this is certainly some exciting news for the horror geeks in the house: The It sequel, currently known as It: Chapter 2, is moving forward. According to an exclusive at Indiewire, Chapter 2 is slated to begin filming in only a couple of months, in July. Producer Roy Lee told the website that "the script is still being finalized and the locations are currently being scouted in anticipation of shooting then."
Director Andrés Muschietti will return to direct the second installment, which presumably will tackle the adult portion of Stephen King's iconic story, much as the second half of the 1990 TV miniseries starring Tim Curry did. The adult half of the story is often criticized as being weaker than the first portion starring the "Loser's Club" kids against the demonic clown Pennywise, but perhaps Muschietti's touch will help expand on the cosmic horror encountered in that part of the King source material. A script from Gary Dauberman, one of the original screenplay's three writers, is apparently in the works.
Whereas King's original story was set in the 1950s during the kids portion, Muschietti's film moved the first half into the '80s. Thus, the 27-year time jump will result in a second portion that takes place close to the present day. Back in February, Jessica Chastain was among the performers rumored for a role in the film, playing an adult version of Beverly Marsh, but the casting has yet to be confirmed. It makes sense, though—Chastain appeared in Muschietti's fairly well-regarded first thriller, the 2013 horror movie Mama. Chastain is also reportedly friends with Muschietti and his sister Barbara, one of It's producers.
"I love Andy and Barbara," Chastain told Screen Rant in November. "They're my friends. They're like my family. Anything that they're doing I want to be a part of, so I hope we can make it happen."
Any kind of It sequel is obviously big news for the horror genre and the film industry, after the film became one of the biggest genre movie releases of all time in 2017. Made for only $35 million and with a cast of largely unknowns, It raked in more than $700 million at the international box office, setting records for horror films around the globe. It will be fascinating to see if Muschietti can catch lightning in a bottle twice for the conclusion of the story, but either way, expect It: Chapter 2 to make bank.
Here's hoping we finally see that infamous deleted scene involving a mother and her baby…