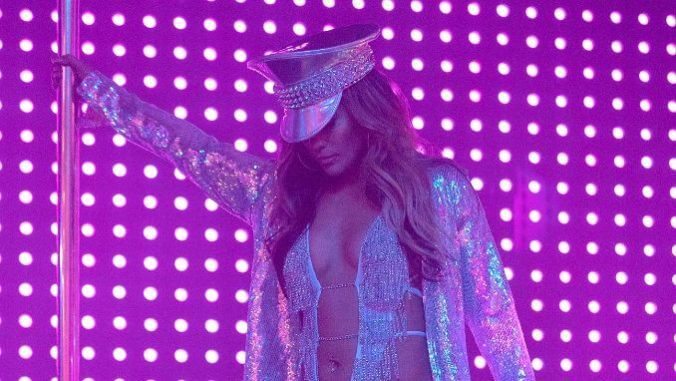 At a time when the concept of the A-Lister has dramatically changed and Hollywood is less concerned with creating new icons, it's notable how Jennifer Lopez has remained an undisputed megastar for close to three decades. She's instantly recognizable to the world: J.Lo, the indomitable celebrity who has conquered music, film, TV, fashion and every tabloid on the planet. In recent years, she's experienced a resurgence of sorts, a minor renaissance thanks to the critical success of Hustlers, a co-headlining gig at the Super Bowl Halftime Show, and the eager revival of Bennifer. It seems like she's never been more beloved, or taken more seriously by those who previously doubted her. She's bounding into the action genre now with Netflix's The Mother, a reminder that she's that rare celebrity who is willing to try almost everything. Of course she's a star, but that ambitious climb to the top came with a curious side effect. It made her a criminally underrated actress.
In the early '90s, Lopez, fresh off her tenure as a Fly Girl on In Living Color, landed a few supporting gigs in quickly canceled TV shows before stepping onto the big screen. It didn't take long for her to find a starring part in a Francis Ford Coppola film. Unfortunately, it was Jack. The real meat of her acting career came the year after that execrable schmaltz-fest's flop release, in 1997. That year, Lopez had three major roles that revealed her to be a blossoming character actress with leading lady potential: U Turn, Blood and Wine, and Selena.
As a young Latina actress in an industry dominated by whiteness, Lopez was often put in unenviable positions during the beginnings of her acting career. Even in good roles, she had to face the racist mess of a business that saw all women of color as interchangeable. In U Turn, a deeply twisted black comedy from Oliver Stone, she is cast as a half Native American woman, while in the underrated sun-drenched noir Blood and Wine, she's Cuban (Lopez is a New Yorker with Puerto Rican parents.) In these particular films, the male directors focus heavily on her sexuality, exoticizing her from a mere femme fatale into something more sinisterly Other. One can hardly blame her for, post-movie-star glow, choosing to be a rom-com headliner where her identity is not considered a hindrance to basic storytelling cues. 
Yet her work in these films is strong, for Lopez has always possessed a unique charisma that seems primed for cinematic glory. She's impossible to look away from, inhabiting the screen as though it was her absolute right to do so. In U Turn, which was dismissed by critics at the time for being luridly nihilistic, she plays a woman trapped in an incestuous relationship with her father. When an overtly harried Sean Penn rolls in, stuck with no chance of escaping a hellish Arizona town, she latches onto him immediately in the hopes that he will kill her father/husband for the insurance money. The character evokes Barbara Stanwyck in Double Indemnity, the queen of the femme fatales who always seems two steps ahead of every hot-headed guy in the room. Lopez, who looks super young here, is as good at calculated manipulation as she is at displays of stunted naivety. Is she a victim? A manipulator? Does it even matter, especially when the ensemble is stacked to the gunnels with violent scumbags? If everyone plays dirty, you go dirtier, and that sly caustic edge to Lopez's performance hammers that home. 
It's a skill that also shines in Blood and Wine, where she has believable sexual chemistry with Jack Nicholson as his maid girlfriend who helps him to pull off a ramshackle heist. As Gabriela, she truly loves Nicholson's Alex, a failing wine merchant who needs to steal diamonds from his mistress's employer to stave off the debt collectors. Bob Rafelson's film is vintage noir, so acerbic and cynical about humanity that it seems constantly at odds with the burning sunshine and picturesque locales of Miami. Gabriela's genuine affection for Alex, a man who certainly doesn't deserve it, is a sliver of light in this pitch-black narrative. For Lopez, it's a chance, albeit in a relatively underdeveloped role, to show her mettle as a figure of integrity surrounded by losers and scammers. Of course, both Blood and Wine and U Turn were stepping stones to perhaps her best film role, and her strongest display of noir prowess, Steven Soderbergh's Out of Sight. During this period, it felt like Lopez could have chemistry with absolutely everything, so it was no wonder she seemed primed to be a major actress.
With Selena, Lopez became impossible to ignore. Gregory Nava's biopic is standard stuff for the genre, but Lopez's performance as the late Tejano icon elevates it. She clearly did her homework, staying with Suzette Quintanilla, Selena's sister, to study the late singer's movements, and it shows in her energy and effervescence as a hard-working woman who has been primed for stardom from an early age. There's real sweetness in Selena, a stark contrast to the seductresses of Lopez's other '97 dramas. It's not mimicry so much as Lopez finding real life amid the stifling biopic tropes, which is no mean feat even before you remember that Selena's life and death were still painfully fresh in audiences' minds. When Nava allows the camera to stay still and simply focus on Selena (and Lopez) as a performer, the magic shines through for both women. 
By the end of the '90s, Lopez had begun her music career, releasing her debut album, On the 6, in 1999. The hits rolled in, with her slick combination of pop, Latin, and R&B giving her a number of big sellers and helping to kick off the Latin explosion of the mainstream American charts. While she never stopped acting, it was clear where her superstar priorities lay. She became a romantic comedy leading lady, one with major commercial clout even if the critics felt abandoned by her change of pace. But it didn't exactly matter, not when she was making so much money and dominating every magazine cover. 
Selling over 80 million records goes a long way, but it was also a reminder that Hollywood prefers limitations on its stars. It's never been wild about multi-hyphenates like Lopez who jump between singing, acting and more, certainly not in the way that is more commonplace in China and South Korea. The supposed sanctity of the Movie Star (read: white male actors who don't make rom-coms) has taken a long time to be deconstructed to allow the slightest sliver of change. If the options for Lopez were to define her image on her own terms via commercial success or stay in indie films where she may or may not have to rise above a racialized stereotype, you can hardly blame her for picking the former. Maid in Manhattan isn't good, but at least she didn't have to pretend to be Native American in it.
Lorene Scafaria's Hustlers, wherein Lopez played a queen bee stripper who leads a gang of sultry robberies on gormless punters, was the shot in the arm audiences needed to be reminded of Lopez's character actress strengths. Her character Ramona, clad in furs with dollar bills tucked into her bra, is the endgame of her late '90s femmes, only this one yields nothing to men. She's a figure of utmost control, so single-minded in her agenda that you can't help but fall in line with her demands, even as a viewer. But she's no simple anti-hero: When the gang's plans go awry, Ramona's forcefulness seems much less appealing. It's a performance that makes you wish Lopez would play more villains; the Jimmy Cagney role in Kiss Tomorrow Goodbye rather than the Barbara Payton one, for example. And yes, she should have been nominated for an Oscar.
Lopez is back in leading roles now, returning to romantic comedies alongside a few more varied films on Netflix that could continue her multimedia domination. There's a new album on the horizon, a collaboration with new husband Ben Affleck, and some newsletters to publish. Perhaps, amid the busiest schedule in Hollywood, she'll find time to take on a role worthy of her talents. It'll be worth the wait.
---
Kayleigh Donaldson is a critic and pop culture writer for Pajiba.com. Her work can also be found on IGN, Slashfilm, Uproxx, Little White Lies, Vulture, Roger Ebert, and other publications. She lives in Dundee.