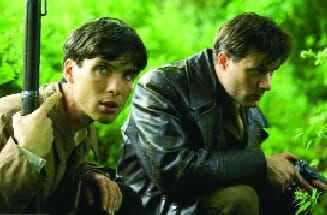 Release Date: March 14, 2007
Director: Ken Loach
Writer: Paul Laverty
Cinematographer: Barry Ackroyd
Starring: Cillian Murphy, Padraic Delaney
Studio/Run Time: IFC First Take, 127 mins.
Winner of the 2006 Palm d'Or at Cannes, The Wind That Shakes the Barley thrusts viewers into the rainy landscapes and political tumult of 1920s Ireland. Cillian Murphy gives a potent performance as Damien, a doctor persuaded by his brother (Padraic Delaney) to join the rebel army, which sought to oust the British Black and Tans from their Irish occupation in the 1920s. Though united in a series of ambushes and skirmishes, the Irish "Flying Column" force becomes divided against itself when politics and ideals change, and the brothers ?nd themselves grappling with their loyalties to country and family.
Unlike many ?lmmakers, Ken Loach shoots his ?lms chronologically, allowing his actors to grow and change with the characters. He's made a movie about a war, but it's not a war movie; rather, it's a quiet, heartbreaking meditation on unity and division in families and nations. Though riddled with bullets and brutality, the ?lm expresses the famously indomitable Irish spirit with subtlety, humanity and passion.