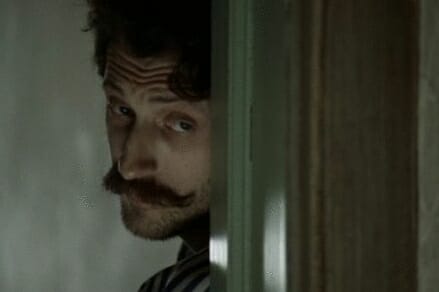 Release Date: Oct. 17
Director: Madonna
Writers: Madonna, Dan Cadan
Cinematographer: Tim Maurice-Jones
Starring: Eugene Hutz, Holly Weston, Vicky?McClure, Richard E. Grant
Studio/Run Time: ?IFC, 81 mins.

Crisply written, maturely mild sex comedy from the one-time Material Girl
Madonna's directorial debut, Filth and Wisdom, contains the expected: strippers, light S&M, erotic poetry. But, co-written with Guy Ritchie associate Dan Cadan, it also has crisp banter, endearing characters and the magnetism of Gogol Bordello's Eugene Hutz, whose narrator, A.K., fronts a struggling gypsy-punk band in London while he beats up pervs for money on the side. For saints, "filth will appear as an oasis," he says early, facing the camera, puppy-eyed. Throughout, the ensemble—including blind poet Professor Flynn (a dignified Richard E. Grant)—treats depravity as a resource, a way of accessing freedom. A.K.'s ballerina flatmate—the genuinely sweet Holly Watson—gradually finds herself after becoming a stripper to make rent. Though she's a first-time director, Madonna's displays throughout the '80s and '90s allow Filth and Wisdom to exist: Culturally, where domination interludes are now comic relief, and artistically, where Madge-2000 doesn't even need nudity to get her point across.