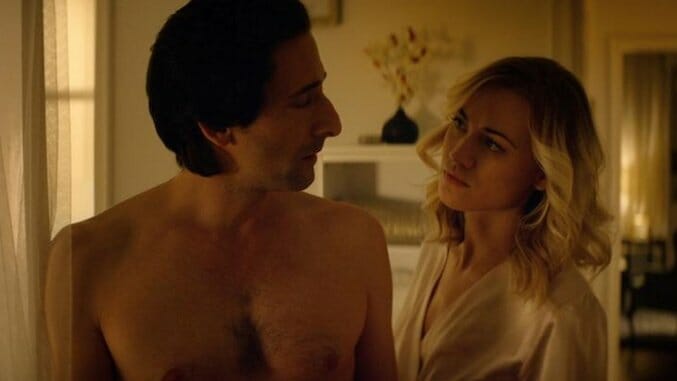 Manhattan Night is a twisty thriller that somehow manages to surprise and entertain despite employing nearly every trope from film noir. Written and directed by Brian DeCubellis (in his first feature) and based on Colin Harrison's 1996 novel Manhattan Nocturne, the film not only borrows stylistic elements from noir standard-bearers such as Double Indemnity and The Big Sleep, it combines them with touches of erotic whodunits such as Basic Instinct and Dressed to Kill. DeCubellis overdoes his homage, however—the result is a second-rate potboiler.
To wit: There's the past-his-prime hero, played by Adrien Brody as New York newspaper crime columnist Porter Wren. He introduces himself and his sad-sack tale through voiceover (naturally). He's a family man, seemingly devoted to busy doctor Lisa (Jennifer Beals) and their two kids. As Porter drives the city looking for his next scoop, moving from one grisly murder to the next tragedy, his journey's often accompanied by a gloomy jazz tune in the background.
At a business function, Porter meets Caroline Crowley (Yvonne Strahovski), an enigmatic blonde/femme fatale who asks him to look into the unsolved murder of her eccentric filmmaker husband, Simon (Campbell Scott). Though Porter's not sure about taking the side gig, Caroline cajoles and explains—over many drinks and smokes back at her place—that Simon's body was found in the rubble of a demolished building. She knows there's more to the story, and doesn't buy what's in the official police report. Of course, Porter can't resist the case or the girl, and he uncovers a bigger plot involving blackmail and sexual obsession that could put his career and his and his family's lives in danger.
The conflict arises from a number of red herrings that involve Simon and Mr. Hobbs (Steven Berkoff), a billionaire media mogul who happens to be the new owner of Porter's newspaper. The convoluted plot, which tangentially explores themes of privacy and control, turns out to be Manhattan Night's saving grace. The mystery is somewhat engaging, despite an overabundance of plot contrivances. (There's less screen time to watch the characters skirt the line into caricature.)
Brody's sad, expressive eyes and distinct visage are perfect for Porter's haggard countenance and flawed character. While there's no doubt in anyone's mind that he'll sleep with the younger Caroline, the scenario in which it happens is ridiculous. Spoiler alert: They don't have sex after the first night of flirting in her apartment because Porter must have a few scenes of struggling with his conscience first. But after a second meeting at her apartment to discuss her husband's death, he reaches the elevator only to realize he forgot his phone. He sneaks back into the apartment, and in those two minutes Caroline's already in the shower pleasuring herself. She sees her voyeur, and instead of kicking him out, they end up coupling against a wall. The scene feels so inorganic—and staged.
The Caroline character is the most problematic in Manhattan Night. Whereas Jennifer Beals' Lisa is just woefully underwritten as the dutiful wife, Strahovski's Caroline is proffered as a sexually independent, strong-willed woman who uses men to get what she wants. But look a little more closely, and quite the opposite is true. Caroline's objectified and controlled by the abusive men in her life. It's such a tiresome angle, but par for the course with the old-school clichés that abound.
The film's most interesting performance is one we only see in flashback. Scott does a terrific turn as tortured artist/filmmaker Simon, who's a sort of amalgam between Kurt Cobain and Andy Warhol. Simon used to stage outrageous stunts and performance pieces, and captured everything on tape. Caroline gives Porter access to all of Simon's recordings, and he unearths the real mystery of his dame in distress.
DeCubellis and cinematographer David Tumblety effectively depict the grittiness of the city, shooting darker, muted tones and capturing plenty of shadows in the process. The script's dialogue, including Brody's gumshoe monologues, is decidedly old-fashioned, but it works because Porter's a man out of time: a Bazooka bubble gum-chewing newspaper columnist. DeCubellis tries a few times to update Harrison's mid-'90s novel by throwing in pop culture references, namedropping Leonardo DiCaprio or Jessica Chastain, but it clashes with the film's throwback aura.
If only DeCubellis had focused on tightening the plot, excising unnecessary contrivances and extraneous characters (the great Linda Lavin comes out of nowhere toward the end of the film), Manhattan Night could have been a more tantalizing, albeit procedural, saga. Instead, it's bogged down by hackneyed characters that do no justice to the film noir titles it tries to emulate.
Director: Brian DeCubellis
Writer: Brian DeCubellis, based on the novel Manhattan Nocturne by Colin Harrison
Starring: Adrien Brody, Yvonne Strahovski, Campbell Scott, Jennifer Beals, Linda Lavin, Steven Berkoff
Release Date: May 20, 2016 in theaters and on demand
---
Christine N. Ziemba is a Los Angeles-based freelance pop culture writer and regular contributor to
Paste
. You can follow her on Twitter.