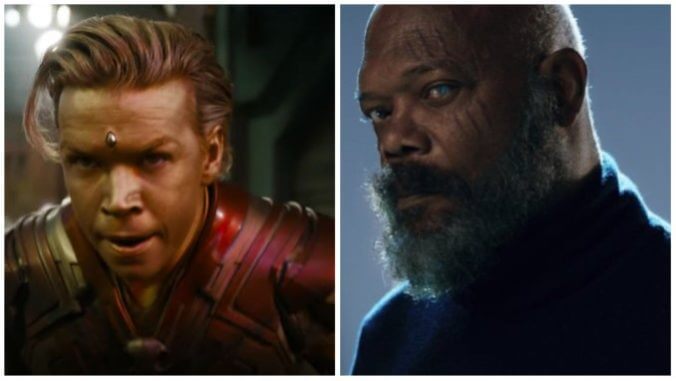 Some 15 years now since the sea change moment of 2008's Iron Man and the birth of the Marvel Cinematic Universe, the MCU is still an entertainment and marketing machine of incredible complexity and box office value. With the full might of the Disney juggernaut behind it, the MCU continues to dominate the box office on a yearly basis, while also becoming the premiere content that anchored Disney+ throughout 2022 with the launch of series such as Ms. Marvel, She-Hulk and Moon Knight.
But that's old news, now: What about 2023? What films can we expect to see make their way to multiplexes throughout this year, hopefully in a post-pandemic era? What new series, miniseries and TV specials, meanwhile, will we be able to enjoy on the small screen from the comfort of our own homes?
The Disney/Marvel machine is of course very busy, with dozens and dozens of projects at some stage of development, but here we're focusing specifically on every project that is expected to release before the end of this calendar year, 2023. Here's a brief synopsis of each project headed our way in the next 12 months or so.

Feature Films
The MCU feature film slate for 2023 is a little on the uneven side—three films are scheduled for release by the end of July, but there are no features coming up from August onward—not until Captain America: New World Order in May of 2024. That's a pretty decently sized gap for the MCU, so one has to wonder if there's something else in the mix we don't yet know about. Regardless, this slate of films and accompanying TV series represents the launch of Phase 5 of the MCU—notably, like Phase 4, this one doesn't include an Avengers entry. That MCU grand cru won't reoccur until Phase 6 in 2025, via Avengers: The Kang Dynasty.
Ant-Man and the Wasp: QuantumaniaRelease date: Feb. 17, 2023
The first MCU feature film of 2023 is bringing us back down to the teenyverse that is the Quantum Realm, while also having major implications for the next era of Avengers films—if a few years from now we'll be watching an Avengers film with Kang the Conqueror in the title, then it stands to reason that all of his appearances leading up to that movie will likely be pivotal, and he looks to be a major player here, returning after his introduction in the first season of Loki. Jonathan Majors again plays the timeless Kang, alongside all the Ant-Man regulars—Paul Rudd and Evangeline Lilly, Michael Douglas and Michelle Pfeiffer, etc. One swap: Scott's daughter Cassie is played by the third different actress for this series, now being portrayed by Freaky's Kathryn Newton.
The plot of Quantumania, meanwhile, seems to hinge around the decades that Janet van Dyne spent lost in the Quantum Realm, and a secret about that place she never revealed to Hank Pym and co.—the fact that it has its own civilization, for one. It remains to be seen how the Quantum Realm will be able to interact with the wider MCU, but it will no doubt be established here. As the official synopsis puts it:
Scott Lang and Hope van Dyne, along with Hope's parents Hank Pym and Janet van Dyne and Lang's daughter Cassie, go on a new adventure exploring the Quantum Realm that pushes their limits and pits them against Kang the Conqueror.
Quantumania looks to kick off Phase 5 with a bang on Feb. 17, 2023.
---
Guardians of the Galaxy Vol. 3Release date: May 5, 2023
Presumably the last hurrah for director James Gunn in the Marvel Cinematic Universe, following the drawn-out drama over his Twitter dust-up, firing and subsequent rehiring before he was hired as an architect of the competing DCEU, it seems safe to say the director will be ready to go out in style. The recently released Guardians of the Galaxy Holiday Special on Disney+ begins laying the groundwork here—Peter finds out that Mantis is his half-sister, and we get a look at how the Guardians have been retrofitting and renovating Knowhere to make it into a sort of celestial alien commune. As the official synopsis puts it:
After purchasing Knowhere from the Collector, the Guardians of the Galaxy attempt to make it a safe haven for alien refugees. But after a brutal attack, Peter Quill must lead the Guardians on a dangerous mission to protect one of their members that could lead to the team dissolving.
The recently released first trailer, meanwhile, suggests that Guardians of the Galaxy Vol. 3 is really Rocket's movie, as it seems to promise we'll finally be getting more of a firm backstory and plot built around everyone's favorite gun-obsessed, genetically modified racoon. This could be the last go-round for many of these characters before others rise to prominence in Phase 5, so you should likely be ready for some teary-eyed goodbyes this time around. That, and another great soundtrack.
---
The MarvelsRelease date: July 28, 2023
2023 may not have an incoming Avengers movie, but it does have a new form of superhero team-up, in The Marvels. Essentially, what we have here is a group of heroes all connected in some unknown way by their "cosmic" powers: Brie Larson's Captain Marvel, Teyonah Parris' Monica Rambeau and Iman Vellani's recently introduced Kamala Khan/Ms. Marvel. Some force is clearly binding these three together, as the official synopsis would no doubt imply:
Following the events of Ms. Marvel (2022), Carol Danvers, Kamala Khan, and Monica Rambeau begin swapping places with each other every time they use their powers and must team-up to figure out why.
What "swapping places" means is not entirely clear. Teleportation? Body swapping, 'ala Freaky Friday? Regardless, the film is directed by Candyman's Nia DaCosta in a high-profile MCU debut, from a screenplay by Megan McDonnell. One can expect some connections to Secret Wars, given that the Skrulls originally debuted in Captain Marvel, and Samuel L. Jackson's Nick Fury is also appearing in The Marvels. This will also be the first time we've spent much time with Monica Rambeau in a feature film, as most of her screen time was within the first season of WandaVision.

TV Series
This is shaping up to be a big, busy year for the MCU on the small screen, as there are at least six series scheduled to hit Disney+ during the 2023 window, and there could be some more surprises along the way as well.
---
Secret InvasionRelease date: Early 2023
Another project with obvious ties to Captain Marvel, Secret Invasion is a six-episode miniseries revolving around the shape-shifting alien Skrulls, who were introduced as antagonists in that film before being quickly redeemed. The nature of their involvement in this series, on the other hand, may again be more sinister—the official synopsis says only that "a sect of shapeshifting aliens, the Skrulls, have infiltrated all aspects of life on Earth."
Then again, the series is also bringing Sam L. Jackson's Nick Fury back into the fold working alongside the Skrulls, and it's hard to believe he would really be on the side of any true villains. Ben Mendelsohn will likewise reprise his role as the leading Skrull Talos first seen in Captain Marvel, and they'll be joined by MCU stalwart Cobie Smulders, who has perhaps survived more improbable events than any other character without superpowers. They'll be joined by another impressive cast, which includes Kingsley Ben-Adir, Olivia Colman, Emilia Clarke, Killian Scott, Christopher McDonald and Carmen Ejogo.
We don't have an exact launch date for Secret Invasion, but it's expected to be one of the earliest MCU shows of 2023. The first trailer certainly sets a dark and serious tone.
---
What If…? Season 2Release date: Early 2023
A second season of Disney+ animated conjectural series What If…? has is expected as one of the first MCU projects of 2023 on Disney+, which 9 episodes. Very little has been revealed about what we might see this time around, but as in the first season we'll be teased by the dulcet tones of Jeffrey Wright as Uatu the Watcher, and that's a very good thing. One can expect this second go-round to be heavily impacted by the multiversal tinkering of Multiverse of Madness and Loki, so it's safe to say that literally any kind of story could be in the cards.
It was previously reported that the season 1 What If…? episode incorporating the popular Marvel Zombies comics would be expanded into its own series or miniseries, but additional details on Marvel Zombies haven't yet arrived.
---
EchoRelease date: Mid-2023
Fans of the Netflix-era Marvel series have waited for this one for a while, as Echo functions as a return of sorts for the cast of Netflix's Daredevil, while also advancing the story begun in Hawkeye. Deaf Native American actress Alaqua Cox returns as Maya Lopez/Echo, the former commander of the Tracksuit Mafia who has the "photographic reflexes" necessary to exactly copy another person's movements. In her own series, Echo grapples with her past and adoptive uncle Wilson Fisk/Kingpin, played by a returning Vincent D'Onofrio. As the official synopsis puts it:
Following the events of Hawkeye (2021) in New York City, Maya Lopez returns to her hometown in Oklahoma, where she must come to terms with her past, reconnect with her Native American roots, and embrace her family and community.
Also returning is Charlie Cox's Daredevil after small roles in the likes of Spider-Man: No Way Home. Other major performers include Zahn McClarnon, Chaske Spencer, Tantoo Cardinal, Devery Jacobs, Cody Lightning and Graham Greene.
---
Loki, Season 2Release date: Mid-2023
After the mind-bender that was Loki's first season, it's difficult to even imagine what kind of plot this second season could hold, but it's not hard to imagine it could be key to the overarching narrative of the MCU's Phase 5. Film fans and sci-fi geeks will be particularly excited to know that the directorial duo of Justin Benson and Aaron Moorhead (The Endless) are directing the majority of season 2's episodes, and their particular brand of untethered narrative seems tailor made for the tone that Loki has established so far.
Most of the surviving major players from the first season of Loki return, including Tom Hiddleston (of course) as our "original" Loki, who defied the Time Variance Authority and ultimately encountered Kang the Conqueror. Also returning are Gugu Mbatha-Raw, Owen Wilson, Sophia Di Martino, Tara Strong and Eugene Cordero. Fun fact: Everything Everywhere All at Once's Ke Huy Quan will reportedly pop up in this season as well, which makes perfect thematic sense.
It remains to be seen how the character of Loki will manage to work himself back into the greater MCU, or whether he'll finally get another reunion with Thor, but we wouldn't put it past this season.
---
IronheartRelease date: Late 2023
Takin gup the mantle of Iron Man, or at least an Iron Man-esque figure, we have Ironheart, which will introduce the titular character, the alter ego of young technical whiz kid Riri Williams (Dominique Thorne). Filming on this one only recently concluded in Atlanta, although most of the series appears to be set in Chicago.
There's no official synopsis on Ironheart yet, but the character of Riri Williams is a genius MIT student and hobbyist inventor fascinated by the legacy of Iron Man, who creates her own suit of armor that rivals the capabilities of the ones built by Tony Stark. She's joined in her journey by friend Parker Robbins/The Hood, played by Anthony Ramos—he's described as "An ally of Williams's who dons a hood that allows him to tap in to dark arts and magic."
Ironheart also stars Lyrics Ross, Harper Anthony, Manny Montana, Alden Ehrenreich, Shea Couleé, Zoe Terakes, Regan Aliyah, Shakira Barrera, Rashida Olayiwola, Sonia Denis, Paul Calderón, and Cree Summer.
---
Agatha: Coven of ChaosRelease date: Late 2023
There's very little information available on this WandaVision follow-up so far, but suffice to say it clearly revolves around Kathryn Hahn's scene-stealing neighbor-turned witch, Agatha Harkness. Described as a "dark comedy," we would expect to see Harkness assembling a team of similarly witchy and magically imbued personalities, given that kooky title.
Further additions to the cast of Coven of Chaos were announced recently, with Joe Locke, Aubrey Plaza, Ali Ahn, Maria Dizzia and Sasheer Zamata joining the series in as-yet undisclosed roles. WandaVision creator Jac Schaeffer will once again be writing and directing episodes in this series. Filming is reportedly underway now.
---
Jim Vorel is a Paste staff writer and resident genre geek. You can follow him on Twitter for more film writing.