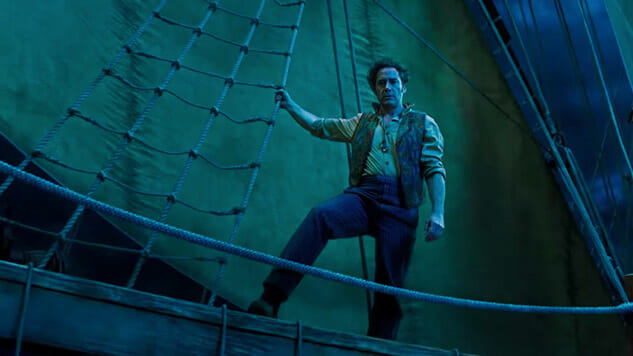 Robert Downey Jr. overcame substance abuse issues and an extensive arrest record to star in Iron Man in 2008, and then, after spending over a decade as one of the driving faces of the Marvel Cinematic Universe's globally dominant brand, he bid adieu to the franchise with Avengers: Endgame. Praise was heaped on him, accolades campaigned for. Now it's January and Downey, rather than any awards season nominations, has Stephen Gaghan's Dolittle to show for his rehabilitation and incalculable star power. Fate has a twisted sense of humor.
Gaghan's attachment to Dolittle should raise eyebrows as much as Downey's. Once upon 2005, Gaghan basked in the plaudits given him for his geopolitical thriller, Syriana. Fifteen years later, connecting the dots from blood, oil and George Clooney to a movie where impaction is significant to the climax feels like a fool's errand. It's best simply to stand in awe of how far both he and his leading man have lowered themselves.
Dolittle is a January release in the classic sense: It's bewilderingly bad, the sort of calamitous misfire any smart studio would quietly stash during the time of year when late December pictures go wide and everybody is focused on the Oscars. (Given that the distributor, Universal, is coming off the disaster of Cats, Dolittle's burial makes sense.) But here, the badness mingles with tragedy, because there's little reason to believe that Downey, and even Gaghan, could've done better for themselves than a cheap, shameless attempt at kick starting a kids' movie franchise to rival that of, say, Paddington, the series that Dolittle resembles in its best moments. (These moments, in case it needs clarifying, are few.) In fact, Gaghan's script, co-written by Dan Gregor and Doug Mand, stuffs what feels like three different moves into one, with the strongest of the lot opening and closing in Dolittle's first few minutes: It's an origin story, the tragic tale of how John Dolittle (Downey), a doctor capable of talking with animals, fell in love with Lily (Kasia Smutniak), his adventurous wife, and then lost her when she took a trip across the sea that turned fatal. The loss left him a broken man.
It's with that broken man that Dolittle, the movie proper, begins, and not at all coincidentally where the whole thing tumbles face-first downhill. Dolittle lives with his menagerie of animal pals in isolation, sporting Robin Williams' Jumanji beard and a horrific Welsh accent. He's happened upon by Tommy Stubbins (Harry Collett), a gentle lad who can't bring himself to kill animals on the hunt, and Lady Rose (Carmel Laniad), lady-in-waiting to Queen Victoria (Jessie Buckley). Tommy offers to work as Dolittle's apprentice. Rose offers Dolittle purpose in the form of a mission: To find and retrieve the exotic cure for the deathly ill Queen, hunted along the way by the nefarious Dr. Müdfly (Michael Sheen), who, to the surprise of no one in the audience, is the man responsible for the Queen's malady.
There's an enormous tertiary cast here, too, comprising Octavia Spencer, Rami Malek, Emma Thompson, John Cena, Kumail Nanjiani, Tom Holland, Ralph Fiennes, Selena Gomez, Marion Cotillard, Craig Robinson, Jason Mantzoukas and Frances de la Tour, each voicing one manner of beast or another. Compared to the full-blown pestilence of Downey's performance, these actors have scant impact. They can't out-bad him, for one, and for another they don't do anything apart from pass through the frame while dropping hammy, anachronistic one-liners. Don't blame them for their failures; they're let down by the script. Downey, on the other hand, has an actual character to work with, anchored in the bibliography of Hugh Lofting, so his choice to filter Dolittle through the lens of a twitchy Eddie Redmayne character is baffling at best, offensive at worst.
Gaghan couches Downey's caricature in what reads as the film's equally appalling production philosophy: "Y'know, for kids." Kids deserve better entertainment than Dolittle. They deserve not to have their intellect insulted with half-assed celebrity vocal cameos and a plot that concludes not with a bang, but with a fart joke. Neither Gaghan, nor his ensemble, nor Universal have an excuse. Downey doesn't either. Post-MCU, the world is not merely his oyster, but his bed; if this is how he wants to spend his time and his clout, let him lie in it.
Director: Stephen Gaghan
Writer: Stephen Gaghan, Dan Gregor, Doug Mand
Starring: Robert Downey Jr., Harry Collett, Carmel Laniad, Octavia Spencer, Rami Malek, Emma Thompson, John Cena, Kumail Nanjiani, Tom Holland, Ralph Fiennes, Selena Gomez, Marion Cotillard, Craig Robinson, Jason Mantzoukas, Frances de la Tour, Michael Sheen, Jim Broadbent, Jessie Buckley
Release Date: January 17, 2020
---
Bostonian culture journalist Andy Crump covers the movies, beer, music, and being a dad for way too many outlets, perhaps even yours. He has contributed to Paste since 2013. You can follow him on Twitter and find his collected work at his personal blog. He's composed of roughly 65% craft beer.