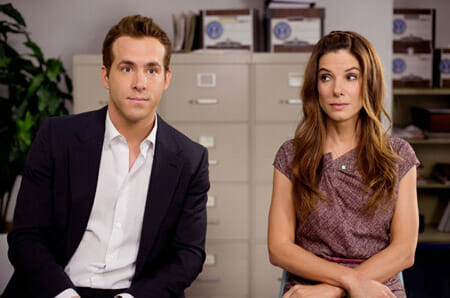 Director: Anne Fletcher
Writer: Pete Chiarelli
Cinematographer: Oliver Stapleton
Starring: Sandra Bullock, Ryan Reynolds, Mary Steenburgen, Craig T. Nelson, Betty White
Studio/Run Time: Walt Disney Studios, 107 mins.
Never underestimate the power of comedic timing
In trying to keep from being deported back to Canada, successful New York book editor Margaret Tate (Bullock) convinces her American assistant Andrew (Reynolds) to marry her—then has to convince a skeptical I.N.S. agent that her wedding plans are genuinely blissful. The couple heads to Andrew's home of Sitka, Alaska to meet his family, who persuades the couple to get married there, not knowing their true intentions.
Margaret is the Miranda Priestly of the publishing company, lording over her minions who cringe at her every appearance and send each other messages like "The witch is on her broom." But in Alaska, she's forced to play nice with the slightly strange natives. 87-year-old Betty White steals most every scene as Andrew's eccentric grandmother, and The Office's Oscar Nunez performs a priceless striptease. But it's the chemistry between Bullock and Reynolds that gives the film its biggest laughs. With nods to Frank Capra's It Happened One Night and Billy Wilder's Some Like It Hot, the two actors give life to what should have been a mediocre script at best. Bullock brings back what we loved about her in films like While You Were Sleeping and Miss Congeniality. Her most revealing scene comes when Margaret and Andrew physically collide while both are stark naked—something you definitely wouldn't have seen in a Capra film, and when a small family dog is snatched by an eagle because of Margaret's carelessness, her pathetic attempt at rescuing it is golden. The movie finds its heart by downplaying the romance and highlighting the schtick, showing that slipping into predictability isn't always a bad thing.