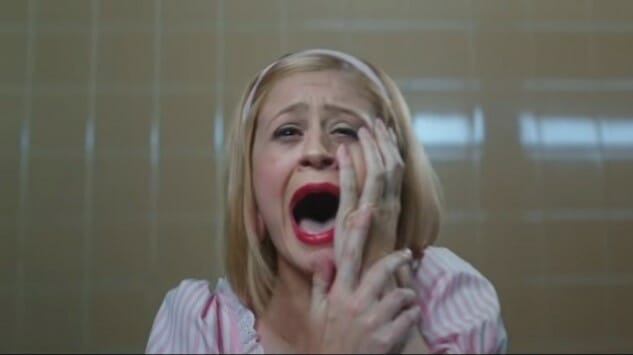 Just when you thought it was safe to go back to watching the most boring game in Super Bowl history … it's '90s horror nostalgia!
Yes, the arrival of a cadre of mini-teasers for Scary Stories to Tell in the Dark provided much-needed relief from the lack of any action in the big game, and the denizens of Twitter were quick to fall over themselves in enthusiasm for the Guillermo del Toro-produced adaptation of Alvin Schwartz' classic series of horror stories, which is scheduled to hit theaters in August. With a seemingly high degree of faithfulness to the source material—especially the legendarily disturbing illustrations by Stephen Gammell—anticipation for Scary Stories has certainly been turned up a notch.
Individual stories teased during tonight's game included "Jangly Man," "Big Toe," "Pale Lady" and the especially infamous "Red Spot," whose story sees a swarm of spiders emerging from a large "pimple" on a young girl's face. We can't wait to see what other stories del Toro and director André Øvredal (The Autopsy of Jane Doe) manage to pack into Scary Stories, but they seem to be drawing liberally from fan favorites, as the first poster featuring Harold the killer scarecrow has already illustrated.
Check out all four of the short teasers below. Scary Stories to Tell in the Dark hits theaters on Aug. 9, 2019.