Luca Guadagnino's Suspiria Opens with Highest Per-Theater Average of 2018
Image via Amazon Studios
Movies
News
Suspiria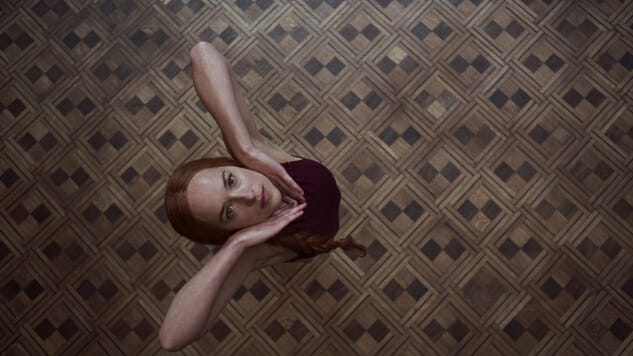 Luca Guadagnino's Suspiria remake has opened with this year's highest per-theater average so far, pulling an impressive $89,903 average in two theaters, per Box Office Mojo. Guadagnino also set last year's record with Call Me By Your Name, which scored a $103,233 average in four theaters.
It's an impressive feat for the Suspiria remake, an arty, divisive, 152-minute remounting of the 1977 Dario Argento horror cult classic. The 2018 Suspiria features Fifty Shades' Dakota Johnson and Tilda Swinton in a rare triple role, as well as a chilling score composed by Thom Yorke.
Amazon Studios' Suspiria easily tops the 2018 per-theater record set by National Geographic's terrifying rock climbing documentary Free Solo, which grossed an average of $73,572 in four theaters when it opened late last month. Other impressive outings this year include A24's coming-of-age debuts Eighth Grade and Mid90s, both of which scored averages over $60K with their respective openings.
With this early success, Amazon Studios is planning a confident but slow rollout for Suspiria, which expands nationwide into 250 theaters this coming weekend, with plans for a wider release in the following weeks. By many accounts, Suspiria has the potential to be as alienating to horror fans as, say, last year's mother!, so we'll see how well it fares commercially and amongst fans in the coming weeks.
Watch a trailer for the film below.