James Cameron's Terminator Will be a Direct Sequel to T2 Starring Schwarzenegger and Linda Hamilton
Movies
News
Terminator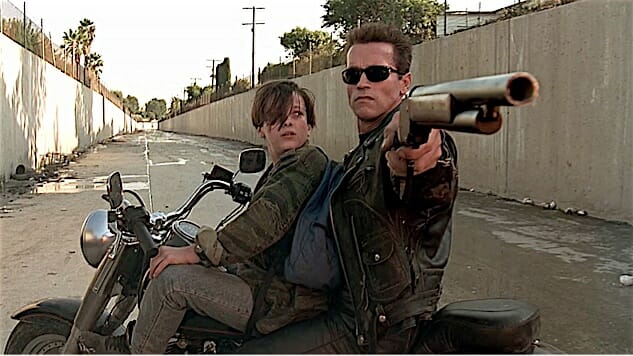 Okay, prepare to be confused. The Terminator series only gets more complicated over time as the series twists in upon itself in time travel paradox after time travel paradox, but now it's actively wiping out previous films from its chronology.
It's been known for a while that James Cameron is going to be involved in producing a new entry in the series. Now we know that this film is apparently called just—wait for it—Terminator, with no other accoutrements. But the really weird thing is that the film is supposed to be a direct follow-up to one of the greatest action movies of all time, 1991's Terminator 2: Judgment Day, often simply referred to as T2.
Now, this wouldn't be all that surprising if new actors were involved in the production, but according to Bloody Disgusting, this film will see the return of both Arnold Schwarzenegger (always sort of a given) and actress Linda Hamilton, who portrayed Sarah Connor in both the original The Terminator and T2. Therefore, if Hamilton is still playing Sarah Connor, we know that the timeline of the Terminator series must have moved forward by roughly 25 years or more. After all, Hamilton was 35 years old when she was playing resourceful badass Sarah Connor in T2. Now, she's 61 years old, and basically hasn't appeared in a major feature film in more than a decade. If Judgment Day hasn't happened in all of that time, John Connor would be … 37 at the time of Terminator?
This knowledge tells us that Terminator will be ignoring the previously established chronology, retconning that Terminator 3: Rise of the Machines ever happened, among other things. But wouldn't this also affect the events of other films as well? What of Terminator: Salvation? Or 2015's most recent Terminator Genisys, for that matter? You basically need a degree in theoretical physics just to put the timeline in some kind of workable order.
Here's what we DO know. Terminator is reportedly being directed by Deadpool's Tim Miller, produced by Cameron, and will star Gabriel Luna (Agents of S.H.I.E.L.D.) as a new Terminator of some sort. Also in the cast: Mackenzie Davis and Diego Boneta in addition to heavy hitters Schwarzenegger and Hamilton. What, no Edward Furlong?
The release date for Terminator is currently pegged at Nov. 22, 2019. Although considering this series' penchant for screwing with history, perhaps that will end up being altered before all is said and done?