Watch Donald Glover, Seth Rogen, Billy Eichner Sing "Hakuna Matata" in New Lion King Featurette
Image via Disney/YouTube
Movies
News
The Lion King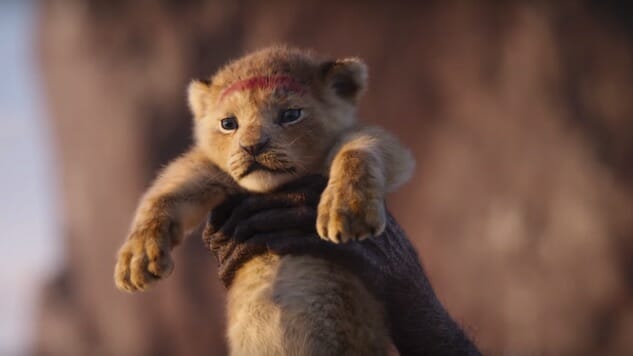 Just over two weeks out from their next blockbuster's July 19 release, Disney is giving us another taste of what's to come in the new live-action Lion King with a new featurette.
Chock-full of never-before-seen footage, behind-the-scenes glimpses at recording sessions, and a clip of Donald Glover, Seth Rogen and Billy Eichner singing "Hakuna Matata," the featurette is packed with tidbits to rile fans up even more before the film is released.
The video begins with Simba staring at his reflection in the water as Rafiki utters the iconic line, "Look closer. He lives in you."
The featurette then cuts to scenes of playful roughhousing between Simba and Nala, Simba roaring alongside his father and Scar glaring menacingly at the camera, among other numerous sneak peeks at iconic moments.
We also get interviews with the cast and crew, who speak about the universality of the beloved story behind The Lion King.
"The reason the Lion King has endured is because the inspiration that we're getting from it is universal," explains Keegan-Michael Key, who plays the cackling hyena Kamari.
But the new movie is sure to offer something new to the classic tale.
"Getting to relive it in a new way is really exciting," says Seth Rogen, who plays Pumbaa.
Director Jon Favreau explains the process behind adapting the film as photorealistic renditions of lions, zebras, flamingos and one little tapir gallop across the screen.
"There was a tremendous opportunity to retell the story using a new set of tools," Favreau says.
The featurette also serves up clips of the voice actors in the sound booth as they weigh in on the wealth of musical talent behind the film, including the voices of Donald Glover and Beyonce, a score from Hans Zimmer, and tracks from Elton John, Pharrell Williams and more music legends.
Most of all, the featurette gives us a preview of Glover, Rogen and Eichner laughing and belting out "Hakuna Matata" from the sound booth as Timon, Pumbaa and Simba trot across rugged terrain.
"We wanted to capture what people's memory was of this with both the music and the imagery. And I think when you can capture the spirit but show them something new and surprising, it's one of the best combos," Favreau explains as the video ends with baby Simba being triumphantly held up atop Pride Rock by Rafiki.
If the featurette isn't enough to satiate you before opening night, Disney also released some gorgeous new portraits of the stars embracing their inner animals as they come face-to-face with their iconic characters. Check out the images and watch the featurette for yourself below.
The pride. #TheLionKingpic.twitter.com/pbukPwPe7b

— Disney (@Disney) July 2, 2019
The pride. #TheLionKingpic.twitter.com/D8ZEAPlwma

— Disney (@Disney) July 2, 2019