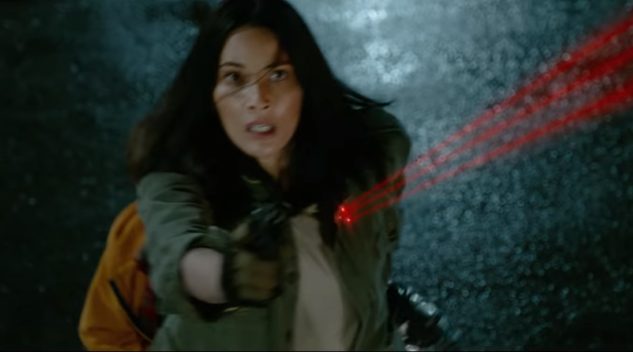 We must admit—the last place we were really expecting the first teaser for The Predator to begin was in a Stranger Things-looking subdivision of suburbia, with young children parading around the streets in their Halloween costumes. Call us crazy, but that doesn't immediately say "Predator movie" to us, but it's what we've received in the first teaser for Shane Black's The Predator, which just hit the web. The film, written by Black and Fred Dekker (Black was an uncredited writer on the original Predator), releases in American theaters on Sept. 14, 2018.
If you're wondering about the wider Predator chronology (you're probably not), this movie takes place after the events of the classically goofy, urban-set Predator 2 (1990) and the futuristic, planet-hopping Predators (2010). It stars Jacob Tremblay from Room and Wonder as a young boy who apparently receives starship controls in the mail for some reason, and then unknowingly uses them to bring a ship full of Predators to Earth.
Look, I just report what I see on screen. I don't write the official synopses. This one reads as the following:
From the outer reaches of space to the small-town streets of suburbia, the hunt comes home in Shane Black's explosive reinvention of the Predator series. Now, the universe's most lethal hunters are stronger, smarter and deadlier than ever before, having genetically upgraded themselves with DNA from other species. When a young boy accidentally triggers their return to Earth, only a ragtag crew of ex-soldiers and a disgruntled science teacher can prevent the end of the human race.
That whole "genetic upgrading" plot wrinkle is hinted at in the teaser as well, by Olivia Munn's distractingly attractive scientist character. "I think they're attempting hybridization," she says. "They're upgrading on every planet they visit." So there you go: Deadlier Predators than ever, etc, etc, etc.
The Predator will also feature a fairly impressive cast that includes the likes of Sterling K. Brown, Boyd Holbrook, Keegan Michael-Key and Alfie Allen of Game of Thrones. Check out the attempt to induce a little bit of hype below. The Predator is still rated R, so perhaps there's reason to hold out hope?