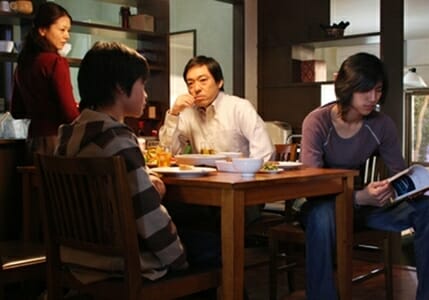 Tokyo! – 80
Tokyo Sonata – 85
Tokyo!
Release Date: March 6
Directors/Writers: Michel Gondry, Leos Carax, Bong Joon-Ho
Cinematographers: Masami Inomoto, Caroline Champetier, Jun Fukomoto
Starring: Ayako Fujitani, Ryo Kase, Denis Lavant, Teruyuki Kagawa
Studio/Run Time: Liberation Entertainment, 112 mins.
Tokyo Sonata
Release Date: March 13
Director: Kiyoshi Kurosawa
Writers: Max Mannix, Kiyoshi Kurosawa, Sachiko Tanaka
Cinematographer: Akiko Ashiza
Starring: Teruyuki Kagawa, Kyoko Koizumi, Yu Koyanagi
Studio/Run Time: Regent Releasing, 119 mins.
Tokyo! and Tokyo Sonata, two films by four directors containing six narratives, propose the Japanese megalopolis as a site for major weirdness. A girl turns into a chair. A man drives a car from the beach into the ocean. A zombie in a green suit climbs from the sewers and wreaks havoc.
Tokyo! is comprised of three short pieces directed by Michel Gondry, Leos Carax, and Bong Joon-Ho respectively—two Frenchmen and a South Korean. All offer semi-magical outsiders' perceptions of the city. After Be Kind Rewind, his questionable foray into broad comedy, Gondry displays his semi-familiar misogyny in his "Interior Design" segment. But one character's Ovid-like transformation into a chair, literally supporting a man, is a logical articulation of the bizarre sexual tension explored in Science of Sleep.
Carax's
Merde
—in which a subterranean man-beast causes chaos—is part of a long tradition of Japanese monster flicks, but it drags. Joon-Ho's
Shaking Tokyo
is the most memorable of three. Simply structured (a mysteriously tattooed girl delivers pizza to a shut-in, and he's intrigued enough to leave), its surreality is minor, but its plot touches on the even more innate strangeness of the human psyche.
The local strangeness of Kiyoshi Kurosawa's
Tokyo
Sonata
, meanwhile, is even more subtle. Normally the creator of spiraling existential thrillers like
Doppelganger
, Kurosawa now applies the strategy to a nuclear family that's disintegrating following the loss of father Ryuhei's job. By the third reel, Kurosawa's suspense springs, and the plot splits into the separate stories of Ryuhei, his wife Megumi and his son Takashi, as they fan into paths around the city.
Chance encounters and unexpected violence—like byproducts of a teeming energy beneath the grid—spin the characters toward revelation. With each left turn, and three equally compelling performances, Kurosawa brings the film closer to a harmonic resolution, if not an emotional one.