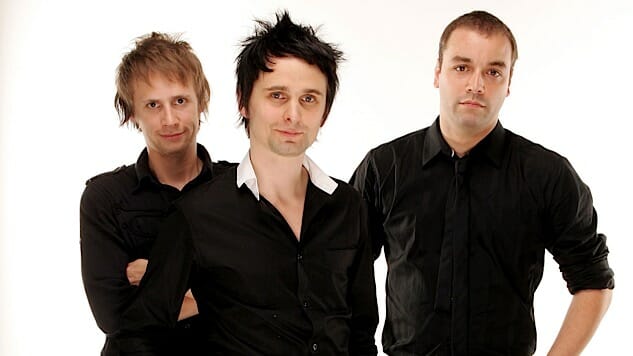 Massive ensembles like Arcade Fire and Broken Social Scene create wonderfully lush, orchestral music that could only be pulled off in a large group—but there's a time and place for everything, and sometimes that tight-knit, bare-necessities combination of guitar-bass-drums beckons forth. These three instruments make up the "power trio," and its open structure places a great deal of exposure on each band member: In a three-person configuration, there's a lot more weight to pull and space to fill per member.
Power trios tend to come in waves of popularity: everywhere in the '60s (Cream, Jimi Hendrix Experience), rarer in the '70s and '80s (though still represented by groups like Rush, Motörhead and Violent Femmes), then back in full swing in the '90s (Nirvana, Sublime, Primus, Green Day, etc.). With the bevy of new bands that have cropped up in the 2000s, power trios have still maintained a steady presence, and this list is a tribute to those bands who have kept the tradition alive.
To qualify as "modern" for the purpose of this list, the band's first album must have come out no more than 15 years ago. I ordered this list, more or less, by bands that have best defined the genre in the public eye in recent years, rather than by a judgment of talent (although my personal taste inevitably reared its head). Also, while some of these bands may have members who double up on other instruments from time to time, I excluded three-person bands whose configuration doesn't include guitar, bass and drums (like Boris), sticking with the true meat-and-potatoes definition. With that, I present 14 bands who epitomize the modern-day power trio.
14. THE THERMALS
Portland, Ore.
Hutch Harris: vocals, guitar
Kathy Foster: bass, vocals
Westin Glass: drums, vocals
Since the departure of second guitarist Ben Barnett in 2003, lo-fi indie-punk trio The Thermals have remained a tight-knit power trio that kicks up an unholy amount of noise and abrasion within often catchy musical structures a la Pavement. Less typical for their genre is the intricacy of Harris' lyrical concepts, often painting nightmarish, quasi-apocalyptic scenarios, like totalitarian Christian regimes terrorizing the world—the backdrop for their critically lauded 2006 album The Body, the Blood, the Machine.
---
13. THE JOY FORMIDABLE
Mold, North Wales
Ritzy Bryan: vocals, guitar
Rhydian Dafydd: bass, vocals
Matt Thomas: drums
Formed in 2007 after the demise of Bryan and Dafydd's previous band Sidecar Kisses, The Joy Formidable doesn't completely shed that project's post-punk skin but injects a heavy dose of psychedelia and shoegaze into the mix. The main focal point is Bryan's dreamy, airy vocal melodies which float above the muscular, churning sea of guitar and bass. This year's The Big Roar adds a touch of the anthemic to The Joy Formidable's sonic palette, embodied in the indelibly hooky "Whirring," already a staple of sorts for the trio.
---
12. THE LONDON SOULS
New York, N.Y.
Tash Neal: vocals, guitar
Kiyoshi Matsuyama: bass, vocals
Christ Saint: drums, vocals
Brand-spanking new (their debut album dropped this summer), this trio has a raw, unabashedly retro sound heavily indebted to the British blues boom bands of the late '60s, most notably The Jimi Hendrix Experience. With the intertwining vocal interplay of Neal and Matsuyama, surging guitar riffs and solos, and drop-of-a-dime control over dynamics, the group plays just like the pioneers of the power trio and is one of the most promising bands to gain national attention this year.
---
11. BIFFY CLYRO
Kilmarnock, Scotland
Simon Neil: vocals, guitar
James Johnston: bass, vocals
Ben Johnston: drums, vocals
These endearing Scottish lads play an accessible, upbeat brand of power pop in the vein of Weezer, but despite a lineup that has remained unchanged, this wasn't always the case: Biffy Clyro's first three albums were more experimental and much more aggressive, the math rock-inspired structures and scream-laden vocals making them sound like a completely different band than the Biffy Clyro of today. Beginning with 2007's break-out Puzzle, they abruptly shifted toward a smoother, more polished style. This has alienated many old fans but afforded them a large number of new ones. Hear the difference for yourself below.
---
10. EARL GREYHOUND
New York, NY
Matt Whyte: vocals, guitar
Kamara Thomas: bass, vocals
Ricc Sheridan: drums
Fellow New York City band The London Souls are an eerily similar match to Earl Greyhound, who have been around for a few more years. Both trios have a biracial and co-ed lineup where the guitarist and main vocalist is male and the bassist and secondary vocalist is female and both channel the hell-raising blues-rock of the late '60s, but Earl Greyhound are more eclectic and harder to classify. Whyte and Thomas wail in harmony like disciples of Robert Plant, and the riffs have plenty of drive and crunch, but the band also isn't afraid to get angular and psychedelic or dip into poignant ballad territory.
---
9. LOS LONELY BOYS
San Angelo, Texas
Henry Garza: guitar, vocals
Jojo Garza: bass, vocals
Ringo Garza: drums, vocals
Other than their chart-topping 2005 single "Heaven," Los Lonely Boys haven't released anything notable, but these three Chicano rockers deserve a spot on the list on the merits of their live performances alone. With a musical chemistry that runs as thick as the blood between them (all three are brothers), their raging shows have garnered a reputation for sunny three-part harmonies and flawless instrumental dexterity and fearless improvisational passages. The song below showcases their fiery musicianship when sharing the stage (and don't worry, it's not "Heaven").
---
8. THE XX
London, England
Romy Madley Croft — vocals, guitar
Oliver Sim — bass, vocals
Jamie Smith — drums, beats, MIDI
Until 2009 The xx wouldn't have qualified as a power trio—and they still barely qualify, since Smith oftentimes only plays electronic beats and drum machines. But keyboardist and second guitarist Baria Qureshi is no longer a member, leaving the sparse, ethereal interplay of Croft and Sim front and center. Though they haven't produced an album as a trio yet, it'll be interesting to see what stylistic changes this new configuration yields.
---
7. RUSSIAN CIRCLES
Chicago, Ill.
Mike Sullivan: guitar
Colin DeKuiper: bass
Dave Turncrantz: drums
Russian Circles are one of the few modern-day post-rock bands that comprise a mere three members, and that's because creating sprawling, cinematic, entirely instrumental music is hard to do with just three instruments. But this trio pulls it off with finesse (and the help of occasional loops and samples), laying down pummeling, complex metal riffs with a delicate balance of intricate composition, sense of dynamic, drama and swagger.
---
6. THE SECRET MACHINES
Dallas, Texas
Brandon Curtis: vocals, bass
Phil Karnats: guitar
Josh Garza: drums
The Secret Machines' creativity tapered off some with the departure of their original guitarist, Brandon Curtis's brother Benjamin, but the group has soldiered on. Regardless, most fans praise them for the psychedelic, hypnotic space rock of their debut album Now Here Is Nowhere, which convincingly channeled the epic scope of Pink Floyd or the motorik grooves of Can, over their increasingly more laborious follow-ups. Still, their debut album is as strong today as it was in 2004 and gives credence to the amount of sound and atmosphere a power trio is capable of putting out.
---
5. NADA SURF
New York, N.Y.
Matthew Caws: vocals, guitar
Daniel Lorca: bass, vocals
Ira Elliot: drums, vocals
This indie/alternative rock group barely qualify as "modern," as their debut album (also the album they're best known for) came out exactly 15 years ago. They made a name for themselves with "Popular," the angsty, sardonic ode to the vicious high school social ladder. The song proved aptly-named, as the band never found their way to the mainstream limelight again. Still the trio has been nothing if not consistent, crafting albums that leaned gradually away from their snide '90s power-rock toward mellow, lush pop songcraft and emotive lyrics.
---
4. JOHN MAYER TRIO
New York, N.Y.
John Mayer: vocals, guitar
Pino Palladino:- bass
Steve Jordan: drums
Don't be blinded by your hatred for the solo recordings of John Mayer. I personally have little tolerance for the bland commercial pop that's the bread and butter of Mayer's superstar-level career. But when Try!, the live album from the John Mayer Trio surfaced in 2005 (also the only release from the band to date), I was forced to adjust my perception. Here is the only place in Mayer's catalog where you truly hear him cut loose on the guitar, proving himself to be one of the best guitarists of the past two decades and certainly worthy of the adulation Eric Clapton has placed upon him in recent years. Aside from an obligatory influence-on-sleeve Hendrix cover, Mayer turns out a solid set of deeply soulful blues tunes that are miles away from that Taylor Swift duet your dentist plays. An anomaly if there ever was one. Here's hoping these guys reunite to make more music, and soon.
---
3. PETER BJORN AND JOHN
Stockholm, Sweden
Peter Morén: vocals, guitar
Björn Yttling: bass, vocals
John Eriksson: drums, vocals
Peter Bjorn and John's instinctual knack for dazzling pop melodies fits right in with their country's rich pop pedigree. They're best known for their 2006 hit "Young Folks," whose sunny lyrics, propulsive bass line and trademark whistling hook have spawned more imitators than any other indie-pop band in recent memory. But peel back that happy pop layer and the deep cuts of their album reveal an adventurous band that often delves into dark, moody soundscapes, somber, delicate folk tunes and even songs with wall-of-sound distortion.
---
2. THEM CROOKED VULTURES
Los Angeles, Calif.
Josh Homme: vocals, guitar
John Paul Jones: bass, vocals
Dave Grohl: drums, vocals
A mere glance at the lineup of this juggernaut of a band should tell any true fan of rock music all they need to know. Arguably the best supergroup put together since CSNY, Them Crooked Vultures appeared without warning in the midst of both Queens of the Stone Age and Foo Fighters' hiatuses, much to the surprise of the general public. The reason for the surprise wasn't the merging of Homme's haunting vocals and steaming guitar work with Grohl's relentless assault behind the drum kit—in fact, Grohl had at one point been Queens of the Stone Age's drummer. No, the real curveball was the inclusion of Led Zeppelin's legendary John Paul Jones on bass (and, at least in the studio, every other instrument under the sun). With a genuine tie into the realm of classic rock, Them Crooked Vultures more than embodied that vintage sound: They merged it with modern grunge bombast and eerie desert-rock melodies to create an animal all its own.
---
1. MUSE
Teignmouth, England
Matthew Bellamy: vocals, guitar
Christopher Wolstenholme: bass, vocals
Dominic Howard: drums, vocals
Since the debut of Showbiz in 1999, Muse (pictured top) have grown into one of the biggest rock bands in the world—and rightfully so. Their grandiose and melodramatic music is meticulously arranged and orchestrated and executed flawlessly thanks to each member's virtuosic skill on his respective instrument. Muse also happens to be sonically otherworldly, its songs rarely if ever losing their artistic and musical quality within their unmistakable dramatic flair. Bellamy's compositions are so harmonically complex they're almost classical. And those dubious of the band's greatness need only see their explosive live show, in which the members have coalesced like a machine since even their earliest days. One of the fiercest power trios to have come along in a long, long time.