Parquet Courts' A. Savage Announces New Album, Several Songs About Fire
Photo by Vince McClelland
Music
News
A. Savage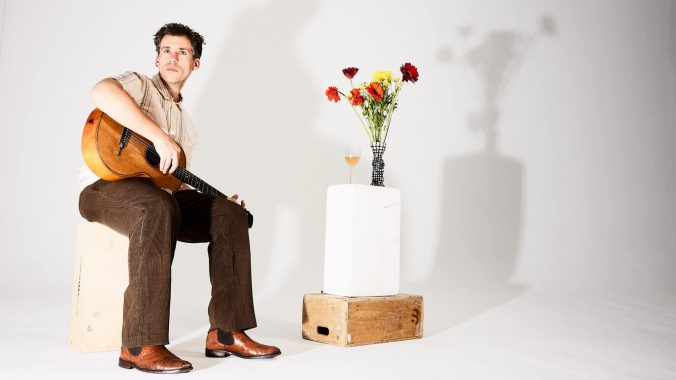 Parquet Courts' co-frontman A. Savage is returning with his first solo album in six years. Several Songs About Fire is set to arrive October 6 via Rough Trade and serves as a proper follow-up to 2017's Thawing Dawn. Earlier this summer, Savage unveiled the single "Thanksgiving Prayer." Today, he's offering up "Elvis in the Army," a steady rocker that rivals any great post-punk clip from 40 years ago. Savage's punctuated songwriting is on full display, as he riffs on displacement by way of Elvis' military service.
Savage says of "Elvis in the Army": "We often describe ourselves in geographic terms. American, New Yorker—two terms that I've used to identify myself that have to do with being from or of a certain place. So 'Elvis in the Army' is a bit of an inventory of those labels. They have less to do with geography than we realize. Really we're just talking about ourselves, then framing certain characteristics geographically. No matter where I live I'll have an American psyche until the day I die, for better or for worse. I'll always be of America. And I can't imagine a time where New York doesn't feel like home. But despite that, I'd rather not be associated with a place, at least for now."
Watch the music video for "Elvis in the Army" and check out the Several Songs About Fire artwork and tracklist below.
Several Songs About Fire Artwork: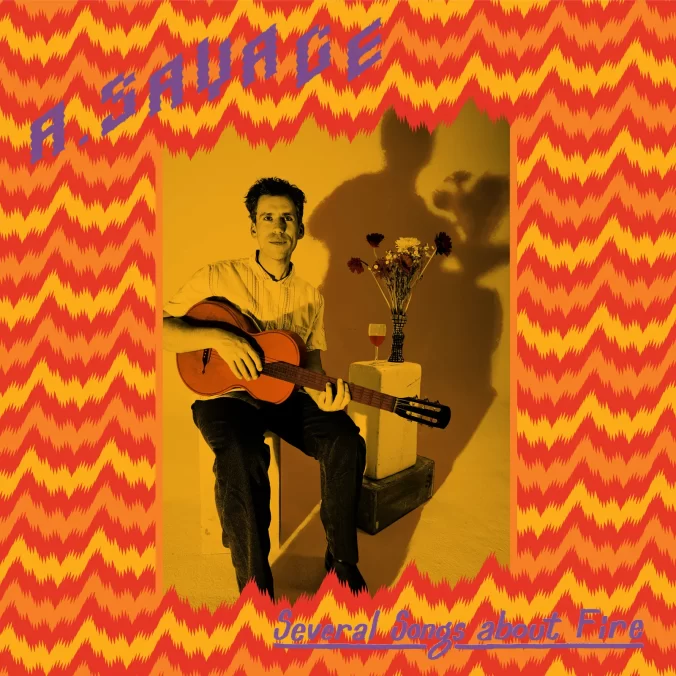 Several Songs About Fire Tracklist:
Hurtin' Or Healed
Elvis in the Army
Le Grand Balloon
My My My Dear
Riding Cobbles
Mountain Time
David's Dead
Thanksgiving Prayer
My New Green Coat
Out of Focus
A. Savage's Upcoming Tour Dates:
Sat. Sep. 30 – Newport, Essex, UK @ Murmuration Festival
Fri. Oct. 20 – Portland, ME @ SPACE ^
Sat. Oct. 21 – Boston, MA @ Crystal Ballroom ^
Sun. Oct. 22 – Portsmouth, NH @ Press Room ^
Tue. Oct. 24 – Toronto, ON @ Velvet Underground ^
Wed. Oct. 25 – Kalamazoo, MI @ Eccentric Cafe ^
Fri. Oct. 27 – Chicago, IL @ Empty Bottle ^
Sat. Oct. 28 – St. Paul, MN @ Turf Club *
Sun. Oct. 29 – Milwaukee, WI @ Colectivo #
Mon. Oct. 30 – St. Louis, MO @ Off Broadway %
Wed. Nov. 1 – Columbus, OH @ Ace of Cups %
Thu. Nov. 2 – Louisville, KY @ Whirling Tiger %
Fri. Nov. 3 – Nashville, TN @ Third Man %
Sat. Nov. 4 – Atlanta, GA @ The Earl %
Sun. Nov. 5 – Asheville, NC @ Grey Eagle
Tue. Nov. 7 – Carrboro, NC @ Cat's Cradle %
Thu. Nov. 9 – Washington, DC @ Black Cat %
Fri. Nov. 10 – Philadelphia, PA @ First Unitarian %
Sat. Nov. 11 – New York, NY @ Bowery Ballroom %
Thu. Feb 08, 2024 – Manchester, UK @ Pink Room
Fri. Feb 09, 2024 – Dublin, Ireland @ Workmans Club
Sun. Feb 11, 2024 – Glasgow, UK @ Broadcast
Mon. Feb 12, 2024 – Bristol, UK @ Thekla
Wed. Feb 14, 2024 – London, UK @ The Garage
Thu. Feb 15, 2024 – Paris, France @ La Maroquinerie
Fri. Feb 16, 2024 – Brussels, Belgium @ Botanique Rotonde
Sun. Feb 18, 2024 – Amsterdam, Netherlands @ Paradiso Upstairs
Mon. Feb 19, 2024 – Cologne, Germany @ MTC Club
Wed. Feb 21, 2024 – Copenhagen, Denmark @ Ideal Bar – Vega
Thu. Feb 22, 2024 – Berlin, Germany @ Privat Club
Fri. Apr 05, 2024 – Austin, TX @ The Far Out
Sun. Apr 07, 2024 – Santa Fe, NM @ Meow Wolf
Tue. Apr 09, 2024 – Tucson, AZ @ Club Congress
Wed. Apr 10, 2024 – Pioneertown, CA @ Pappy & Harriet's
Thu. Apr 11, 2024 – Santa Ana, CA @ Constellation Room
Fri. Apr 12, 2024 – Los Angeles, CA @ The Teragram Ballroom
Sat. Apr 13, 2024 – San Francisco, CA @ Rickshaw Stop
Mon. Apr 15, 2024 – Portland, OR @ Mississippi Studios
Tue. Apr 16, 2024 – Seattle, WA @ Tractor Tavern
^ w/ Annie Hart
* w/ Cha Cha
# w/ Diet Lite
% w/ Sluice