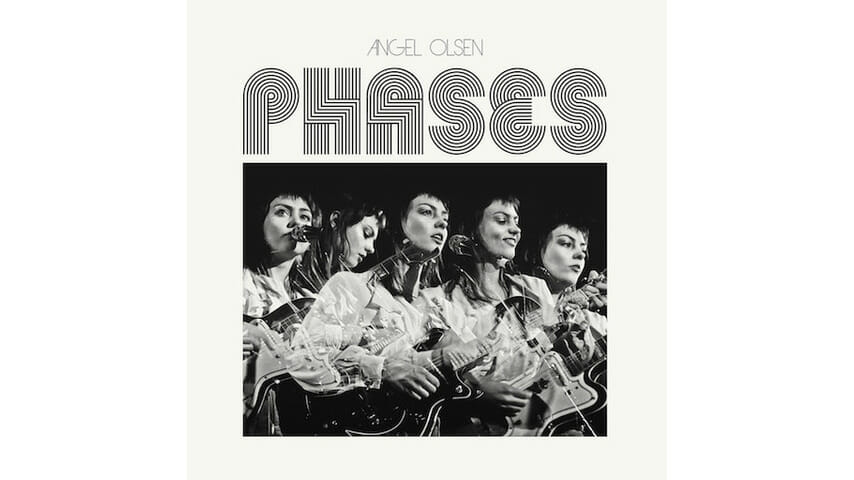 Indie queen Angel Olsen has come a long way from her days as part of the Cairo Gang; her legion of fervid fans steadily growing with each subsequent release. It's a trajectory that mirrors the evolution of Olsen's sound—and the size of her band—from the stark, indie-folk of 2012's Strange Cacti, to the expansive, swirling soundscapes of last year's My Woman.
It was My Woman—with Olsen trying on everything from synthy, dream-pop ("Intern") to Rumours-era Stevie Nicks ("Sister") and realizing they all fit perfectly—that got her into the ears and hearts of people outside of the cognoscenti, leading to sold-out shows around the world and an across-the-board spot on year-end "Best Albums" lists.
It's this moment, plus a nonstop year on the road, that's created the opportune time for Olsen to release Phases, an album of b-sides and home demos from the last several years of her flowering career. As wide-ranging in feeling as it is in recording style, Phases serves as more material for rabid fans, but also a comprehensive sampler of Olsen's discography for newbies.
Take the pure Americana of "Endless Road," which takes us back to the very beginning with its Carter Family melody timeless sentiment. The spacey groove of "Sweet Dreams," feels like Burn Your Fire For No Witness, hints of "White Rabbit" '60s psych swirling together with an alt-rock grit, while the playful brush-shuffle of "California" features the full-throated proto-yodel that pops up mostly in her pre-My Woman catalogue.
Just like all her studio albums, there is no musical element that is ever more exceptional than her voice. From the fuzziest living room recording to the full-on studio outtakes, Olsen always cuts clear to the foreground—grabbing and holding your attention in the sweetest vice-grip. There's the Patsy Cline-style, country-crooning on the achingly mournful "May As Well," singing bruisers like, "I'm always arriving when you say farewell," or the smokier falsetto of "All Right Now" that floats gracefully above shimmering tambourine and echoey drums, her mercurial voice taking on different shapes to fit each mood.
It's two demo recordings that continue to haunt past the first listen. The gorgeous melody of "Sans" unfolds like the road that Olsen seems perennially stuck on, her shimmering voice taking on a new girlishness. "I'm feeling kind of tired but I know it's for the best/Even when you're dreamin' you're not getting any rest," she sings, "Grasping at the meaning of a love to call my own/Wish it were as easy as just picking up the phone." Meanwhile, the velvet seduction of "For You" is timelessly sexy, all the fierceness and fragility of the most intoxicating femininity living right there in her voice.
The two opening tracks, "Fly On Your Wall" and "Special," that bring us back to her current sound. The expansive, mellow psychedelia of "Special" is enthralling, with Olsen's analgesic vocals leading us through diary-like scrawls about reaching expectations, but I can see why it was left off of the brilliantly sequenced My Woman in favor of the widespread, seven minutes and change tracks "Sister and "Woman." But don't get it twisted, if Phases proves anything, it's that Olsen's discards are better than a lot of artists' best efforts. Like her name suggests, she seems otherworldly, celestial—her impressive consistency and ability to transcend genre and era with seeming ease, nothing short of divine.