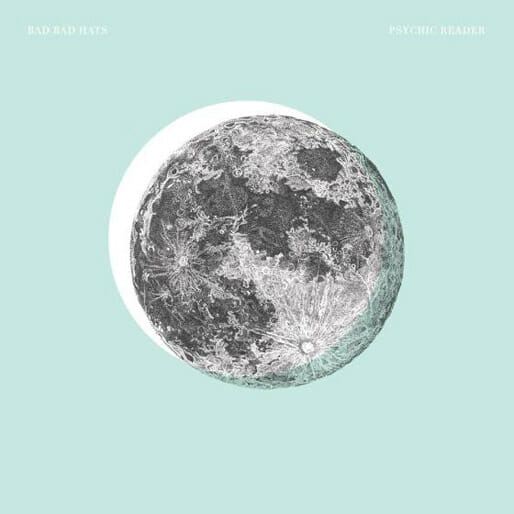 There's a fine line between pleasant sugar-pop and aspartame-injected indie music. Minneapolis trio Bad Bad Hats is doing a great job of avoiding the artificial in favor of the purest pop. In 2013, the band released their criminally under-appreciated EP, It Hurts, a succinct collection of addicting ear-grabbers. Two and a half years later, the trio is unleashing the full effect of their infectious melody-making with their debut full-length album, Psychic Reader.
Opening the album is the tastefully carbonated "Midway," which steadily builds as vocalist Kerry Alexander sighs, "God, I could've kissed you…" By the time the first chorus hits, it's like taking that first fizzy sip of soda. Immediately after, though, the can is practically kicked out of your hand by the audacious "Shame," a startlingly edgy rocker unlike anything Bad Bad Hats has sounded like before. Almost as a reassurance to longtime listeners, the band returns to blowing bubbles with the jingly "Joseph." Slightly more sparse and organic-sounding tracks such as this one seem to best display the raw craftsmanship at work.
The titular track "Psychic Reader" is like a prediction from the past—nearly forgotten, but now coming true. There's a certain familiarity, like a song you'd faintly hear coming through a crackly clock radio as you blow-dry your hair in 1993. Regardless of whether or not she saw the same sign as Ace of Base and became inspired to write this gem over two decades later, Alexander's voice is pure pop bliss here. Still, punches are packed within the likes of "Fight Song" and "Say Nothing," with the latter featuring Alexander telling a wrong-doing lover, "Stop, let me be the one to say nothing."
While the bopping synth ditty of closer "Spin" is practically rollerskate rink-ready, Psychic Reader still remains sincere rather than saccharine right to the last drop. Unlike what its title suggests, the album proves to be unpredictable from track to track, adding splashes of crunchy garage-rock where others would've gone full-blown syrupy. Bad Bad Hats have concocted an effervescent record worthy of refill after refill.