The 15 Best Songs of January 2020
Photos courtesy of the artist, Brian Ziff, Sarah Liisborg
Music
Lists
Best Songs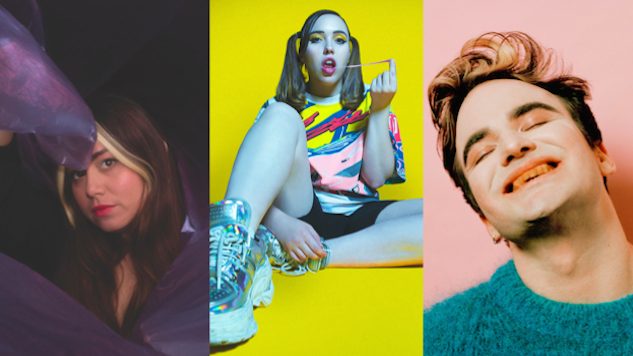 To pair with our list of favorite albums of January, we're excited to unveil our 15 favorite tracks from the past month. Some of these are singles, some are album tracks and there's even one soundtrack selection. Paste favorites like Waxahatchee and Soccer Mommy continued to delight us with their new music, but up-and-comers like Molina, Hailey Whitters and Chubby and the Gang also made our jaws drop. From country and post-punk to hip-hop and math rock, these tunes are special and will likely remain in our Spotify rotation for the remainder of the year. Grab your headphones, and dive into Paste's 15 favorite songs of the month.
Listen to our Best Songs of January 2020 playlist on Spotify right here.
1. Bonny Light Horseman: "Bright Morning Stars"
Bonny Light Horseman first formed at Justin Vernon's 2018 Eaux Claires festival, so it's only fitting that the Bon Iver singer should appear somewhere within this monumental folk event. Vernon supplies guest vocals on "Bright Morning Stars," a short but thoroughly chilling carol and the last of five singles from the record. It's indicative of the best of what this group can do: Use the timeless structures of harmony and folk songs to make something that's never been done before. —Ellen Johnson
2. Chubby and the Gang: "Pariah Radio"
What happens when you mix Oi! punk with Dischord Records and The Ramones? You get London's Chubby and the Gang, who provide a break from much of the talk-y post-punk that has characterized the city as of late. Their debut LP Speed Kills is best incapsulated by track two "Pariah Radio." "We got work till morning so we keep it underground." sings frontman Charlie Manning-Walker (aka Chubby) over brisk, ripping guitars. If working class, throwback punk needs a modern anthem, this song's gritty lyricism and breakneck rhythms make it a worthy candidate: "It never went away. It's always been out on the street!" —Lizzie Manno
3. Deeper: "This Heat"
Leaning into a synthier approach than the band's previous LP, 2018's self-titled album Deeper, "This Heat" is a rumination on personal and political anxieties. Decked out in hazmat suits, the band begin the music video plucking flora from the outside of a brutalist building, sealing them away in ziplock bags that warn of their radioactive contents. —Natalia Keogan
4. Disq: "Daily Routine"
"Daily Routine" is Disq's first new music since their 2018 single "Communication," backed with "Parallel." The track is a searing power-pop cut with a healthy dose of gnarled guitars. It's the perfect fusion of their pop sensibilities and punchy live shows. It's also packed with the kind of youthful angst and much-needed antics that characterize the current millennial experience. Lead singer Isaac deBroux-Slone shares his worries about "wasting time," "daily needs," "computer screens," and the kind of insecurities that plague most of us: "I'm in prison but I think this place was built by me." —Lizzie Manno
5. Frances Quinlan: "Now That I'm Back"
"Now That I'm Back" is a strange, sprawling track that ranges from quiet and fluttery to bouncy to harsh and claustrophobic, with a rich array of instrumentation including quivering guitar, urgent shakers and springy synth. Frances Quinlan shares impressionistic, enigmatic snippets of memory—"Raid-seasoned spaghetti," "Voltaire's severed head," "balloons in a foreign park"—in her trademark razor-edged voice. —Amanda Gersten
6. Hailey Whitters: "Janice At The Hotel Bar"
Your new favorite country singer/songwriter is here. Hailey Whitters can make the everyday feel monumental and vice versa, and her most recent single, "Janice At The Hotel Bar," from her forthcoming album The Dream (out Feb. 28) recounts a spontaneous heart-to-heart with a Boomer at the bar downstairs. The mysterious Janice, who prefers pharmacy "face cream" advises splurging on the good coffee and staying off pills, except for the Pill. It has too many good one-liners to list, but "'All men are babies and that's just how they roll'" might just take the cake. Whitters' music has so much heart, and this song is another delightful entry to her young career. —Ellen Johnson
7. Megan Thee Stallion and Normani: "Diamonds"
In honor of Birds of Prey's arrival on Feb. 7, the same curators of Suicide Squad's multi-platinum soundtrack are assembling an all-female, all-badass soundtrack titled Birds of Prey: The Album. The soundtrack is set to feature original recordings from Doja Cat, Saweetie, Sofi Tukker, Halsey, Summer Walker and more. Listen to the first single "Diamonds," featuring hot-girls Megan Thee Stallion and Normani, down below. After Hot Girl Summer and Motivation Fall, this is the kind of collaboration we need. The trap-pop track finds the Texas rapper and former Fifth Harmony member playing quintessential baddies, a distinctly feminine bop that's as materialist as it is aggressive. —Austin Jones
8. Molina: "Vanilla Shell"
Vanilla Shell is an absorbing canvas of art-pop, synthwave, psych-pop and darkwave. Though Molina embraces left-field soundscapes, her angelic vocals would draw anyone in. Alongside icy keyboards, gorgeous flute and fretless bass, her luxuriant vocals are painted like graceful vapor trails. The title track's cascading synths and slightly sinister strings dance around her breathy singing, and it's spine-tingling in the best sense of the word. —Lizzie Manno
9. Peel Dream Magazine: "Pill"
NYC-based dream-pop band Peel Dream Magazine have announced the arrival of their second full-length album, Agitprop Alterna, out April 3 via Slumberland Records. Agitprop Alterna seems to be leaning into a solidly shoegaze sound, with distinct homage to acts like My Bloody Valentine and Stereolab enmeshed in the fuzzy guitar and vocals. —Natalia Keogan
10. Porridge Radio: "Sweet"
"Sweet," which comes with a Sam Hiscox-directed video, is filled with strange fixations and snarled displays of confidence. Their sinister guitar rapture meets Dana Margolin's vigorous and tantalizing lead vocals, boiling over as she realizes that her long-held shame has finally been replaced with charm and conviction. Claiming victory over one's nerves has rarely been spat with such powerful self-belief or backed with such melodic clamor. —Lizzie Manno
11. Scott Hardware: "Joy"
The gorgeous, piano-led "Joy" is marked by regal art-pop and Scott Hardware's thoughtfully stitched lyricism. It has that satisfyingly cinematic feeling where the whole world is ahead of you—a gentle breeze caresses your face as you're seconds anyway from stumbling into a stranger who could change your life. It's sensitive and vulnerable, yet dramatic and awe-inspiring. —Lizzie Manno
12. Soccer Mommy: "circle the drain"
The video accompanying the new Soccer Mommy single, directed by Atiba Jefferson (American Football, Turnstile, TV On The Radio, Dinosaur Jr.), is reminiscent of Jonah Hill's Mid90s, from its 4:3 aspect ratio and '90s VHS fuzziness to its California street-skate milieu. The visual is a sunny, carefree counterpoint to "circling the drain" itself, whose chipper jangle-pop sound belies the struggles of its singer: Allison sings about "a feeling that boils in my brain," admitting that she's tired of putting on a brave face to mask the slow but steady internal collapse that she feels powerless to prevent. —Scott Russell
13. TORRES: "Dressing America"
"Dressing America" offers this poetic illustration of infatuation, set to an uneasy melding of synth sheen and pedal steel: "I tend to sleep with my boots on / Should I need to gallop over dark water to you." —Zach Schonfeld
14. Tricot: "Pitch Black"
How often does a song genuinely surprise you? My guess is maybe one out of every 10 or 15 songs. Japanese quartet Tricot have an inherent advantage when it comes to perplexing listeners—they're a math rock band, after all. The band's latest album, Pitch Black, dropped this week, and it's full of surprises. The title track centers on an intricate, circling riff which cuts through their especially sweet pop vocals. —Lizzie Manno
15. Waxahatchee: "Fire"
The track is as strong as it is vulnerable, with triumphant, quiet drums that serve as a battle cry for Katie Crutchfield's newfound determination in sobriety. Most notably, it's Waxahatchee's most direct pop song since Ivy Tripp's excellent "La Loose," a return to form with a distinctly modern, distinctly Crutchfield touch. —Austin Jones
Listen to our Best Songs of January 2020 playlist on Spotify right here.